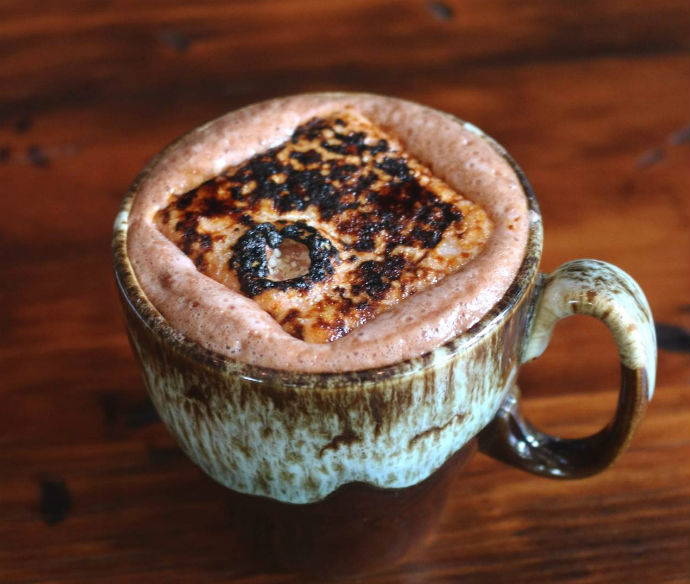 The Jolly Old Elf
The Fireside (801 NW 23rd Ave.; 503-477-9505)
1 1/2 oz. Anejo Tequila
3/4 oz. Ancho Reyes liqueur
2 drops Habanero tincture
6 oz. Hot Chocolate made with dark chocolate and whole milk
Pre-heat mug with hot water, add liquors and fill with hot chocolate leaving enough room for a large marshmallow. Top with the bittered-mallow and brûlée it.
Bittered Mallow (makes 24)
1/2 cup Confectioners' sugar
3 Envelopes unflavored gelatin
2 cup Granulated sugar
1/4 cup Mild honey (orange blossom or clover)
2 Large egg whites
1/4 tsp. Kosher salt
1 tbs. Vanilla extract
1. Line a 9x13 inch baking dish with foil, smoothing the foil into the dish so there are no wrinkles. Sift 1/4 cups of confectioners' sugar into the bottom of the dish.
2. Place the gelatin in chilled 1/2 cup Angostura bitters and 1/2 cup Pierre Ferrand Dry Curacao to bloom. Place a candy thermometer in a saucepan over a medium heat; cook the granulated sugar, honey, and 1/2 cup water, stirring until the sugar dissolves, until the mixture reaches 240 degrees.
3. In the bowl of an electric mixer, whisk the egg whites and salt until soft peaks form. When the sugar mixture has come up to temperature, carefully pour it into the egg whites while whisking. Continue whisking until the mixture has cooled slightly, about one minute, then add the gelatin mixture and the vanilla. Continue whisking until the mixture begins to thicken and quadruples in volume, 5 to 11 minutes. Scrape the marshmallow into the prepared pan and smooth the top with a spatula. Sift the remaining 1/4 cup confectioners' sugar on top. Allow the marshmallows to set for 4 hours or overnight. Cut them into 2 inch squares and store in an airtight container in the refrigerator or at room temperature. The marshmallows will keep for up to one week if chilled.

Recent Articles
Inside Look: Campari's Stylish North American Headquarters in New York
Behind the Bar: Liana Oster of Dante
Pabst Blue Ribbon Launches Blue Ribbon Whiskey in Select US Markets
Feedback
How are we doing? Tell us what you like or don't like and how we can improve. We would love to hear your thoughts!