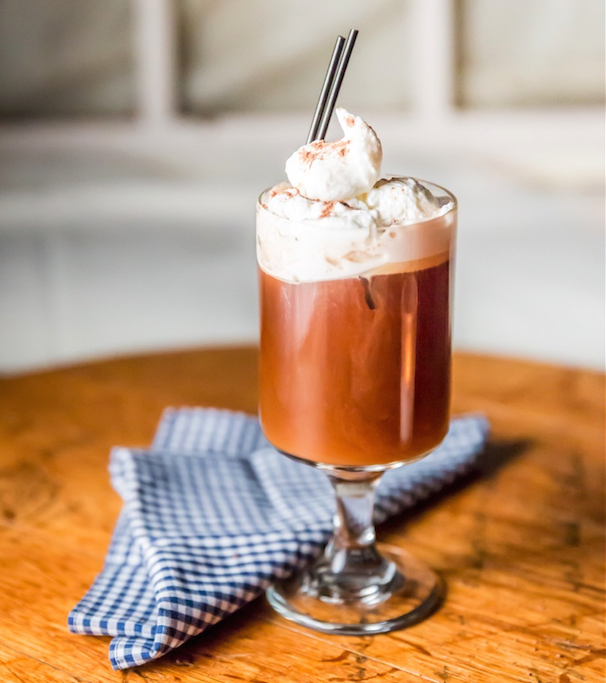 Café Lafitte
Acadia (1303 NE Fremont St.; 503-249-5001)
1 oz. Pernod pastis or Herbsaint Legéndre (or sub St. George for a particularly oaky & vanilla-y experience)
1 oz. Cointreau
1/2 oz. Amaretto
1 tsp simple syrup (2:1)
6-7 oz. fresh brewed coffee
Top with Mezcal whipped cream*
Mix ingredients in your choice of glass or mug. Top with Mezcal whipped cream and garnish with orange peel.

*Mezcal whipped cream: In mixing bowl, whip 1/4c. Mezcal (Vida or Zacatecano are fine, don't break the bank on this ingredient), 1/2 cup heavy cream, one tbsp powdered sugar and 1/2 tsp vanilla extract until peaks are soft.
From Beau Burtnick: "I know what you're thinking, this looks weird. The inspiration for this drink came from my confusion about the popularity of Herbsaint & coffee in New Orleans. I couldn't understand why any person, of their own volition, would knowingly mix these flavors together. And then, as many discoveries occur, I tasted it and it made perfect sense. So I toyed with it to add complexity and this is what I came up with. The Cointreau adds a lifted orange element which is a direct nod to the classic Café Brulot, famous in the supper clubs of New Orleans. Amaretto fills out the mid-palate and the whole quirky symphony comes together. Mezcal whipped cream was my final and favorite addition, lending a gentle, fresh smoke note while also bringing texture and sweetness to the party."

Recent Articles
Inside Look: Campari's Stylish North American Headquarters in New York
Behind the Bar: Liana Oster of Dante
Pabst Blue Ribbon Launches Blue Ribbon Whiskey in Select US Markets
Feedback
How are we doing? Tell us what you like or don't like and how we can improve. We would love to hear your thoughts!