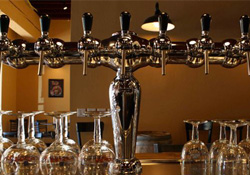 Address
1522 SE 32nd Avenue
(32nd and Hawthorne)
503-234-8888
bazipdx.com
Neighborhood
Richmond
About
From Facebook:
Bazi Bierbrasserie is a restaurant and bar featuring a unique and rare selection of 17 Belgian craft beers draught from an authentic European style tap system plus a brasserie style food menu. Belgian food is influenced by the Dutch, French, Spanish, and a touch of Italy (e.g. croque monsieur, steak n frites, mussels n frites, etc). Our full bar showcases an extensive liquor and cockta...il selection, including our nationally recognized bier cocktails.
Events
06/14 - 2nd annual Battle of the Belgians at Bazi Bierbrasserie
Time: 5-10 PM
Four US Belgian-styles will be selected to go against four Belgians.
Beers on Tap
Full beer list on website
Beer in Bottles & Cans
Deus Brut
Duvel Golden Ale
Contreras Valeir Extra
Huisbrouwerij Slint Canarus Tripel
Stillwater of Love & Regret
Stillwater Jaded
Green's Gluten-Free Amber Ale
Wandering Aengus Ciderworks Bloom