Where to Drink on Memorial Day Weekend in Portland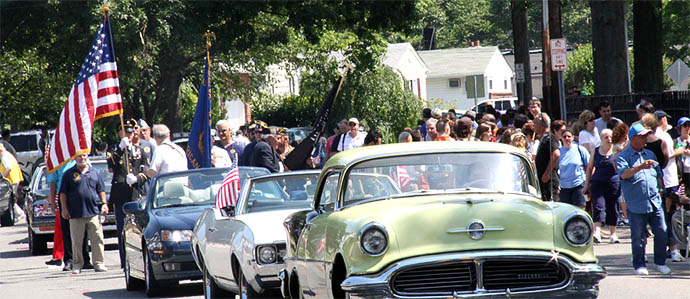 Plenty of great bars, breweries, wineries, and even the city itself put on some great events to celebrate Memorial Day Weekend. Here are the best bets for celebrating this weekend — if you're lucky enough to have Monday off, make sure to raise a glass to the men and women who've died in the name of this country as you indulge in some epic day drinking.
Friday, May 24
Brewmaster's dinner with Full Sail Brewing
Join Full Sail Brewery at the scenic Skamania Lodge just across the river in Washington for a 4-course dinner paired with some of the best beers Hood River has to offer. One of the Master Brewers will be on hand to answer questions about the beers and to enjoy the fun. Dinner-only reservations and a special overnight package can be booked online or phone. Enter code FULLSAIL into the group code box to get these special rates: Dinner only: $60 per person inclusive of gratuity; Overnight package: dinner for two and overnight room at $269 per night, plus taxes and lodge fee (131 SW Skamania Lodge Way, Stevenson, WA; 800-221-7117).
Rose Festival Memorial Day Fireworks
Head downtown to enjoy this year's fireworks display over the Tom McCall Waterfront Park. The show starts at 10 PM so make sure to get to these bars in time for the best view you can get with a cocktail in hand.
Departure: Balcony seating is first come, first serve but it will be worth the wait when you see the fireworks from one of the tallest bars in town (525 SE Morrison St; 503-802-5370).
Hotel 50: Grab a table in the bistro dining room of this river-side hotel and enjoy the only good parking you'll find downtown on a Friday night with their free valet parking for up to two hours (50 SE Morrison St.; 877-237-6775).
Quartet: If you want to be close to the action then look no further because this restaurant bar is basically on a pier. Nighttime happy hour begins at 9PM so grab a seat in the bar, sit back, relax and enjoy the fireworks show (1910 SW River Dr.; 503-222-7300).
Saturday, May 25
Memorial Day Open House at SE Wine Collective
Help the resident wineries of SE Portland wrap up Oregon Wine Month by check out their new releases accompanied, as always, by delicious bits of compliment the great native wines on hand. The party lasts from 4-7 PM and it only costs $15 to taste this year's wines from all five resident wineries including Division Winemaking Company, Helioterra, Vincent Wine Company, Bow & Arrow, and the newest member of the Collective, Fullerton Wines. (2425 SE 35th Pl; 503-208-2061)
Mix.Sip.Grub - A Dash of MSG at Wildwood
Join Executive Chef Dustin Clark and the rest of the team at Wildwood for a playful experiment in Chinese-American food and drink with 6 appetizers paired with 6 of Bar Manager Ryan Csanky's unique cocktails. Enjoy cocktails made with all of your favorite unique Chinese flavors like Szechuan peppercorns, hot mustard, and plum sauce. Despite the name of the event there will not be any MSG used in the food or drink but there will be homemade fortune cookies with handwritten messages from Chef Clark. (1221 NW 21st Ave; 503-248-9663)
Sunday, May 26
Meet the Brewer Tour with Elan Walsky of Coalition Brewing
Brewvana's Memorial Day tour includes all of the things that make a great holiday weekend - beer, cocktails, food, parks, and a pretzel necklace. The all day tour begins at Coalition Brewing where owner and brewer Elan Walsky will introduce you to his beers and how they are brewed. After the brewery tour and beer tasting tour Brewvana will take a break from the brews to taste the spirits at Eastside Distillery where you can either stick by the old standard, Burnside Bourbon, or possibly branch out and try their new cherry-infused whiskey, Cherry Bomb. End the day with food from the Eastburn and an outdoor beer party at Laurelhurst Park. Tickets are $85 a head for all of your beer, spirits, food, and transportation. Register online or by phone (online registration; 503-729-6804).
Monday, May 27
Bazi 2nd Year Anniversary Beer and Cake Pairing
The owner of Bazi, Hilda Stevens, and Bryan Kielty of Lompoc invite you to celebrate Bazi's second anniversary with cake and beer like any proper birthday party. Not only do you get to try Lompoc's new Forbidden Fruit black current saison but also free Jaciva's chocolate cake. Whether you are new to Bazi or you are a long-time fan this is a great opportunity to see this bar at its finest and be one of the first to try Lompoc's new beer (1522 SE 32nd Ave; 503-234-8888).
Raven and Rose Brewer's Social: The Night of the Living Beer
Help Raven and Rose's Rookery Bar kick off this new monthly beer party perfect for any aspiring brewers or beer nerds. Each party will showcase a theme of beers with local brewers on hand to answer questions and share their stories. From 5-8 PM, The Night of the Living Beer will showcase a dozen beers on tap and in bottles that are live, wild, and sour. (1331 SW Broadway; 503-222-7673)
Tags:
Holiday
Recent Articles

Feedback
How are we doing? Tell us what you like or don't like and how we can improve. We would love to hear your thoughts!