Type
Bar/Pub
Brewery
Restaurant
Cuisine
Pub food
Average Drink Price
$5-$7
Average Food Price
$10-$15
Hours of Operation
Sun-Tue; 11 AM-10 PM, Wed-Thu; 11-11 AM, Fri-Sat: 11-12 AM
Atmosphere
Beer Connoisseur
Neighborhood Hang
Trendy
Dress Code
Casual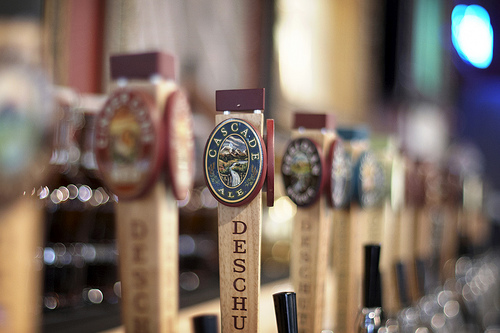 Address
210 NW 11th Avenue
(11th and Davis)
541-385-8606
deschutesbrewery.com
Neighborhood
Pearl District
About
From the website:
Fusing a distinct Northwest and classic Scottish Pub feel, this Pearl District destination has become a convivial gathering spot of beer and food lovers since its 2008 opening.


The brew pub's 19 taps feature Deschutes mainstays plus a selection of seasonal and experimental beers, including a Gluten-Free beer, developed and brewed on site exclusively for the Portland pub by brewer Ryan Schmiege.
Events
06/11 - Lisa Morrison + BREWVANA present: Progressive Dinner Tour
Time: 6-9 PM
Lisa Morisson, the Beer Goddess is leading this progressive dinner tour!
Monday
Happy Hour (4:00 pm - 6:00 pm): Two Select Drafts for $3.50 Each (Rotates Daily)
Tuesday
Happy Hour (4:00 pm - 6:00 pm): Two Select Drafts for $3.50 Each (Rotates Daily)
Wednesday
Happy Hour (4:00 pm - 6:00 pm): Two Select Drafts for $3.50 Each (Rotates Daily)
Thursday
Happy Hour (4:00 pm - 6:00 pm): Two Select Drafts for $3.50 Each (Rotates Daily)
Friday
Happy Hour (4:00 pm - 6:00 pm): Two Select Drafts for $3.50 Each (Rotates Daily)
Beers on Tap
Rotating drafts that are brewed onsite