Portland Brewing Guide: Six Breweries to Visit in Northwest Portland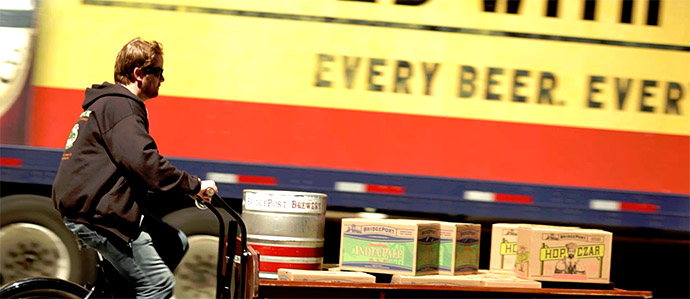 Somewhere outside the spirited Pacific Northwest, where sparkling rivers seem to magically flow into beer, there are mile-long scrolls with the names of those who hope to someday step foot inside a brewery — waiting lists that are longer than a liver transplant recipient list (true talk: I was nearly on both lists while living in the Midwest).

But here in the land of hops, our only obstacle is deciding which brewery we want to drink our way through first. After checking out our guide to six breweries in North and Northeast, head across the river to the Northwest quadrant. The warehouses and old factories of the Pearl and NW neighborhoods create a rugged and industrial backdrop for a day of well-crafted beer.

Bridgeport Brewpub: It is said that the craft beer revolution of the Pacific Northwest started right here back in 1984, in the Portland Cordage Company Building. An art gallery, event space for weddings and dishes that incorporate its ales are just a few of the details that pull Bridgeport to the front of today's brewpub pack. Though Bridgeport is a pioneer in the state's craft brewing revolution, you won't find much mention of this on its website. The beer is now distributed in 18 states and the quality hasn't suffered — and it doesn't seem as though the proprietors' heads have swelled either (1318 NW Northrup St.; 503-241-7179).

Lucky Labrador Beer Hall: This beer hall located in an old Freightliner Trucking warehouse has a five-ton crane hovering over the tables. Cheap slices of cheese pizza ($2.75) will give you a good base for sipping on the eight Lucky Lab brews, or one from the Cask Pump or Nitro Tap (1945 NW Quimby St.; 503-517-4352).

Deschutes Brewery Public House: Seasonal and experimental beers are dreamt up and brewed on site. For instance, when Collage was released, it was the place to score a first try, before bottles were shipped out to stores. Stay and dine outside on some pub fare, like the Cascade Ale Steamed Manila Clams (recipes available on Deschutes' website), or get a growler AND a keg to go (210 NW 11th Ave.; 541-385-8606).

MacTarnahan's Tap Room: The most I had ever known about MacTarnahan's was that I could get a 22-ounce longneck of hoppy Amber Ale for around two bucks from the corner store down the street from my house. Graduating from corner store longnecks to the taproom opens up a world of (12) beers on tap including its cleverly named and labeled seasonal drafts (see: Humg Bug'r) (2730 NW 31st Ave.; 503-228-5269).

Rogue Distillery and Public House: When a brewery is creating Juniper IPAs, Chipotle Ales and Double Chocolate Stouts, who needs a meal? (The OLCC is the only one claiming beer is not a meal...) Skip over the appetizers, salads, and burgers and concentrate on the beer. Rouge started in 1988 in Ashland, Oregon and 24 years later is still as relevant as ever. Even with a wide distribution of bottled beer (to the Midwest too!), Rouge is keeping up its persona as that creative distillery that comes up with timely creations like the Voodoo Chocolate, Peanut Butter and Banana Ale (1339 NW Flanders St.; 503-222-5910).

Pints Urban Taproom: Pints is the first brewing company to open in the Oldtown/Chinatown neighborhood since the Liberty Brewing Company was opened in 1852. This coffee shop by day, and urban taproom by night is easy to overlook; the shop front is small and unassuming. You've probably caught a flash of it while speeding by on the MAX. The Fresh Hop Seismic Upgrade Imperial IPA is just one of its ten brews made in enticingly small 3.5 barrel batches (412 NW 5th Ave; 503-564-2739).
Tags:
Bar Crawl
,
Beer
Recent Articles

Feedback
How are we doing? Tell us what you like or don't like and how we can improve. We would love to hear your thoughts!