Celebrate American Craft Beer Week, May 12 - 18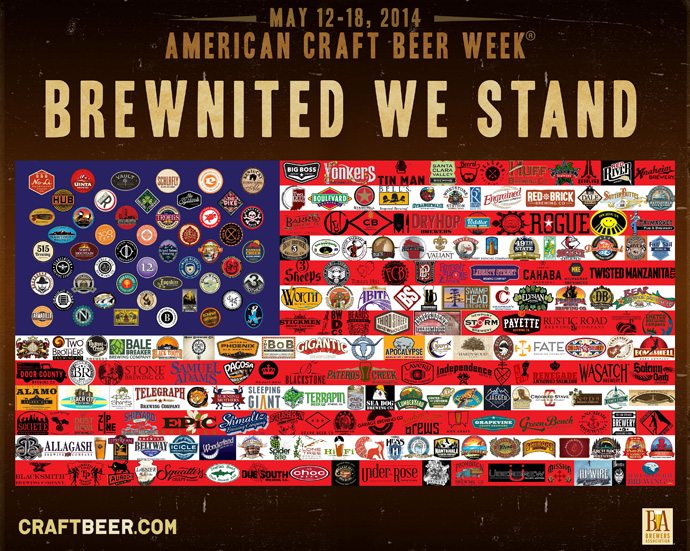 From May 12th – 18th, the Brewers Association has called for the United States to "brewnite" under the common cause of craft beer. There will be a diverse spread of events throughout Oregon and the city of Portland to herald in another successful year of domestic brewing. Check out and head to the events listed below, and if you know something we don't, be sure to let us know via Facebook or Twitter. Cheers, America!
American BBQ Week at Deschutes Brewery
May 12-18
Deschutes Brewery will be serving up different hand-crafted BBQ plates every day to pair with their specialty beers available on tap, as well as several of their reserve brews. This event runs all week long, and will deliver a new tasting experience each and every day.

Rogue Toast
Monday, May 12
Kickoff the beginning of ACBW at Rogue Public House with their traditional ACBW toast!
Rogue Trivia
Tuesday, May 13
Rogue Public House will be celebrating ACBW by testing the beer and trivia knowledge of Portland's best and brightest. Join in the contest and prove your beer mastery!
Rogue Hall Brutal Firkin Tapping
Tuesday, May 13
Join Rogue Public House as they tap a firkin of their Brutal IPA, official beer of the Rogue Nation.
Rogue Bung Toss & Trivia
Wednesday, May 14
What is a bung toss? Well, it involves a barrel, bungs, and tossing. Head out to Rogue Public House to find out more about this vintage drinking game and join the tournament. While you are competing to be the bung master, jump in for another round of trivia.
Rogue Craft Beer Cocktails
Thursday, May 15
From the flavor rich Rogue Farms comes the unification of Rogue Spirits and Rogue Ales to deliver a powerful array of craft beer cocktails to you. Specials will be running all day long, including a discount on the Rogue Taster Trays!
Rogue Dog Night
Friday, May 16
In honor of brewmaster, John Maier, and his beloved companion, Brewer, dogs will eat for free on the patio at Rogue Public House.
Rogue National Pizza Party Day
Friday, May 16
In honor of National Pizza Party Day, Rogue Public House will be serving up a delicious combination pint and slice deal for $5.
Rogue Timber's Night
Saturday, May 17
Cheer on and celebrate the Portland Timber's pre and post match at Rogue Public House.
Rogue Closing Toast
Sunday, May 18
All good things eventually come to a close, so close it out at Rogue Public House as they celebrate another wonderful ACBW with their traditional closing toast.
Tags:
Beer
Recent Articles

Feedback
How are we doing? Tell us what you like or don't like and how we can improve. We would love to hear your thoughts!