Bartender Q & A: Michael Robertson of Driftwood Room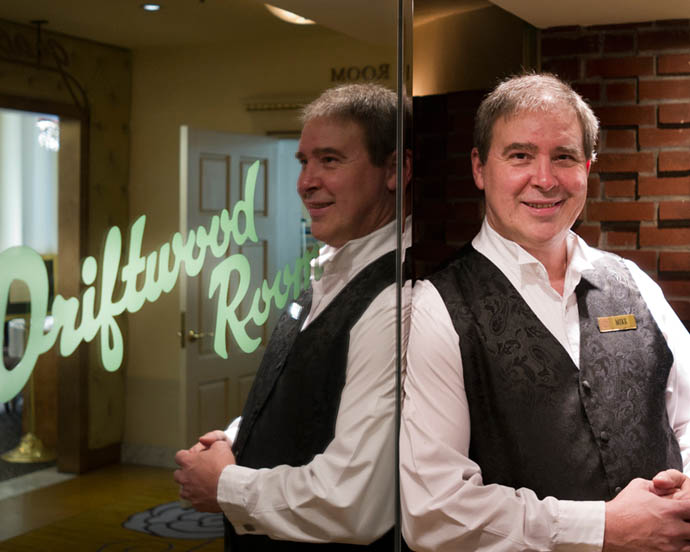 Michael Robertson, bar manager at Driftwood Room, has lived in his fair share of U.S. cities. He's been back in Portland for six years with his lady Kat (now manager at Gracie's Restaurant in Hotel deLuxe) after a previous stint in PDX. Robertson got his first job in the industry as a dishwasher when he was just 14 (he told the restaurant he was 16). Since then, he's held every position in a bar and restaurant except chef but we're most grateful for his work at the Driftwood Room and contributions to the Portland drinking scene.
With the Driftwood Room turning 60 years old — a celebration is going down on May 26 — we caught up with the man behind its bar.
Drink Portland: After living in 24 cities in 10 states, what brought you back to Portland?

Michael Robertson: After kicking around the idea of moving back to Portland, or moving to Boise or Austin we decided to move to Tucson, Arizona. We had both lived in Portland before but not at the same time. We went to Arizona and it didn't suit us. We knew that we both liked Portland so we came back.
DP: Being back in Portland for six years after previously living here, is there anything that stands out in your mind as being the biggest change the food and drink industry has gone through?
MR: The city has stepped up the use of local, organic and sustainable food, which is allowing the industry to attract more creative people from all over the country. It is the most creative place I've ever lived for food and drink.
DP: What excites you the most about the Portland drink scene?
MR: The character and camaraderie of the bartenders. They're amazing in the way they support each other and the community.
DP: Since the Driftwood Room is turning 60 this month, do you have any favorite memories or events that you've been a part of at the Driftwood Room?

MR: Being able to bartend with my girlfriend Kat for three years behind the bar. She's a very creative bartender and we fed off of each others ideas quite a bit. It really improved our cocktail menu.
We hosted the first annual Portland Cocktail Week and I think the way everyone helped put that together was pretty incredible.

DP: Driftwood Room creates new spins on classic cocktails. Can this be difficult to achieve at an establishment that has been around 60 years?

MR: There are so many new ingredients to play with in the market right now that it's pretty easy. Our clientele is also really receptive to new ideas and I think that motivates the bar staff to be creative.
DP: What are your favorite ingredients right now?
MR: The Gran Lusso vermouth from Martini & Rossi is perfect for Manhattans. I like what Cindy Capparelli is doing with her Portland Bitters Project. I'm using that in some of our classic cocktails. Using the herbs from our rooftop herb garden for that fresh bright flavoring.
Honeycomb as the garnish for our Local Honey cocktail. I'm buying it right now but when they start producing it, I will be able to use some from the bee hives that Bee Local honey has installed on our roof.
DP: Is there one underrated cocktail or wine that we should all be drinking right now?
MR: The Bees Knees, it's refreshing, simple and delicious. Our version of it is called Local Honey and we're using Aria gin, Farigoule (French wild thyme liqueur), Bee Local Honey and fresh lemon juice.
Gruet Rose sparkling wine from New Mexico. It is simply delicious. We pour it by the glass and I like the expression on people's faces when they first drink it. They invariably look at me and say, "New Mexico?"
DP: I'm thinking about the Mixed In PDX drink menu, which you helped develop. Your task was to incorporate local purveyors' products (tea, ice cream, honey, salt) into cocktails. Where do you begin accomplishing a challenge like this?

MR: First, you have to taste everything for inspiration but I've done a lot of pairing of flavors so that sort of thing comes fairly easily to me. It helps when you have such high quality products as the ones I was given to use.
DP: You have mentioned the Secret Society as one of your favorites in town. Are there any other cocktail bars in Portland that should be on our radar?

MR: Fireside, Sue Erickson used to bartend with me here and I think she's done a fantastic job with that place. Interurban, they have some of the best, most knowledgeable bartenders in town and the place feels good. Pepe Le Moko, Morgenthaler and a cool room, what more do you need? The Box Social: solid creative cocktails, good service, good food and a nice atmosphere.
Check out Mike Robertson's blog about cocktail culture, Still Slingin'.
Tags:
Cocktails
Recent Articles

Feedback
How are we doing? Tell us what you like or don't like and how we can improve. We would love to hear your thoughts!