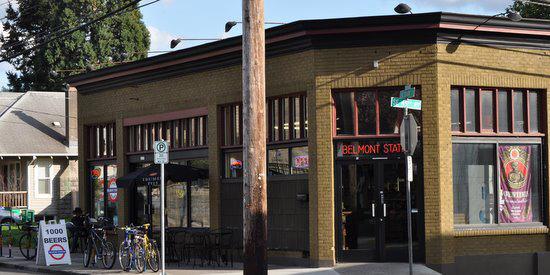 Address
4500 SE Stark Street
(45th and Stark)
503-232-8538
belmont-station.com
Neighborhood
Southeast
About
From the website:
Belmont Station is a showcase for the best beer from Oregon and beyond. Over 1,300 beers have been carefully selected, meticulously rotated, and properly stored under UV-filtered light to maintain the freshest selection of beer in the Portland metro area!
Events
06/07 - Official Breakside Brewery/Gigantic Brewing Portland Beer Week Bottle Release Party
Time: 5–8 PM
Meet brewers from both Breakside and Gigantic Brewing in person as they unveil the limited edition collaboration beer made only for the 2013 Portland Beer Week.
06/12 - Washington Brewers Night at Belmont Station
Time: 5-8 PM
This night will feature beers from some of Washington's best breweries with brewers in attendance.
Monday
All Day (3:00 pm - 11:00 pm): Select $3 Pint(s)
Tuesday
All Day (3:00 pm - 11:00 pm): Select $3 Pint(s)
Wednesday
All Day (3:00 pm - 11:00 pm): Select $3 Pint(s)
Thursday
All Day (3:00 pm - 11:00 pm): Select $3 Pint(s)
Friday
All Day (3:00 pm - 11:00 pm): Select $3 Pint(s)
Saturday
All Day (12:00 pm - 11:00 pm): Select $3 Pint(s)
Sunday
All Day (12:00 pm - 11:00 pm): Select $3 Pint(s)
Beers on Tap
18 rotating beers on tap listed on website
Beer in Bottles & Cans
Over 1,300 bottles all listed here