Type
Bar
Cocktail Bar
Gastropub
Lounge
Restaurant
Wine & Spirits
Cuisine
Mussels are the star here, giving the restaurant its name, "La Moule". Different styles are served in large bowls, from the traditional french to Thai and Belgian styles. Also on the menu are leige waffles, as well as marrow, tartar, fries, salads, and a burger. All excellently done from the former chef of St. Jack's, one of PDX's most popular French spots.
Average Drink Price
Hours of Operation
Mon - Sun 5 PM - 12 AM
Kitchen Hours
Mon - Sun 5 PM - 12 AM
Atmosphere
Dark
Impress a Date
Impress Your Boss
Neighborhood Hang
Young Professionals
Special Features
Artisanal Shop
Good for Groups
Dress Code
Casual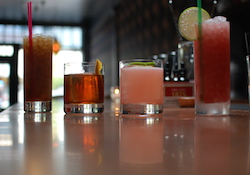 Address
2500 SE Clinton St
(SE 25th and Clinton)
971-339-2822
lamoulepdx.com/
Neighborhood
Richmond
About
Mussels, Cocktails, Belgian Beers, Belgian Waffles, and more, all in a beautiful, stylish new restaurant/bar.
Beers on Tap
Belgian beers dominate the menu here, including some extremely rare specials from time to time
Beer in Bottles & Cans
Belgian beers in bottle, too.
Speciality drinks available
Excellent cocktail program. Complex and delicious, but accessible.
Wine
White wine and sherry are great with mussels, and there are some great European and local reds as well.