Portland's Best Bar Snacks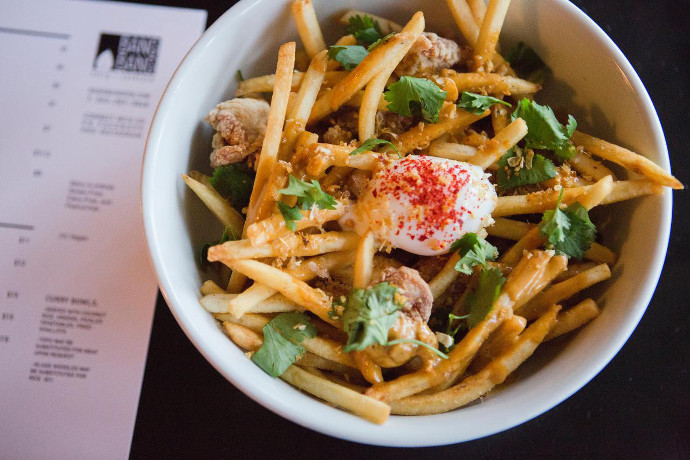 We Portlanders are blessed when it comes to bar food, as any place that serves alcohol must legally serve hot food at all business times. For some places, that means microwaving a TV dinner, but many spots in town use it as an excuse to exercise their culinary muscles, with some even being a destination more for their food than their bar program. Here are some of our favorite bars to grab a snack or meal in town. Let us know your favorites at our
Twitter
or
Facebook
.
Bit House Saloon
One of the city's most beloved bar, Bit House Saloon takes its kitchen menu as seriously as it takes it cocktails, with plenty of great drinking snacks and full dinners available. It's elevated pub grub with a twist, including a line of tacos (get the brisket) and tostados, and plates featuring smoked chicken wings, a housemade fried bologna sandwich, the classic wedge salad, and more. Of course it wouldn't be a Portland cocktail bar without fresh oysters, available in sets of three, six, or a dozen. (727 SE Grand Ave.; 503-954-3913)
La Moule
With one of Portland's top chefs for French cuisine at the helm, La Moule blurs the line between bar and fine dining restaurant. Items like the braised lamb shank may not qualify as bar food, but the namesake mussels are a perfect drinking snack, especially when paired with a plateful of skinny, salty frites and a cold Belgian beer. Don't skip happy hour either, when you can find $1 oysters and $4 crispy pork rinds. (2500 SE Clinton St.; 971-339-2822)
Bang Bang
Cocktails and curry are the draw here, with big bowls filled with rice, meats, and vegetables, topped with rich curry sauces. But Bang Bang also offers an array of Thai drinking snacks, like delicious drunken chicken wings, satay skewers, curry fries, and more. (4727 NE Fremont St.; 503-287-3846)
Dots Cafe
Dots Cafe's heaping platters of fries, which get covered in a variety of things from cheese to spicy tofu sauce, jalapeños, and bacon, have been a staple of the Portland bar scene for nigh on decades now. And Dots has a lot more to offer than just that, including nachos, rice bowls, quesadillas, burgers, and even healthy salads and skewers. It's basically a high-end diner that happens to have a full bar open late with plenty of happy hour times. (2521 SE Clinton St.; 503-235-0203)
Shift Drinks
A wine and cocktail bar primarily, Shift Drinks redfines bar food with its fresh, light menu. Kale salad with castelvetrano olives, bruschetta, pork loin panini, olive oil cake, and others all pair delightfully with the fine wines and creative cocktails. On the special all-day happy hour menu you can find an amazing grilled cheese and tomato soup or a cheese and snack plate, both for just $5, or a solid cubano for $6, amongst other treats. (1200 SW Morrison St.; 503-922-3933)
Bar Casa Vale
The Spanish tapas and sherry bar Bar Casa Vale started with a great menu, but it's only gotten better with a recent overhaul. Tapas, pintxos, and shareable plates are the way to go for bar snacks, including amazing chicharrones that are dusted with shrimp powder and lime, and the fried olives that will convince even the most reluctant diner that olives are delicious. Steamed clams, yellowtail crudo, papa bravas, pork belly with endive, and more make for more hearty fair, while those looking for a full meal can find grilled sea bass, suckling pig, and even a chef's tasting menu. BCV remains one of the best Spanish restaurants in town that just happens to be in a bar. (215 SE 9th Ave.; 503-477-9081)
Swift Lounge
Well known for its debilitatingly potent mason jar drinks, Swift's eclectic but good food offerings are often overlooked. The best time to eat here is during happy hour, but as it goes until 8 PM every day but Sunday, when it goes all day, that's not hard to do. Then you can find chicken satay, kimchi and brown rice, caesar salads, and an entire line of sliders, each for $5 or less. Even during the unhappy hours you can find some good bar snacks, including the happy hour items as well as sandwiches, rice bowls, and loaded potatoes. (1932 NE Broadway; 503-288-3333)
Sweet Hereafter
The Sweet Hereafter is a quintessential spot for veggie foods, as the entire bar is vegan. The meat substitute items like the blackened tempeh sandwich and buffalo soy curl sub are fine, but the bowls are the best choice, especially when you add avocado and/or pineapple to things like the Jamaican Jerk Tofu Bowl. It's always best to grab a Hereafter with it, a 32 oz mason jar filled with vodka, bourbon, ice tea, and lemon for $9. (3326 SE Belmont St.)
The Solo Club
Airy, Mediterranean fashioned Solo Club proves the idea wrong that bar food has to be greasy and fried. The "nosh" here, as it's called on the menu, consists of Middle Eastern and Mediterranean inspired dishes like brown butter hummus, marinated olives, and a shaved vegetable salad. Even the fried stuff won't leave you feeling gross, with salt cod fritters, falafel gyros, and crispy fried cauliflower being a delicious alternative to fries and chicken wings. (2110 NW Raleigh St.; 971-254-9806)
Victory Bar
Victory Bar strikes that careful point between a lounge and a dive, well good but affordable drinks, a hefty draught list, and even some decent wines. But where the bar shines is with its "famous spätzle" menu, housemade dumpling noodles covered in gruyere cheese, with a variety of toppings from mushrooms to pork belly. The venison burger, served with housemade pickled vegetables, is also a solid choice, especially at happy hour when it's just $7. (3652 SE Division Street.; 503-236-8755)
The Old Gold
Though primarily a great whiskey bar, The Old Gold in North Portland also offers an excellent selection of sandwiches, vying as one of the best sandwich spots in town. The fried chicken sandwich, steak sandwich, and cubano are all standouts, but vegetarians are in luck with options like the buffalo-style cauliflower sandwich and tofu bánh mì. (2105 N Killingsworth St.; 503-894-8937)
The Crown
There are a lot of great pizza places that also serve drinks, but Vitaly Paley's The Crown is equal parts pizzeria and cocktail bar, with both making a solid reason for a visit. New York style pizzas are available by 12" and 18" pies, as well as by the slice, all at reasonable rates. Classics like pepperoni, sausage, cheese, and margherita are all good, as are the more creative pies, like the Imperial, with fried chicken, pickles, honey, and ranch. (410 SW Broadway; 503-228-7222)
Lucky Devil Lounge
While it's the Acropolis Steakhouse that gets all the attention for strip-club food, it's Lucky Devil Lounge that is quietly putting out the best snacks at a nude bar in town. Forget the massive chewy steaks at Acrop and come in here for steak bites, or enjoy other classic dive bar treats made with surprising aplomb, like chicken strips, tacos, burgers, and more. (633 SE Powell Blvd.; 503-206-7350)
Reel M Inn
The secret's been out for a while, now, but Portland's (arguably) best fried chicken comes out of the frier of a little dive bar on SE Division. It takes a while to get, as it's fried to order, but guests can just order a few rounds of cheap drinks and play some pool or Big Buck Hunter; the tender, crispy, juicy fried chicken is more than worth the wait. (2430 SE Division St.; 503-231-3880)
Stammtisch
German food is made for drinking beer with, and Stammtisch delivers with some of the best German drinking snacks in the city. Currywurst and fries are really all anyone needs, essentially a fancy, European take on hotdogs and french fries with curry ketchup, but the menu is far more extensive than that, including wienerschnitzel with warm potato salad, choucroute garnie—sauerkraut braised bacon with veal sweetbreads and blood sausage—and plenty more meaty options. Vegetarians should look elsewhere. (401 NE 28th Ave.; 206-7983)
Horse Brass Pub
Portland's most authentic English pub comes with, of course, Portland's most authentic English pub food. The fish and chips are essential, as is the Scotch egg, and there really isn't anywhere else in town that you can find a steak and kidney pie. None of the pub grub is complete without a 20 oz Imperial pint of cask-conditioned ale to wash it down, preferably during a game of darts. (4534 SE Belmont St.; 503-232-2202)
Photo via Katie Burnett
Recent Articles

Feedback
How are we doing? Tell us what you like or don't like and how we can improve. We would love to hear your thoughts!