Portland's Sexiest & Most Romantic Bars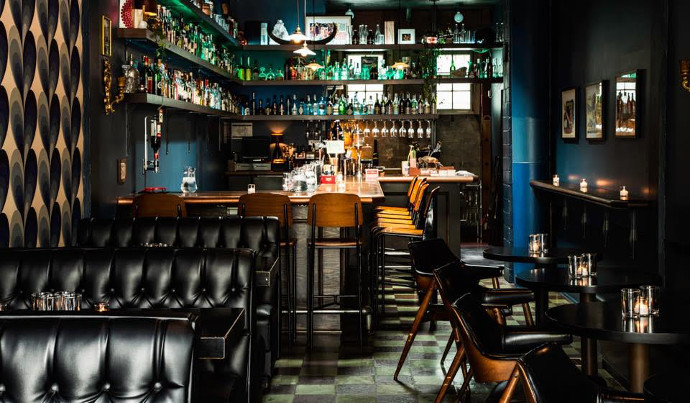 The best bars have a defined aesthetic, whether it's a sketchy but comfortable dive bar, or a throbbing dance club that promises a raucous night with $15 well drinks. And then there are those bars that evoke something else, something sensual and thrilling; these bars are sure to make you swoon as soon as you enter. Here are Portland's seven sexiest, most romantic bars, for whether you're on a date, looking to meet someone, or just sitting pretty at the bar by yourself. Let us know if we missed your favorite place romantic bar at our Facebook or Twitter.

La Moule
La Moule rides the line between restaurant and bar, but in the back room, away from the noise of the kitchen, it's clearly the latter. The main focus here is the wallpaper, an elegant blue with a print of the titular mussels which happen to make the shape of a heart. It's understated, classy, and seductive, just like the rest of the bar, from the copper bar top to the stylish black leather seats. There's just something ephemeral about La Moule--maybe it's the rich smell of mussels, the dim lighting, the soundtrack which might be playing synthpop and new wave, or the sensuous nature of the drinks menu, which includes absinthe, sparkling wines, sherry, and rich cocktails. Or maybe it's just that wallpaper. In any case, it's hard not to fall in love at, and with, La Moule. (2500 SE Clinton St.; 971-339-2822)
Expatriate
Expatriate proves that gaudy can be sexy when it's used correctly; the lush room is full of dripping candles and gilded frames that evoke a romanticized image of Southeast Asia in the early 20th century. The bar is cozy to the point of almost being cramped, and with vintage records being spun, often by owner Kyle Webster, you'll have to lean in close for a conversation. Add to that a list of fantastic cocktails, exciting wines, and Naomi Pomeroy's famous drinking snacks, you'll be endeared in no time.
(5424 NE 30th Ave)
Angel Face
It's hard to describe Angel Face without using the word feminine, and not just because the staff is mostly ladies. Like La Moule, it has an iconic wallpaper - pale pink adorned with blue irises, lending it a sweet, vintage feel. The white marble bar wraps around the small space, with stylish bartenders creating original concoctions right in front of your eyes. Instead of ordering from a menu, ask for your favorite type of drink or for something new that fits a flavor profile, involves a favorite ingredient, or even one that evokes a particular emotion; in any case, your bartender will create you something memorable.
(14 NE 28th Ave.; 503-239-3804)
Sapphire Hotel
Sapphire Hotel hasn't been an actual hotel lobby since the early part of the 20th century, but it's always been a place for lovers to meet up. It's Portland's original date spot, and continues to be one of the best, especially if you can snag one of the seats in the back next to the wood stove. Persian rugs, lanterns, and peacock feathers give this place a fun, almost dated look without being too campy. The Sapphire Hotel manages to be homey and comfortable without sacrificing sex appeal.
(5008 SE Hawthorne Blvd.; 503-232-6333)
Driftwood Room
The West Side of Portland isn't entirely lacking seductive locales: the Driftwood Room, housed in the Hotel DeLuxe, is one such spot. It's dark, discreet, and narrow, with a long leather lined bar running along the entirety of the interior, and a tufted white leather banquette and chairs along the other side. Nothing says romantic like bubbles, and the Driftwood Room specializes in Champagne cocktails. While it lacks some of the warmth of places like La Moule or Sapphire Hotel, it offers a chic, deluxe sort of allure that's appropriate for its location.
(729 SW 15th Ave.; 503-222-2171)
Box Social
There's a sign in the bathroom at Box Social, and it admits that the staff have given up trying to discourage amorous encounters, but just asks that lovers refrain from using the "continually broken sink" for their "endeavors." The candlelit, cozy seating seating makes for an intimate space, but the tone maintains a casual, fun vibe, without veering into ostentation. After a few of the delicious libations and light snacks, the bathroom sign might become immediately relevant.
(3971 N Williams Ave.; 503-288-1111)
Roadside Attraction
You don't have to be a swanky cocktail bar to be a romantic hotspot: Roadside Attraction, the cash-only cantina, may not be as glamorous as some of the other bars on this list, but it makes up for it with character and a lack of any pretense. The inside is lush, with blood red tones and Chinese inspired latticework and dragons, not unlike if Expatriate were more of a dive. Outside is the garden, with fire pits and eclectic coverings, protected from the street by a high wooden fence. Nook seating allows you to easily hide out with a loved one, or by yourself, especially in the summer months.
(1000 SE 12th Ave.; 503-233-0743)
Photo via La Moule
Recent Articles

Feedback
How are we doing? Tell us what you like or don't like and how we can improve. We would love to hear your thoughts!