Restaurants With Great Bar Programs in Portland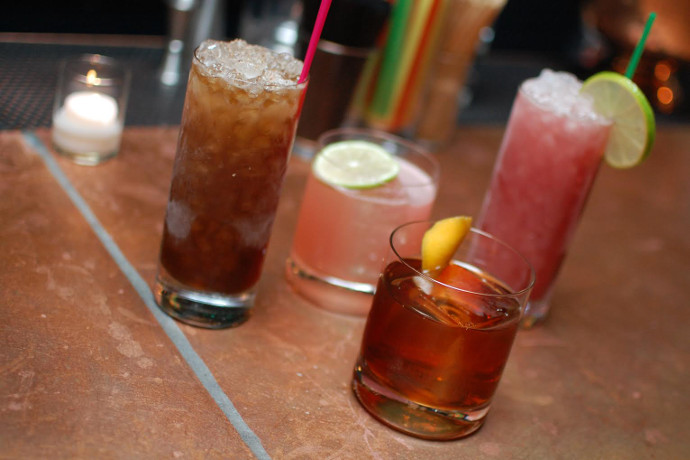 Portland has more than a few great bars dedicated to cocktails, and because of our liquor laws, many of those bars also have exceptional food menus. But sometimes you want to go out for a full dinner or lunch and have a cocktail; luckily, many of our best restaurants also have excellent bar programs. Here are some of our favorite restaurants that could be mistaken for cocktail bars, each with its own unique flavor. Did we miss your favorite spot? Let us know on our Facebook or Twitter.
La Moule
La Moule is one of those restaurants that could also be mistaken for a cocktail lounge, especially the back room, which serves as just that. Here, owner Tommy Klus, bar manager Mark Macminn, and the rest of the talented bar staff have developed a cocktail menu with a playfully mature style. A number of them, including Klus and Macminn, came from Kask, and carried a few recipes with them to the new spot, while newer items routinely join the carefully crafted menu. (2500 SE Clinton St.; 971-339-2822)
It's easy to miss the cocktail program at Ataula when the wine and sherry list is so great and the food menu so delicious (try the nuestras bravas, the best potato dish you will ever eat), but to do so is a mistake. Angel Teta stirs up cocktails with a Spanish flair, including a variety of sherry cocktails, all perfect to pair with the tapas. Stop in for a paella and a bottle of wine or just share an array of tapas and cocktails; either way, you're sure to be pleased. (1818 NW 23rd Ave.; 503-894-8904)
Chesa
Considering that it's an extension of Ataula, (though not a repeat, as it has its own signature menu based on a Josper oven) it's not surprising that Chesa has a fantastic cocktail program. At the long bar lit with Spanish wine pitchers, there's a similar emphasis on sherry cocktails along with many new drinks. The breakout star is the Gin Tonic, with Tanqueray, quinine simple syrup, clarified lime juice, and Yzaguirre Blanco Vermouth. Each ingredient is carbonated for a fizzy, daring take on a G&T. (2218 NE Broadway; 503-477-9521)
Trifecta Tavern
Collin Carroll and his bar staff approach the cocktail program at Trifecta Tavern from a culinary perspective, using kitchen tools such as the wood fired ovens and sous-vide tanks. Here they make unique, bold cocktails such as the Charred Chardonnay Stalk White Negroni, the Bone Marrow Manhattan, and the Clarified Painkiller, as well as more traditional, classic drinks. The restaurant may be expansive, but cocktails are often batched and always served with speed and efficiency, so you're never left waiting. (726 SE 6th Ave.; 503-841-6675)
Raven & Rose
This one is cheating, because Raven & Rose has a cocktail bar, The Rookery, just upstairs. The Rookery is dedicated to exemplifying classic drinks, including the single barrel classic cocktails (try the Mint Julep in particular), as well as creating new and exciting drinks, all of which are available at the downstairs dining room and bar. (1331 SW Broadway; 503-222-7673)
Ringside Fish House
The Ringside group helped set Portland's standard for fine dining for decades, but when the restaurant scene exploded in Portland, it was in danger of being left behind the times. Luckily, the restaurants have managed to remain relevant by maintaining tradition and quality (and one of the country's best wine lists). For the Ringside Fish House, the newest addition to the group, they brought in Daniel Shoemaker, owner of Teardrop Lounge and progenitor of Portland's cocktail scene, to revamp the cocktail menu with classic and original drinks befitting the establishment. (838 SW Park Ave.; 503-227-3900)
Aviary
With a daring Asian influenced food menu, a similarly unorthodox cocktail menu is required, and, at Aviary, it is delivered. Like La Moule, Aviary houses a small cocktail lounge behind the restaurant proper (it was expanded into some years after the restaurant opened); here, bar manager Justin Garcidiaz mixes up delicious concoctions with odd ingredients that include gochujang, corn "milk," and tobacco tincture. The last is included in the Grandpa's Sweater, along with scotch, Drambuie, Amaro Nonino, bitters, and a mezcal mist. (1733 NE Alberta St.; 503-287-2400)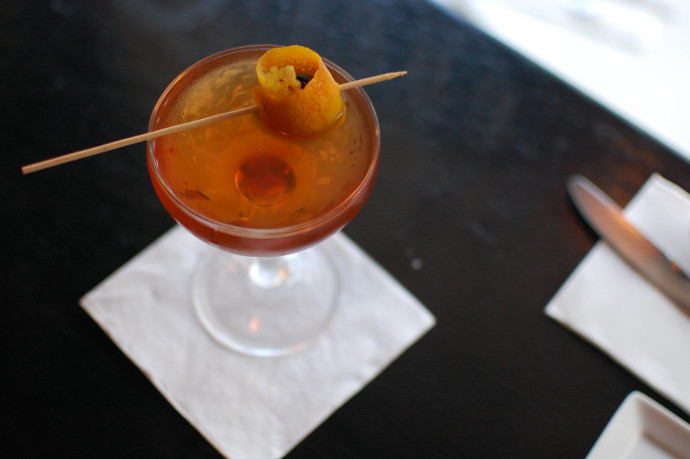 Bang Bang
Bang Bang might be a Thai themed restaurant, but the owners and bartenders came from Aalto Lounge, the excellent cocktail bar on Belmont, and they brought their bar skills with them. Besides an overall solid cocktail menu (try the Well Respected Man, it's one of our favorites), Bang Bang sports an amazing happy hour, including $5 Old Fashioneds, perfect to pair with the excellent chicken wings. (4727 NE Fremont St.; 503-287-3846)
St. Jack
It's no surprise that St. Jack, the French inspired fine dining restaurant deep in NW Alphabet district, has such a great cocktail menu, given its close relationship with La Moule. The cocktails here are pricey, but that's because they use only top notch ingredients in their classic themed drinks. These drinks reflect the refined elegance of the cuisine at St. Jack and are worth the splurge. (1610 NW 23rd Ave.; 503-360-1281)
Clyde Common
There's not much more that can be said about Portland's Clyde Common; though Jeffrey Morgenthaler spends much of his time with his speakeasy bar Pepe le Moko, he still tends bar regularly and helps develop the cocktail menu at Clyde Common. While you certainly can (and should) come here for dinner, every night of the week sees the bar packed with guests. It's the birthplace of the barrel aged cocktail, has a killer happy hour ($6 Bourbon Renewals!), boasts a fantastic whiskey list, and more. (1014 SW Stark St.; 503-228-3333)
Photos via Alexander Frane
Recent Articles

Feedback
How are we doing? Tell us what you like or don't like and how we can improve. We would love to hear your thoughts!