Where to Celebrate Negroni Week in Portland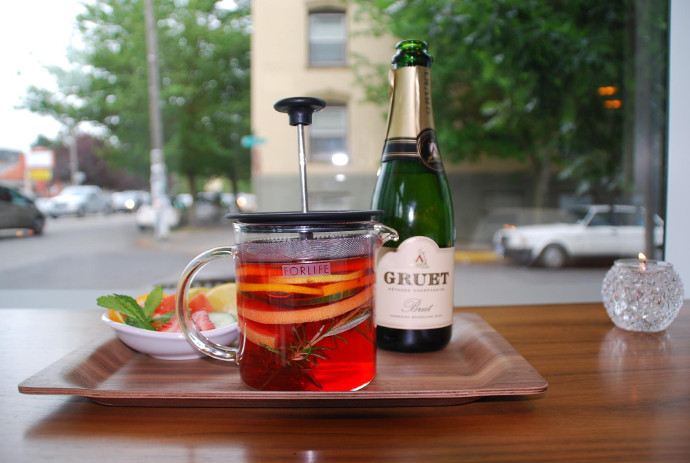 Negroni Week, an international, week long event where bars and restaurants feature unique, inventive Negronis with profits from their sales going to a variety of charities worldwide, is finally upon us. Though it's an Italian cocktail and an international festival, Portland is the de facto origin spot of Negroni Week. Imbibe Magazine, the founder of the celebration, along with Campari Group, is based here in PDX. The magazine was inspired by Douglas Derrick's (originally of Nostrana, now Ava Gene's) Negroni Social. The event still kicks off the Week here in Portland and serves as a mini Negroni Week itself, with multiple bartenders mixing Negronis to benefit Outside In.
Because of this, Portland is one of the busiest cities involved with Negroni Week. There are almost 60 participating bars and restaurants in the city, which makes it nearly impossible to get to all of them. We've picked a few that looked the most exciting to us. Let us know which Negronis you're looking forward to the most on our
Facebook
or
Twitter
.
Bit House Saloon: Otter Pops and More
One of our favorite cocktail bars in the city since it opened a year ago, Bit House Saloon has regularly offers boozy Otter Pops. Now, for Negroni Week, the bar staff is whipping up a batch of Negroni flavored ones, made with gin, Aperol, and Dolin Blanc and frozen with nitrogen. Along with the Otter Pops, the bar will be offering classic Negronis and a Negroni take on a Painkiller with Orange Union Gin, coconut washed Campari, and pineapple vermouth. Bit House Saloon is benefiting the Oregon Food Bank. (727 SE Grand Ave.; 503-954-3913)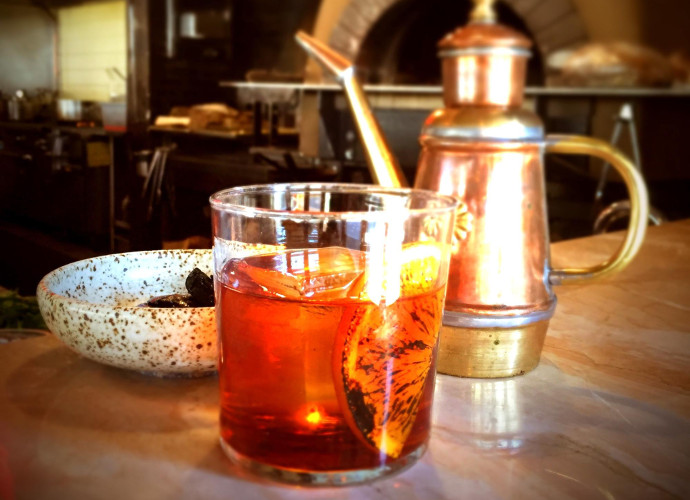 Renata: The Bruciato
Renata is an excellent Italian restaurant that serves an equally excellent Negroni flight — specifically, two variations on the drink and one classic interpretation. During the Week, Renata will be offering a charred, olive oil washed Negroni; red hot coals from the wood fired oven are tossed into pre-batched Negroni mix, and then olive oil is added. The mixture is chilled, separated, and strained for a caramelized negroni that's just lightly flavored by the oil. Renata is benefiting Growing Gardens. (626 SE Main St.; 503-954-2708)
Interurban: Undeniable Dilemma
Another Negroni with a fatty wash, Interurban, the awesome "big-city bar" on Mississippi, is washing its Negronis with bone marrow. Instead of just Campari, the Negronis will also feature a mix of Campari and pineapple infused Aperol (Pineaperol, if you will). It sounds bizarre and delicious, though it's not vegetarian friendly.Interurban will be benefiting Raphael House. (4057 N Mississippi St.; 503-284-6669)
Americano: Press Pot Negronis
We've been big fans of Americano since it opened just recently. This café/cocktail bar features shareable press-pot cocktails, and will serve a special one for Negroni Week. Split a Negroni press pot, a shareable Negroni made with Campari, Bulldog Gin, and two local vermouths — Petal and Thorn, a floral herbaceous vermouth, and Pampleau, a grapefruit wine. The drink is joined by grapefruit, orange, lemon, rosemary, and mint, is pressed down after infusion, and is then topped with sparkling wine. Americano is benefiting Call to Safety, formerly the Portland Women's Crisis Line. (2605 E Burnside St.)
Wiz Bang Bar
The newest addition to Salt & Straw Ice Cream, located at the Pine Street Market, the Wiz Bang Bar specializes in soft-serve ice cream. For Negroni Week, try a sparkling Negroni float with candied rhubarb sorbet — a boozy, sparkly, frosty soft-serve float. Wiz Bang Bar is benefitting Central City Concern. (126 SW Pine St.; 503-384-2150)
Imperial: All Systems A Go
From Portland icon Vitaly Paley, Imperial is a Southern influenced Northwestern restaurant with a fantastic cocktail bar. For Negroni Week, the bar will be making a seasonally themed Negroni with strawberry infused Bonal, honeyed Campari, gin, Punt E Mes, Cynar 70, cava, and a pinch of salt. Imperial will be benefitting Friends of the Children. (410 SW Broadway; 503-228-7222)
Oso Market + Bar: Negroni Local
Oso is primarily a wine bar, one of our favorites in Portland, but also offers a solid cocktail list. This year for Negroni Week Oso is serving up a negroni made with (mostly) local products: New Deal "33" Gin, and Krogstad Aquavit are both from Portland, though the bar is opting for Cappelletti for the the "Campari" part of the drink. Oso is benefitting Bradley Angle. (726 SE Grand Ave.; 503-232-6400)
Aviary: The Golden Negroni
Aviary offers bold, unexpected, and remarkable flavors from both its kitchen and its bar, and Negroni Week this year promises the same. The Golden Negroni takes the classic drink and tweaks each ingredient: The gentian based Suze replaces Campari, a nutty oloroso sherry replaces vermouth, and the gin is the zesty and peppery St George 'Terroir' Gin. Aviary is benefiting Planned Parenthood. (1733 NE Alberta St.; 503-287-2400)
¡Oba!
¡Oba!, the Nuevo Latino restaurant located in Portland's chic Pearl District is showing off how great mezcal works in a Negroni. This one will be a barrel-aged mezcal, rather than the more traditional clear agave liquor, and promises to be a smoky, bitter drink that might change your perspective on what makes a Negroni. ¡Oba! is benefitting the Portland Rescue Mission. (555 NW 12th Ave.; 503-228-6161)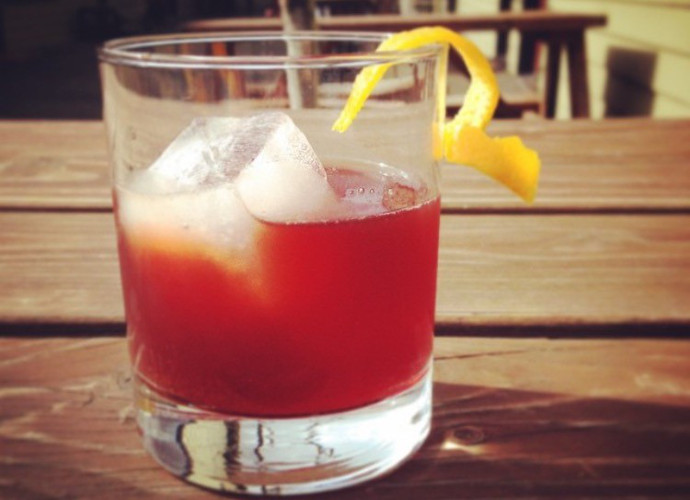 Either/Or: Coffee Cascara Negroni
Don't drink? Need a break from the week? Just want to start earlier in the day but want to stay strong? Head to Either/Or coffee shop for a non-alcoholic caffeinated Negroni! It's a complex mix of three ingredients, each mimicking one of the Negroni's key elements. It's sure to be intriguing. Either/Or is benefitting SMYRC. (8235 SE 13th Ave. #2; 503-235-3474)
Nostrana: Lambrugoni
Nostrana isn't just one of Portland's finest Italian restaurants, it was also the home to the Negroni Social, which inspired the creation of Negroni Week, for four years! Nostrana offers a Negroni of the Month special every month, and it also serves as the Negroni for the Week. This month it's the Lambrugoni with hibiscus infused gin, Campari, Lambrusco, and orange oil. Nostrana benefits Oregon Food Bank. (1401 SE Morrison St.; 503-234-2427)
Ava Gene's: Amphora Aged Rosé Negroni
Douglas Derrick was the original mastermind behind the Negroni Social when he was managing the bar at Nostrana. Now, at Ave Gene's, he's been experimenting with Negronis aged in amphoras. This Negroni Week he'll be presenting his newest work: amphora aged negronis made with rosé from Beckham Estate wines, the vineyard where Derrick gets his amphora from. In addition to the amphora aged drinks, Derrick and his staff will be offering an entire cocktail list of negroni variations. Ava Gene's benefits Outside In, as does Derrick's Negroni Social, on June 6. (3377 SE Division St.; 971-229-0571)
La Moule
We love the cocktail program at this mussels and Belgian beer restaurant designed by whiskey maven Tommy Klus. The bar staff is featuring their classic (and excellent) Negroni, as well as a tequila one with Punt e Mes, Aveze, Aperol, and whiskey barrel aged bitters, but they also might have some secret Negronis in store for the serious fans. La Moule is benefitting Western Rivers Conservancy. (2500 SE Clinton St.; 971-339-2822)
Photo Credit
Top Photo: Courtesy of Kate Bolton at Americano PDX
Renata: Courtesy of Renata
Either/Or: Courtesy of Either/Or
Recent Articles

Feedback
How are we doing? Tell us what you like or don't like and how we can improve. We would love to hear your thoughts!