Where to Celebrate New Year's Eve in Portland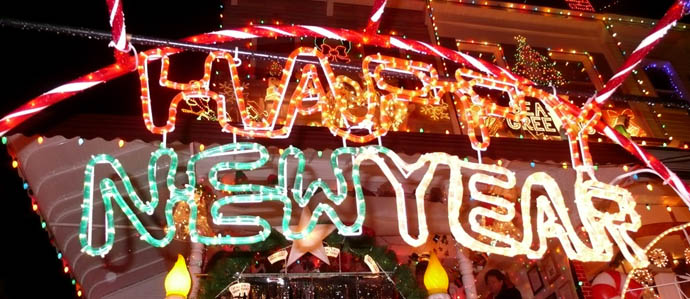 Whether it's a Big Easy bash with Mardi Gras beads, the 23rd Annual Champagne Ball, a quiet night in a wine bar or a house party and then New Year's Day Brunch — there's something going on in Portland for every level of desired partying. These are our picks for pre-New Year celebrations, New Year's Eve and the first day of the new year.
Pre-New Year - December 28
Saturday Night Fever: Champagne and Dancing at Pairings Portland Wine Shop
8–11 PM; $30
Pull out your threads from 1979 (or for some of us here in Portland, just show up in your everyday vintage attire). Pairings Portland is hosting a dance night and champagne flight tasting ($30) to celebrate the new year. If you look groovy, you'll get 10% off take-home bottles to pop on the 31st (455 NE 24th Ave.; 541-531-7653).
New Year's Eve - December 31
23rd Annual Champagne Ball at Portland Hilton
8 PM–2 AM; $95 & up
Seventeen bars. Need we say more? We'll be following the #champagneball2013 hash tag from wherever we end up. Going strong for 23 years, it's one of Portland's most well known NYE celebrations. If you haven't been yet, give it a good college try (921 SW 6th Ave.; 503-226-1611).
8 PM; PAYG
Migration Brewing celebrates with its annual New Year's Bash on December 31st. Doors open at 8 PM for music, food and bubbly. You'll also get the first look at the brewery's 2,000 square foot expansion. Cross Pollination, a new champagne beer made from Bee Local honey and a touch of Meridian hops will likely we the shining star of the night (2828 NE Glisan St.; 503-206-5221).
New Year's Eve Extravaganza at Pix Patisserie
12 AM
Pocket that noisemaker, you'll need both hands free at midnight because there will be a free(!) chocolate buffet. It will take all of the restraint we didn't use in 2013 to not fill a to-go purse with chocolate cake, ice cream, mousse, truffles, beer, meringue and more. It's Bruce Bogtrotter's wet dream. Lest we not forget a champagne sabering under the same roof that holds Portland's largest selection of sparkling wine (2225 E Burnside St.; 971-271-7166).
A New Year's Eve Dance Spectacular at Crystal Ballroom
6:30 PM, Show at 7:30 PM; $55
Pink Martini and Chevona headline his NYE dance night at the Crystal Ballroom. There will be a photo booth, prize wheel, fortune teller, champagne specials and dancing. It's probably too late to book a hotel room but maybe just meet and strike up small talk with somebody that has a room key? (1332 W Burnside St.; 503-225-0047)

2014 New Year's Eve at Kennedy School
9 PM; $15
Jam out with your sparkling wine glass raised. Urban Sub All Stars with Mosley Wotta, Tony Smiley and Redwood Son will be set up at Kennedy School around 9 PM, ready to dazzle the crowd (5736 NE 33rd Ave.; 503-249-3983).
Additionally, McMenamins has other New Year's Eve celebrations happening at Edgefield, Cornelius Pass Roadhouse, Grand Lodge, Hotel Oregon and more. Details here.
8 PM; $20
It's not too late to RSVP to this classy, private party at Oso Market + Bar. It's a "Full Glamour" kind of bash with beats thrown by DJ Wann tributing Lou Reed. The $20 entry fee keeps out the riff raff in JNCO jeans and covers free tapas, deals on premium drinks, and bottles of fizz. To RSVP email info@osomarket.com (726 SE Grand Ave.; 503-232-6400).
5 PM–close; $65
Starting at 5 PM, get down on some Louisiana BBQ Shrimp, Blue Crab Gumbo, Filet of NY Striploin, in addition to a stack of other choices ($65). We're not as young as we used to be either, so if you can make it until midnight you will be rewarded with noisemakers and Mardi Gras beads (1303 NE Fremont St.; 503-249-5001).
4 PM–midnight; PAYG
For its first year, Remedy Wine bar located in the North Park Blocks, is throwing its own New Year celebration. The full menu will be available in addition to some celebratory extras like oysters and sparkling wine flights. Reservations recommended (733 NW Everett St.; 503-222-1449).
Post New Year's Eve - January 1
3rd Annual New Year's Day Brunch at Swift
10 AM; Free Bacon
Swift Lounge on Broadway Avenue does bottomless bacon with Kevin Bacon displayed for all to see. Mimosas are a thing too. Guess you'll have to start that cleanse on January 2nd. You might get to see a clip of Ryan Gosling punching Kevin Bacon, but we get the gist the afternoon is pro-Bacon. We're praying for "Tremors" (1932 Northeast Broadway St.; 503- 288-3333).
Recent Articles

Feedback
How are we doing? Tell us what you like or don't like and how we can improve. We would love to hear your thoughts!