Summer Preview: 6 New Bars to Look Forward To in Portland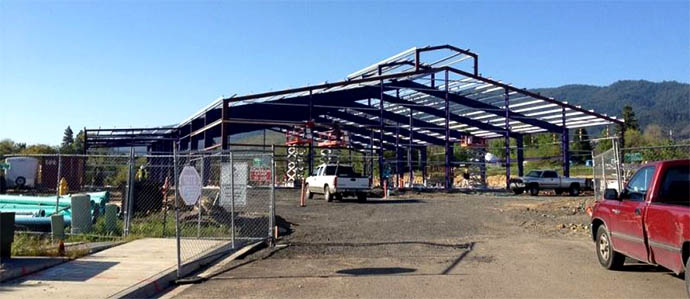 It seems like bars and restaurants popped up faster than the flowers this spring, and there are still more to come during the summer. Take some time to enjoy the new season and these six new Portland bars.
La Taq: Podnah's Pit has been experimenting with Tex-Mex Mondays and it looks like it has paid off, because soon the owners will open a dedicated Tex-Mex restaurant and bar next door. Expect the Monday night staples like house-made chips and queso, brisket enchiladas and margaritas that have been nowhere near store-bought sour mix. La Taq will have its own kitchen and bar, so there will be lots of room for experimenting (1625 NE Killingsworth St.).
Caldera Brewery Expansion: The long awaited expansion of Caldera Brewing Company's Ashland location is picking up steam. The expansion has been repeatedly delayed from its original March 2012 completion date, so that may be why there is no firm ETA, but the wait seems worth it to us. Caldera Brewing will grow to become more than just a brewery to include a distillery (vodka, scotch, gin and bourbon), a soda fountain, tea producer and restaurant. Located on the southern end of Ashland, the new space will boast views of Grizzly Peak from a multi-level deck where guests can sip on brews from 27 beer taps and enjoy NW bar food classics such as salmon burgers (540 Clover Lane, Ashland).
Grassa: Next week, Lardo chef Rick Gencarelli is set to open a new restaurant featuring hand-made pastas and Italian-inspired cocktails. While the heart of the restaurant will center around an open pasta-making process, the bar will focus on bitter Italian favorites like Campari, two draft beers — including an Italian-style lager made through a special collaboration with Breakside Brewery — and at least five wines on tap. Make sure to stop by sometime during the week of the grand opening on June 11 to capture that new restaurant energy (1205 SW Washington St; 503-241-1133).
Reverend Nat's Hard Cider Tap Room: While this new cider taproom is not yet officially open to the public, if you stay tuned to the bar's Facebook page you may just catch an impromptu preview party. Last Friday some attentive FB friends got to enjoy five ciders on tap including Hallelujah Hopricot, Smokey Peat, Sacrilege Sour Cherry, Mora Spanish Blackberry, Cascadia Ciderworkers United Dry. Starting June 28, the taproom will be open for everyone, from 5–10 PM, Thursday, Friday, and Saturday and noon–5 PM, Sundays. You can try a tasting flight of six house-made ciders for $8 or you can just grab a 12-oz. pour of your favorite cider for just $5. After you've tried all of Reverend Nat's ciders hit the rotating guest tap for a pint of The Commons Urban Farmhouse Ale (1813 NE 2nd Ave; 503-567-2221).
Ecliptic Brewing: This venture from Oregon craft brewing pioneer John Harris will join Breakside Brewery and Lompoc's Fifth Quandrant to show that NE really is the new place to be for beer lovers. Although the brewpub is not expected to open until late summer or early fall, you can already get in on the action on Facebook. Each Monday, you can participate in a poll to help give input and maybe decide what beers will be brewed on premises (825 N Cook St.).
Pepe Le Moko: We can only hope that this is the summer that bartender Jeffery Morgenthaler finally opens up his speakeasy-style bar in Clyde Common's basement.
Recent Articles

Feedback
How are we doing? Tell us what you like or don't like and how we can improve. We would love to hear your thoughts!