10 Bars in Portland To Watch the Trail Blazers
Sports!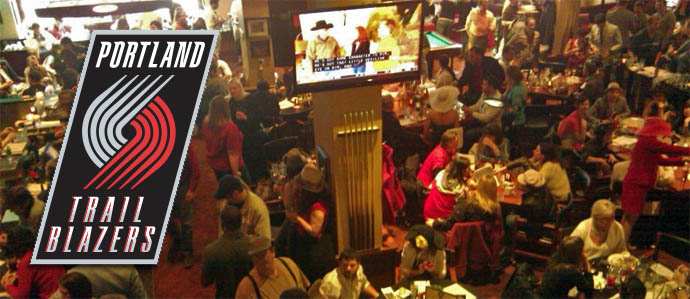 For Blazers fans who have been watching all along — though the trades, injuries and painful losses — and for those who are just starting to follow the team as they try to elevate their game, we've rounded up a list bars that offer specials, great atmosphere, or gigantic screens to catch the last several games of the season.
George's Corner Sports Bar: Located on the yellow MAX line, this corner tavern gets its fair share of newcomers, but the regulars of this watering hole know it as go-to spot for televised sports. If the inexpensive grub doesn't win you over, being on a first name basis with the staff will (5501 N Interstate Ave.; 503-289.0307).
Spirit of 77: Arrive just as fans file out to head to the Garden. Grab a seat up close for a view of one of the largest projection screens around for a seat comparable to Section 107. Fans here cheer and yell, and compete against one another on the free basketball arcade (500 NE Martin Luther King Blvd.; 503-232-9977).
Claudia's Sports Pub and Grill: Claudia's is the old gal of the pack, but doesn't miss a beat with over 10 satellite receivers and high definition LCD screens. Park it at the bar in a Star Trek-esque captain's chair for a perfect view of the game (3006 SE Hawthorne Blvd.;503-232-1744).
Rialto Poolroom Bar and Cafe: In the heart of downtown, Rialto's boats seven big screens and large tables to accommodate groups. Come before the game to secure a table in front of the enormous projection screen, and you will be rewarded handsomely with cheap drinks right up until the game starts (529 SW 4th Ave.; 503-228-7605).
EastBurn: Named the "Best Pub For All Reasons" in 2010 by the Oregonian, Trail Blazers fans know why it's one of the best spots in town for a game: A big screen on the patio and $1 PBR tallboys (1800 E Burnside St.; 503-236-2876).
Tanker: Here you'll find one of the best happy hours around. During the games, Hamm's are only $1, and from 4–8 PM pitchers are $3. After happy hour ends, the pitchers still flow at just $5 (4825 SE Hawthorne St.; 503-445-4635).
Nepo 42: This bar has fewer screens to catch the game than most, but is still one of the best spots to view a game. Whenever the Blazers are playing they offer 50-cent wings, and free pool is available all day, every day (5403 NE 42nd Ave.; 503-288-8080).
Belmont Inn: Hand painted letters on the front window read: "All Blazers games shown here." The best spot in the house is by the front door facing Belmont Street. This corner area with just three small tables facing one LCD screen is perfect for the rowdy type (3357 SE Belmont Ave.; 503-232-1998).
Maui's: Right before the games start, you'll hear the music fade out and transform into the voices of Mike and Mike, projected loudly throughout the house speakers. Well drinks at Maui's are always $2.50 and Pabst slides across the bar for only $2 (3508 North Williams Ave.; 503-282-1611).
Bagdad Theater and Pub: The Back Stage Bar projects games on a huge screen and offer McMenamins Ales for $3.25 a pint and Cajun tots for $2, among other specials that end about an hour before the start of most home games.
Feedback
How are we doing? Tell us what you like or don't like and how we can improve. We would love to hear your thoughts!