Best Bars for Wings in Portland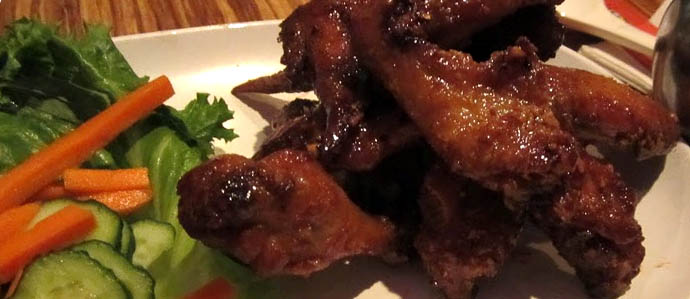 There is more to chicken wings than sports and bad beer, and we have the list to prove it. Check out these uniquely Portland ways to enjoy the famous drinking dish.

Fire on the Mountain: From vegan wings to the house-brewed beer, Fire on the Mountain is right at home in Portland, deep-fried pickles and Twinkies notwithstanding. This wing joint has three locations, each with a laid-back atmosphere that accommodates anything from a lazy game of Trivial Pursuit to a night full of beer and live music. Wings come with your choice from an array of unique sauces, including everything from classic spicy Buffalo to Jamaican jerk. There's even a tray of all the options at the counter, so you can try the more quirky flavors risking a whole plate. In fact, these sauces are so good the owners have taken the show on the road — if you're ever homesick in Denver, then check out the newest outpost (1708 E Burnside St.; 4225 N Interstate Ave.; 3443 NE 57th Ave; 503-230-9464).

Trigger: This Tex-Mex spot below Wonder Ballroom is a hidden gem with all sorts of delicious plates, but the smoked chicken wings may be the star of the menu. Somehow, these wings manage to find a perfect balance between smoky and crispy without being overpowered by the mildly spicy housemade "cock sauce." No bleu cheese to accompany your wings here because, like all true Texan meals, these wings pair best with good ol' ranch dressing. Live up to the Texas theme of "go big or go home" by pairing your wings with the Sidepipe, an extra-large margarita with a little Coronita sticking out of the top (128 NE Russell St.; 503-327-8234).

Pok Pok Noi/Whiskey Soda Lounge: When the menu reads "Yes, these are the wings you have been looking for," you know you've come to the right place. These Thai-inspired wings have an amazing fish sauce flavor that will have you licking your fingers like you don't care that you're in one of the hippest restaurants in Portland. You can get the wings at both locations, but you'll find the best drink pairing at the Whiskey Soda Lounge. The fizz of Pok Pok's famous Jelly Beer is really the best way to follow up these sticky and potent bites. Fun note: these wings are another Portland culinary export. If you find yourself in New York City, make your way to a little piece of home at Pok Pok's new Brooklyn location (Whiskey Soda Lounge: 3131 SE Division St.; 503-232-0102; Pok Pok Noi: 1469 NE Prescott St.; 503-287-4149).

Metrovino: If you're looking for a specifically Pacific NW-style wing, head to this Pearl District lounge for duck confit chicken wings served with rosemary and mustard sauce. You won't have to worry about being distracted by sports here; instead you can focus all your attention on the unique crispy goodness that can only come from duck fat. Instead of beer, pair these wings with a nice Oregon wine from the extensive list that features over 90 wines by the glass. Leave it to a Portland restaurant to make eating chicken wings fancy (1139 NW 11th Ave.; 503-517-7778).
Tags:
Food
Recent Articles

Feedback
How are we doing? Tell us what you like or don't like and how we can improve. We would love to hear your thoughts!