2013 Preview: 7 Bars to Look Forward to in Portland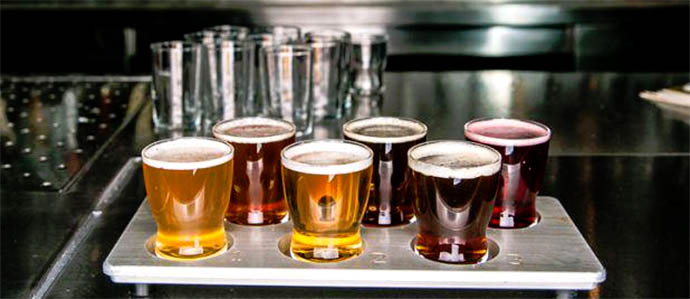 This year we have plenty to look forward to in the world of drink, with ventures set to open from faces both familiar and new. Check out what's in store for Portland drinkers in 2013 below; there's even more coming, so stay tuned for updates.

Breakside Brewery's Milwaukie Brewery and Tasting Room: In early spring, you will be able to get a Breakside beer either in far Northeast or far Southeast Portland. The new spot may seem like an extreme change of location, but it makes sense for a brewery known for its interesting beer experiments to exist on the edge. Unlike the spacious bar and restaurant in Northeast, the Southeast bar will be a more simple tasting room with its own freshly brewed beers. With a new location and a new brewer, this is set to be an exciting year for Breakside.

Levant: Originally slated for December 2012, look for this new French-Arabesque restaurant to open later this month. With a menu focusing on North African spices, it's no wonder bartender Lydia Reissmueller (formerly of Central) has been working a wide array of spice infusions, vegetables and other savory flavor sources. If you've been looking for something new to drink, put this on your list to see how the foreign flavors are melded into classic cocktails (2448 E. Burnside St.).

Yard House: Luckily for anyone who enjoys spending time west of the river, 2013 has a lot in store for Westside drinkers. This June, Pioneer Place is finally filling up empty space with a place to grab a beer and rest from all your shopping. While this Califorinia brewpub may not be local, it has a long history of offering taps and bottles of limited, seasonal and hard to find rarities from all over the country. Check out the "Chalkboard Series" to see what kind of offers to expect in the Yard House's newest location (700 SW 5th Ave.).

Quartet: In a bold move, Quartet is set to open on Valentine's Day right on Portland's Southwest waterfront. Any restaurant set to open on such a volatile holiday almost has to have an impressive bar. Expect Oregon wines and classic cocktails to complement the Pacific-Northwest-meets-Southern cuisine. Even if a romantic dinner isn't your thing, make sure to check out the live piano music and daily happy hour, complete with a patio overlooking the Willamette RIver (1910 SW River Dr.).
Trifecta Tavern & Bakery: Ken Forkish (of Ken's Artisan) is tired of waking up at 1 AM to make bread, so he's opening up a "bakery tavern" — maybe he'll be able to stay up until 1 AM drinking instead. Ok, he won't actually be next to you at the bar enjoying wines from his personal collection of Oregon pinots and Italian brunellos, barbarescos and barolos, but you should be there anyway. Trifecta won't be as bakery focused as other Ken's Artisan locations but the bread will still be front and center in many of the dishes, including the Pacific Northwest favorite of steamers with freshly grilled bread (726 SE 6th Ave.).
Old Salt Marketplace: While Old Salt will mainly consist of a neighborhood marketplace with seasonal items sourced from local farms and micro-producers, the team behind Grain & Gristle would never leave Northeast drinkers high and dry. Like Grain & Gristle, one of the three men behind this project is Alex Ganum of Upright Brewing, so expect a lot of good local craft brews and spirits to accompany fresh offerings from the butcher's counter and restaurant portion of Old Salt. This is all good news for Northeast Portland — 2013 is quicly proving to be a lively year for people in Portland's outer reaches (5027 NE 42nd Ave.).
Pepe Le Moko: Rumors have been spreading about this speakeasy-style bar beneath Clyde Common for so long it may seem like a thing of myth, but as the home of the Blazers, Portland is used to saying "This will be the year!" So, hopefully this is the year we'll finally get to enjoy Jeffrey Morgenthaler's newest cocktail creation. It wouldn't be a speakeasy without some mystery, right? (1014 Southwest Stark St.).
Recent Articles

Feedback
How are we doing? Tell us what you like or don't like and how we can improve. We would love to hear your thoughts!