New Year: Six Drink Portland Resolutions for 2013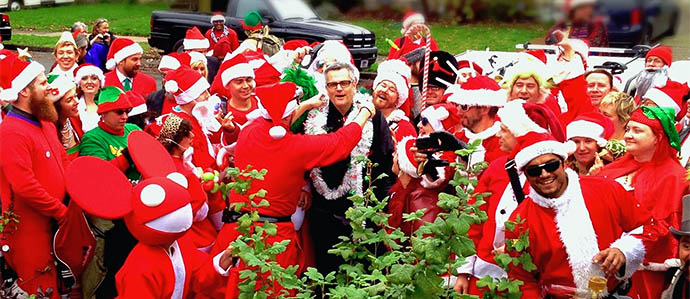 Each year people all around the world make crazy New Year's resolutions — as if there's any real chance you can overcome the magnetic pull of a delicious burger. However, not all resolutions need be made in vain. Here is a list of goals that could make Portland an even better place to drink, if we all work together to make them happen. Itis time to get out there and fulfill 2013's vast potential. (Just remember, pics or it didn't happen.)
Bone luge with Sam Adams: Now that he's no longer mayor, it is time to see just how fun Portlandia's Best Supporting Actor is in real life.
Never wait in line for a Bloody Mary brunch ever again: We're betting (hoping?) 2013 is the year that everyone will realize that no Bloody Mary is worth waiting in the Portland drizzle for an hour.
See more places stay up past 8 PM downtown: In 2012, Portland Penny Diner joined such brave souls as Little Bird and Riffle in the cause of waking up sleepy downtown Portland, and have shown Southwest has more to offer than darkened office buildings and shopping malls.
Get back to basics: The world doesn't need more bacon-infused beer garnished with obscure seafood.
Don't just drink local for local's sake: Support good products based on merit no matter their source of origin; a bad drink is bad even if it was made locally.
Be more adventurous: Portland is a bigger place than people seem to realize, so don't get stuck in just one neighborhood. Maybe even sing at Southeast Portland's infamous Stripperoke?
Recent Articles

Feedback
How are we doing? Tell us what you like or don't like and how we can improve. We would love to hear your thoughts!