Portland's 10 Hottest Bars of 2012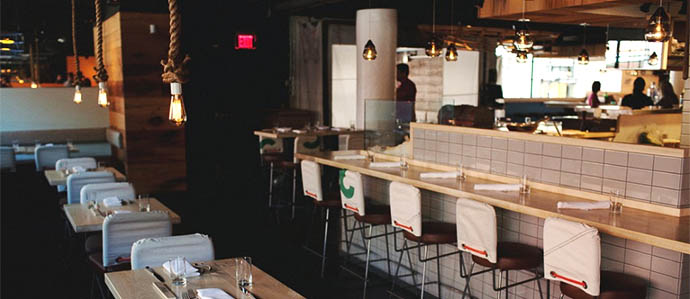 2012 was a busy year for hellos and goodbyes in the food and drink world. If you were too busy to keep up with all of the openings and closings then make sure to check out these 10 bars before the new class of 2013 pops up around town. What bar did you fall in love with over 2012? Tell us in the comments if we missed your favorite new bar of 2012 and why it deserves to be on the list.

Riffle: This bar is one of those rare places that has actually lived up to the hype. Whether you go for a big dinner, cocktails or just a bone luge, Riffle has consistently proven it's every bit as good and exciting as promised. Though ice is the last thing on everyone's mind in this cold weather, Riffle is still the only place in town with its own ice room, where bartenders hand carve their own ice from sculpture-quality blocks. Attention to detail is Riffle's best quality and the fact that they've maintained this level of dedication when others get leax and comfortable has earned them a spot on the top of this list (333 NW 13th St.; 503-894-8978).

Barwares: This Spring, Barwares opened up behind Smallwares and has since proven to be a great reason to explore the very east end of Fremont. With a delightfully simple cocktail list that includes drink titles like "The Gin" and "The Whiskey," Barwares has maintained all of the quality of Smallwares in a much more welcoming setting, complete with a comfy couch in front of a fireplace (4605 NE Fremont St.; 971-229-0995).

Southeast Wine Collective: Oregon has some beautiful wines, but it can be a pain to drive two hours to travel to a winery for some freshly poured flights of locally made vino. Thanks to Southeast Wine Collective, you can try flights of wine made right there in house five days a week in the heart of SE Portland (2425 SE 35th Pl; 503-208-2061).

Whey Bar: This is the bar that makes waiting for Ox not only bearable but also delicious. You don't have to be on the waitlist next door to enjoy the cocktails, howver — it's worth a stop in just to try one of the namesake whey cocktails made with the byproduct of the housemade ricotta (2225 Martin Luther King, Jr. Bld.; 503-284-3366).

Spirit of 77: While it's not a new bar, the summer renovations here made such a difference, it definitely deserves a spot on this list. Over the summer, Spirit of 77 took a break to update the kitchen, revamp the menu and even add a few pinball machines. This is a true Portland sports bar where you can either watch the pros on giant screens or just play sports-themed games to see if you can win MVP of the night on the Pop Shot (500NE Martin Luther King, Jr. Blvd.; 503-232-9977).

The Tannery: From the people who brought you Skin and Bones, The Tannery joins the growing number of buzz spots heading farther and farther East. Despite its location, this bar is definitely worth the drive. Small, intimate and cozy are three adjectives that pair perfectly with fine whiskey. This may be the best new place to bring a date and not just because everyone looks better by lamplight (5425 E. Burnside St.; 503-236-3610).

Gigantic Brewing: One of the many trailblazers on the list, Gigantic Brewing is helping expand the radius of good, local beer in deep Southeast. Reed College alumni have headed back to the comfort of their alma marter's SE Portland neighborhood because, hey, even Reedies need good beer. Their beers exhibit all of the best traits of a small brewery, including unique flavors and quickly rotating taps (5224 SE 26th Ave.; 503-208-3416).

Ava Genes: This new SE Division spot melds bar and upscale restaurant perfectly with just enough separation between the dining area and bar. Unlike many nice restaurants, you can feel comfortable sitting at Ava Genes' bar all night long. Classic spirits lovers can't miss one of the best collections of older spirits in town, even if pours are out your price range (3377 SE Division St.; 971-229-0571).

Portland Penny Diner: Part deli and part downtown craft cocktail bar, Portland Penny Diner has something for everyone, without compromising quality. Try the DIY cocktail where the bartender gives you your choice of base spirit and lets you go to town on a whole tray of sugar and bitters you didn't even know existed. Portland Penny Diner now joins the brave group of bars trying wake up Portland's sleepy downtown (410 SW Broadway; 503-228-7222).

Streetcar Bistro: What could feel more metropolitan and convenient than a street car ride to a bar with a extensive and interesting beer program? It's like a cultural exchange program between the East and West Sides of Portland. Nothing brings Portlanders together like beer and public transportation (1101 NW Northrup St.; 503-227-2988).


Recent Articles

Feedback
How are we doing? Tell us what you like or don't like and how we can improve. We would love to hear your thoughts!