Bone Luge Hits the Big Time With Anthony Bourdain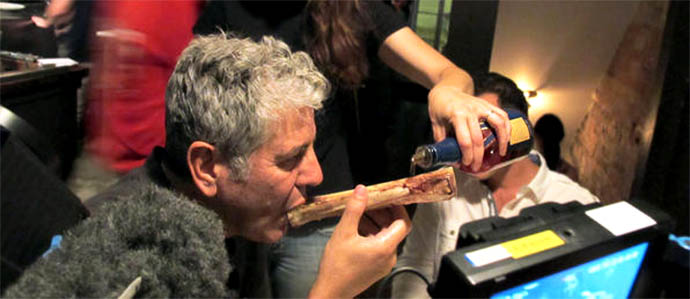 "I'm aware of this practice. It's extremely anti-social and against all standards of decency. So I think we should do it." — Anthony Bourdain on The Layover: Toronto

Now that the Travel Channel's Anthony Bourdain has introduced the world to Portland's favorite drinking experience — which, by his own high ideals, defies "all standards of decency" — it's time to recap how this drinking craze began and where you can throw your own bone luge down tonight.

For the uninitiated, bone luge was invented by Drink Portland's own Jacob Grier, right here in Portland. The beauty of the experience is in its simplicity. After you finish a dish of roasted bone marrow, use the bone to funnel your choice of spirit directly into your mouth. Make sure to choose something that pairs well with the savory flavors left by the roasted marrow.

Enthusiasts will also tell you that it takes three people to bone luge. You need one person to pour the shot, one person to take the shot, and one person to take the picture for the internet. Take a tip from the pros and hold your bone with a napkin — or just do like Bourdain and revel in the glory of a deliciously greasy drinking device.

Bone luge makes perfect sense for both Bourdain and Portland, because both do a great job of bringing together lowbrow with fine dining. Try one at any of these Portland bars or check out boneluge.com to find a luge-friendly location wherever your holiday travels take you.

Metrovino: Of all the places in Portland to bone luge, this Pearl bar is the most prepared. Not only does the menu offer individual bones and suggested pairings, but the bar has also hosted parties dedicated to activity. Bartenders are well-versed in bone luge, so make sure to ask for their advice, and help, if you need another hand (1139 NW 11th Ave.; 503-517-7778).

Little Bird: This downtown bar features a lively atmosphere for bone luging. The bone marrow preparation on the menu changes often, so make sure to tailor your pairing for each visit (219 SW 6th Ave.; 503-688-5952).

Laurelhurst Market: Metrovino's bartender may have invented the bone luge but this is where it all began. The original bone luge was done with tequila, but Laurelhurst won't hold you to that tradition. Unlike at Little Bird and Metrovino, marrow bones are not always available here, so make sure to check ahead of time (3155 E. Burnside St.; 503-206-3097).

Riffle NW: If you thought bone luge couldn't get more exciting, this bar would love to prove you wrong. Crab shell luges and halibut spine are just two of the more interesting bone luging opportunities at this seafood house. If you want a more traditional bone luge experience, Riffle sells bone marrow in groups of three, so make sure to bring some friends (333 NW 13th Ave.; 503-894-8978).
Recent Articles

Feedback
How are we doing? Tell us what you like or don't like and how we can improve. We would love to hear your thoughts!