Spirit Review: Olmeca Altos Tequila
October (aka Portland Cocktail Month) brought distillers from all over the country to our city, and those distillers brought many unique spirits to Oregon. Now that the dust of their departing planes has had a chance to settle, it's time to enjoy what they left behind.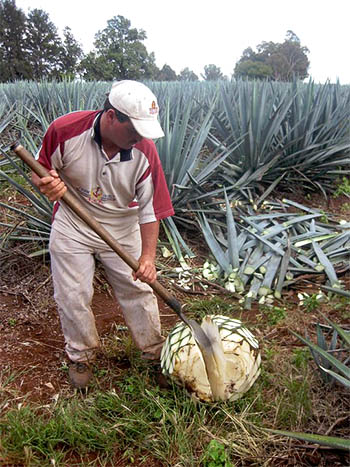 Thanks to master distiller Jesus Hernandez and internationally acclaimed bartender Henry Besant, this winter you can take virtual trip to Mexico with an Olmeca Altos Tequila cocktail. Unlike many tequilas, which can be so abrasive they're only good for doing shots at a club, this agave spirit was created specifically to be mixed into cocktails. The spirit was born from the idea that bartenders, both at home and behind the bar, should not be forced to go to the top shelf to make a good tequila drink.

Olmeca grows the majority of its own agaves in the highlands of Mexico, which allows the company to make a quality product at a lower cost than other big brands, who often contract out to different farmers. After the agave harvest, plants are distilled in Omeca's nearby facility to be crafted into a vibrant blanco, or aged for seven months in white oak bourbon barrels to become the rich reposado. Each tequila is strong enough to stand up to cocktail ingredients without overpowering the taste of the drink; together these two tequilas can enhance a range of cocktails from fruity to savory. For example, if you're looking for a great margarita, the blanco really makes citrus pop, whereas the reposado is rich enough to elegantly a more bitter concoction.

Stop by the new Portland Penny Diner to try the reposado in a cocktail that showcases its true mixing potential. The 20th Century Fox combines Olmeca Altos Reposado with Lillet Blanc and creme de cacao to make a drink that subtly lets you know it's made with tequila, but overall tastes like a delicious Mexican chocolate dessert — and it's just $8. Now, at last, you can enjoy a tequila drink on level with the rest of Portland's great sips without the hefty pricetag. Check out the recipe below.

20th Century Fox
By Brandon Wise, Portland Penny Diner

2 oz. Olmeca Altos Reposado
1 oz. Lillet Blanc
¼ oz. Bols Creme de Cacao
2 dashes bitters
Lemon twist

Stir all ingredients with ice and strain into cocktail glass.
Tags:
Spirits
Recent Articles

Feedback
How are we doing? Tell us what you like or don't like and how we can improve. We would love to hear your thoughts!