Bars and Restaurants Open on Thanksgiving in Portland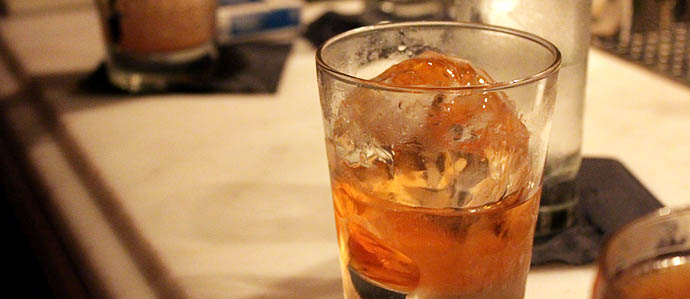 Whether you're going out for dinner or just need a spot to escape from the one at your house for a little while, you're in luck, because several bars and restaurants around Portland will be open and serving food and/or drink. Stay tuned for updates and happy Thanksgiving!

Andina Restaurant: Open at the bar from 4–11 PM with regular menu; serving $55 Thanksgiving menu 1–9:30 PM in the dining room (reservations recommended).

The Beer Mongers: Open regular hours serving beer, wine and cider. Special keg of Southern Tier Pumking will be tapped.

Bluehour: Open with $50 Thanksgiving prix fixe menu.

The Country Cat: Open 2–8 PM for $45 four-course Thanksgiving dinner. Reservations are recommended.

Dig A Pony: Open 7 PM–2:30 AM with regular drink and food menus.

Greeley Avenue Bar & Grill: Open from 9 AM and serving $8 ham dinner.

Henry's 12th Street Tavern: Open 11 AM–11 PM with regular drink and food menu plus a Thanksgiving dinner specials. Regular happy hours will be in effect.

The Hop and Vine: Bottle shop open 10 AM–1 PM.

Interurban: Open for normal business 4 PM–2:30 PM, including happy hour from 4–6 PM.

Mississippi Studios: Open at 6 PM with full drink and food menus.

Mock Crest Tavern: Open and serving $10 turkey dinner.

Mother's Bistro & Bar: Open 9 AM–2 30 AM for breakfast, lunch and drinks.

The Original: Open 8 AM–2 PM for brunch and 2–7 PM for "TV Dinner" Thanksgiving menu.

Paley's Place: Open 2:30–8:30 PM with some room for walk-ins.

Portland Daily Grill: Open for breakfast 6 AM–noon and for special three-course Thanksgiving dinner through 11 PM.

Prost: Open 6:30 PM–2:30 AM with free turkey dinner for all guests.

Radio Room: Open 5 PM–2 AM with a turkey dinner special and several drink deals.

RandomOrder Pie Bar: Open 6:30 AM–1 PM serving cocktails, pie and breakfast sandwiches.

Rum Club: Open 8 PM–1 AM with menu of all-stirred, digestif-heavy menu with brown liquor, bitters and amaros. Adam Robinson will be manning the stick. Fernet Branca on special for $3 per ounce.

Sizzle Pie: Open regular hours with three slice specials.

Slabtown: Open 7:30 PM–2 AM with full food menu served through 11 PM.

The Spare Room: Open 7 AM–2:30 AM with full drink and food menus. $4 breakfast served through 11 AM; $7.50 turkey dinner available from 11 AM.

Star Bar: Open regular hours.

Three Degrees: Open noon–5 PM for Thanksgiving dinner.

Urban Farmer: Open noon–9 PM with $49 three-course Thanksgiving feast. Reservations are recommended.

Wildwood: Open 2–7 PM for Thanksgiving dinner.

Zeus Cafe: Open 7 AM through late with Thanksgiving menu available from 1–8 PM.
Event Date: 11/22
Event Time: Various Times
Location: Various Bars
Price: Varies

Recent Articles

Feedback
How are we doing? Tell us what you like or don't like and how we can improve. We would love to hear your thoughts!