Celebrate: 5 Places to Hold Your Office Party in Portland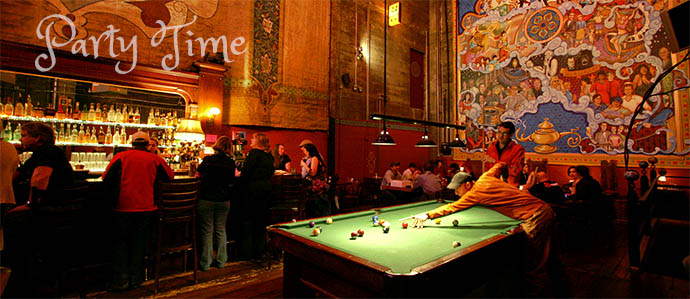 An unforgettable holiday or office party starts with finding the best party spot or private room. Many bars and restaurants have the room to handle a holiday party for the whole company — 'tis the season to get to know your mailroom! — or let you cater to a smaller gathering. Choosing the right venue for your party in Portland is all about judging the atmosphere to suit your group, so here's a guide to help you pick a party location based on what's most important to you and your coworkers.

Atmosphere: Bagdad Theatre
Celebrate the Golden Age of Hollywood at this McMenamins venue, which is a great option whether you're looking to entertain a large group or enjoy a few drinks and a meal in more moderate-sized company. The Back Stage Bar can accommodate around 100 guests and still ahve plenty of space for live music. For those looking to put on a truly impressive event, the theater is an ornately decorated relic of Universal Studios' grand past that can seat up to 590 people for live events, films, or homemade multimedia presentations (3702 SE Hawthorne Blvd.; 503-467-7521).

Space: Bossanova Ballroom
From weddings and concerts to award dinners, poker tournaments, fashion shows, comedy festivals and magic shows, this Lower Burnside spot has seen it all. While your holiday party may not need space for 750 people, Bossanova's split-level design, fully equipped kitchen and multiple bars allow you to choose a space that is just right for your party (722 E Burnside St,; 503-206-7630).

Activity: Grand Central Bowl
Whether you're a big fan of The Dude or just have a healthy competitive streak, nothing is more American than a bowling party. Dedicated servers and barside lanes mean you can kickback in someone else's shoes with your friends and coworkers while you try to look like you don't care that Jimmy the intern is killing your record of two strikes in a row (808 SE Morrison St.; 503.236.2695).

Beer: Bad Habit Room
Brought to you by the people behind Saraveza, this is best party spot in town for beer lovers. Micky, the party planner, is also a beertender who can help you choose the perfect brews from the adjacent bottle shop (voted one of America's best beer bars for the past two years by Draft Magazine). Bad Habit also showcases the best part of North Portland with a newly renovated 100-year-old building, where rooms with exposed original brick walls and wood floors can accommodate up to 55 people. Impress your guests with house-aged beers or delicious pasties made on site (1004 N. Killingsworth St.; 503-206-4252).

Wine: SE Wine Collective
This SE wine bar may be young, but it has already garnered seasoned praise from Eater National and Portland Monthly for both the wine selection and the great space. Home to Division Winemaking Company, Helioterra Wines, Vincent Wine Company and Bow & Arrow Wines, SE Wine Collective offers a space to host the perfect party for any wine-lover. Guests can enjoy wines from local wineries as well as get an insider look at a working urban winery. Snacks from Portland favorites such as Steve's Cheese and Republic of Jam chutney with seasonal charcuterie are offered, but it's also a great space for a pop-up dinner, catered by any of the nearby restaurants (2425 SE 35th Pl.; 503-208-2061).
Recent Articles

Feedback
How are we doing? Tell us what you like or don't like and how we can improve. We would love to hear your thoughts!