Cocktail Recipes: The 6 Best Drinks From Portland Cocktail Week
Red, white and booze - tour the country's drinks from home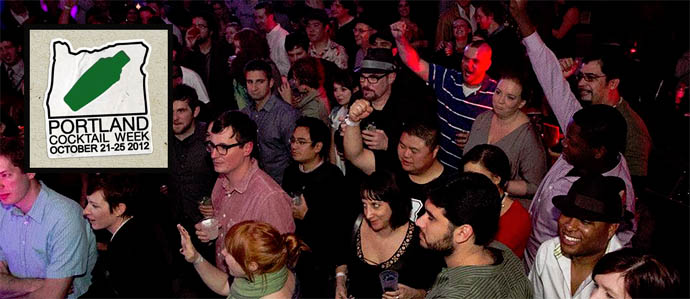 The best part about living in a city that hosts a bartenders convention like the Great American Distillers Festival — aside from the parties — is being the first to try what the best and brightest in the industry are creating without having to leave your own city. While we love our Portland bartenders, there's nothing wrong with indulging in a bit of American drink tourism. Visit some of the best cocktail cities in America without leaving your own kitchen with six of our favorite cocktail recipes from Portland Cocktail Week 2012.

The Heart of Gold by Andrew Calisterio, The Golden Bear, Sacramento, CA

2 oz. Johnnie Walker Gold Label
¾ oz. House Spirits coffee liqueur
¼ oz. Averna
Three dots Bar Keep apple bitters
Pinch orange oil

Stir all ingredients with ice and strain into cocktail glass.


The Gate, Wide Open by Steven Liles, Smuggler's Cove, San Francisco, CA

1½ oz. Tanqueray 10
½ oz. Velvet Falernum
¾ oz. guava/long pepper syrup **
½ oz. grapefruit juice
¼ oz. lemon juice

Shake all ingredients and and strain into cocktail glass.

**To make syrup

16 oz. guava nectar
32 oz. pure cane sugar
10-15 long peppers (Indonesian black pepper)

Heat ingredients together in a saucepan and simmer for 15 minutes. Let stand to cool, then skim and strain.


Changing of the Guard by Jim Romdall, Vessel, Seattle, WA

1½ oz. Templeton rye
¾ oz. Carpano Antica
¼ oz. Fernet Branca
2 dashes Scrappy's aromatic bitters

Stir all ingredients with ice and strain into cocktail glass.


The Lebowski Achiever by Brady Weise, 1886, Los Angeles, CA
1½ oz. Vodka
1 oz. Creme de Cacao
4 oz. heavy stout
Heavy whipping cream

Build the cocktail in a Collins glass over ice, add the heavy stout, then top with cream.


Parade Punch by Tiffany Soles, Irvin Mayfield's Jazz Playhouse, New Orleans, LA
1½ oz. VSOP Cognac
¾ oz. cinnamon-clove syrup
¾ oz. lemon juice
2 oz. orange spice tea

Build over ice in a rocks glass. Garnish with lemon and orange slices. (For a twist, this cocktail is also great as a hot beverage!)


Left Turn at Albuquerque by Kate Gerwin, Imbibe Cigar Bar, Albuquerque, NM

1½ parts Tanqueray Gin
½ part Yellow Chartreuse
½ part fresh lemon juice
½ part fresh orange juice
¼ part Green Chile Oleo Saccharum **
¼ part Orange Marmelade

**Kate used David Wondrich's recipe for oleo saccharum from his book, "Punch: The Delights (and Dangers) of the Flowing Bowl", but added a New Mexican flair by adding the region's prized green chilies. To make:

6 oranges
6 lemons
1 lb sugar
1½ cups chopped fresh roasted green chile

Peel the the citrus fruits, aiming to get only the outer skin and as little pith as possible; Wondrich recommends using a vegetable peeler to get the peel. Muddle with the sugar and green chilies. Let sit 30 minutes to an hour.

Thank you to all the wonderful bartenders, writers, distillers and brewers for sharing your passion and skills with our city. See you next year!
Tags:
Cocktails
Recent Articles

Feedback
How are we doing? Tell us what you like or don't like and how we can improve. We would love to hear your thoughts!