Beer Review: Oakshire Brewing Big Black Jack Imperial Pumpkin Chocolate Porter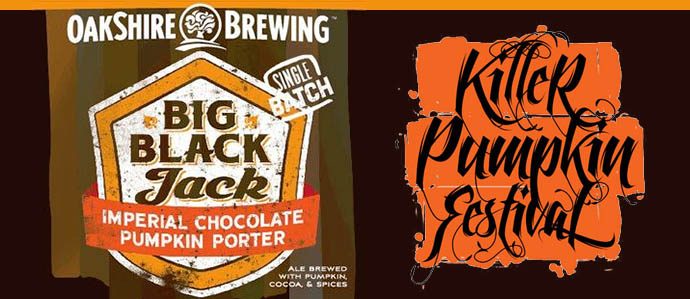 Pumpkin beers, it turns out, squash all other seasonal styles of beer in popularity, according to the Brewers Association. So it's no wonder that more and more craft breweries offer them, and also no surprise brewers continue to up the creativity level of their creations. While a standard beer works perfectly fine with addition of pumpkin and/or pumpkin pie spices (usually a brown ale or something with a malt bill that can support autumnal flavoring without hops stealing the show), Eugene's Oakshire Bewing went a step further. Big Black Jack Imperial Pumpkin Chocolate Porter is as complex as its name implies.

Instead of the usual orange-hued beer — which is, though common, fittingly reflective of the season's foliage — brewmaster Matt Van Wyk began with an imperial porter base and then added a lot of pumpkin. So much pumpkin, in fact, that an ordinary oven couldn't handle the roasting load. So he whipped out a flame-thrower to handle the large-scale roasting needs.

Quintessential pumpkin pie spices were added: cinnamon, nutmeg, allspice, clove and ginger. But then, in addition to toasted pumpkin seeds, cocoa nibs enter the fray. Coupled with the already roasty porter with natural chocolate notes, the nibs chalk 'em up even more for an overall flavor indicative of mom's legendary chocolate-chip pumpkin bread (if yours didn't make it, we're sorry for you!), but with sufficient bitterness, thanks to the use of nibs instead of actual chocolate and the porter's hop content.

Try Big Black Jack at Brewpublic's Killer Pumpkin Fest as one of around 25 pumpkin beers on offer. The Monday, October 22 event will be held at the Green Dragon from 5 PM–close, and attendees can actually try smashing pumpkins (not even BYO sledgehammer; they've thought of everything), participate in a seed spitting contest and sample a pumpkin-laced food menu. Admission is free, beers and tasting flights are pay as you go.
Event Date: 10/22
Event Time: 5 PM
Location: Green Dragon
Price: PAYG
Website: www.facebook.com/events/158154707641658/

Recent Articles

Feedback
How are we doing? Tell us what you like or don't like and how we can improve. We would love to hear your thoughts!