New Streetcar Keeps the Party Going from East to West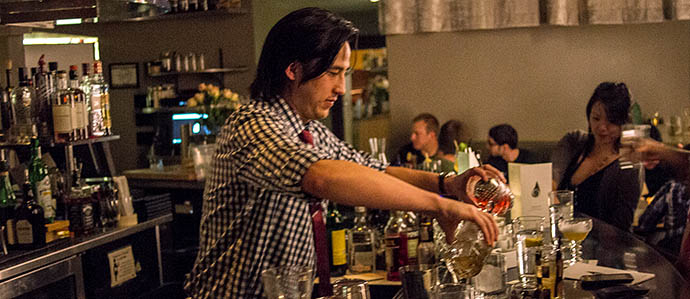 How many times have you missed out on seeing friends because they wouldn't leave their corner of Portland? Far too often Portlanders miss out on some of the best spots in town due to the mental barrier known as the Willamette River, but the new Streetcar aims to bridge the gap. For only $1, you can now see what different neighborhoods have to offer without the hassle of finding parking, or tracking down an elusive cab. There are some great bars outside of your neighborhood, but don't take our word for it. Explore the diversity of Portland by grabbing a ticket online and organizing a crawl of some of the gems along the new Streetcar line.

Dig A Pony: One of the few bars with an actual house DJ instead of an iPod, Dig A Pony is great for people who love both craft cocktails and good music. Depending on the night, you can look forward to the best collection of soul or 90s vinyl in all of Portland (736 SE Grand Ave.; 971-279-4409).

Spirit of 77: Recently reopened, Spirit of 77 is not just the closest bar to the Trail Blazer's home at the Rose Quarter, but is also home to one of the largest screens for viewing any sports game. Their famous "Buzzer Beater Basketball Arcade" is still free, so you can win back some pride by beating your friends if your favorite team isn't doing so well (500 NE MLK, Jr. Blvd.; 503-232-9977).

Upright Tasting Room: Nestled in the basement of the Leftbank Building, Upright Brewing is a little piece of Belgium on Portland's central East Side. The farmhouse style ales are featured in restaurants throughout the city; here you can try them in a flight along with some small-batch, limited edition beers. The tasting room is open 4:30-9 PM on Fridays, 1-6 PM on Saturdays and Sundays, and from 6 PM to tipoff before Blazers home games (240 N. Broadway; 503-735-5337).

Streetcar Bistro: Opening just in time to greet passengers on the new streetcar line, the brand new Streetcar Bistro is located just a few steps away from its namesake. An extensive draft list is complemented by a long list of beer cocktails, craft spirits, wine and bistro fare. Add to that $4 shots of Jameson, Jack Daniels and Fernet Branca, and this is sure to be a popular spot with the service industry (1101 NW Northrup St.; 503-227-2988).

Metrovino: On the other side of the tracks from Streetcar Bistro is Metrovino, the Pearl District's destination for wine. High-tech Enomatic machines keep the wine fresh, allowing the restaurant to offer an extensive list of wines by the taste or glass, including ones that are rarely available except by the bottle. Be sure to also try the cocktails, and don't miss the famous charcuterie board and hamburger (1139 NW 11th Ave.; 503-517-7778).

Teardrop Lounge: Though you may not know it from the scene that forms on weekend nights, Teardrop is one of Portland's most bespoke cocktail lounges. The three page menu features a seasonal mix of house originals, classic cocktails and contributions from bartender friends from around the world. Find Teardrop Lounge just between the streetcar lines that run on 10th and 11th Northwest (1015 NW Everette St.; 503-445-8109).
Photo: Bartender mixes up a Bols Genever punch at Teardrop Lounge. By Danya Henninger
Tags:
Bar Crawl
Recent Articles

Feedback
How are we doing? Tell us what you like or don't like and how we can improve. We would love to hear your thoughts!