Portland Bars with Outdoor Seating
by
Amy Wolfenberger
on Aug 28, 2012 in
Roundups
for
Apex Bar
,
Bottles
,
Breakside Brewery
,
Bye and Bye, The
,
Central
,
Circa 33
,
Cruzroom
,
Departure
,
Doug Fir
,
EastBurn
,
Gladstone Street Pub
,
Hedge House
,
Hop & Vine, The
,
Hopworks Bikebar
,
Jamison
,
Landmark Saloon, The
,
Lucky Labrador Brew Pub
,
Lucky Labrador Brew Pub
,
Metrovino
,
Migration Brewing Co.
,
Mississippi Studios Bar Bar
,
NorthWest Public House
,
On Deck Sports Bar & Grill
,
Pints Urban Taproom
,
Pope House Bourbon Lounge, The
,
Radio Room
,
Rontoms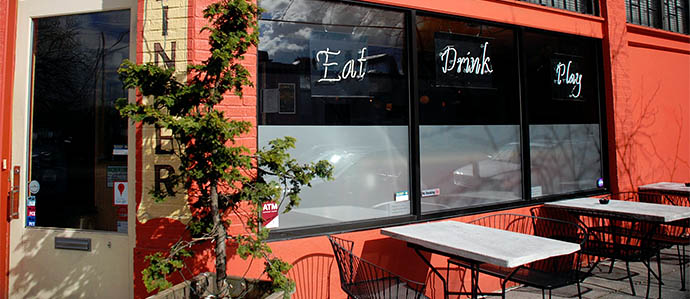 Portland is as famous for beautiful landscapes as it is for delicious drinks. Why not enjoy both at the same time? Because Portland is also famous for its rain, we'll continually update this list throughout the seasons so you know what bars have the most comfortable patios year round. So far we've got SE, N/NE & NW covered; stay tuned for more, coming soon. If you have a suggestion, please leave it in the comments!
Southeast
Apex: With 50 beers on tap, an ample bottle selection and access to some of the city's best Mexican food at Los Gorditos, there is always something delicious to try.
Rontoms: With occasional live music and friendly games of ping pong, this partially covered patio is great for dates or large parties.
Circa 33: The best patio seats here are in a cozy, covered alley with table service for a tough choice between 12 rotating taps and the best craft cocktails in the neighborhood.
Pied Cow: Enjoy an authentic Southeast experience by sharing a hookah and carafe of wine with friends under the natural shade of big trees and the glow christmas lights.
Gladstone Street Pub: Individual and league corn hole tournaments bring out people who are ready to make new friends in a very comfortable neighborhood atmosphere.
Roadside Attraction: The fire pit on the patio is so cozy you'll be glad there is a window to order drinks so you don't have to stray too far from the fire; just remember to bring cash.
Doug Fir Lounge: Best known for its live music shows, the patio is also worth visiting for a nice break from the fun where you can actually hear your friends in between your favorite songs.
EastBurn: This fully-covered patio has swings for chairs so you can feel a bit of childish whimsy while you enjoy your grown-up beverage at their famous mimosa brunch.
The Landmark Saloon: Thursday night cornhole league games are only made better by the resident food cart and drinks that come in mason jars; you'll feel like you're on vacation somewhere people say "y'all."
Hedge House: With Lompoc on tap and a grassy area for kids and dogs, families can have the best of both worlds.
Lucky Labrador Brew Pub: This pub's love of dogs goes beyond their name so if you and your four-legged friend are in need of a day out together head over to their patio where you can share a sandwiches or bento and mingle with other cross-species couples.
Northeast/North
Hop and Vine: Order the bacon-wrapped dates and choose from the well stocked list of beers and wines in the bottle shop to enjoy on the bbq smoke-perfumed patio.
Bar Bar: A perfect dog patio with just the right amount of sunny and shady spots and an order window so you don't have to worry about your pup as you grab another drink.
Nest Lounge: Complete with ping pong and yard games, this simple patio is sometimes compared to a college party but in the best way possible, of course.
Radio Room: Although best known for its bloody mary brunch bar, the patio is especially enjoyable at night when you can cozy up to the fire pit downstairs or go upstairs to find some great people-watching along Alberta.
Cruzroom: Come for the $2 taco happy hour, stay for the chill atmosphere that comes from an artistic mural and a great sun to shade ratio.
Breakside Brewery: A wall of garage doors opens up and allows wafts of delightfully hoppy air to flow over picnic tables where you can enjoy one of their craft brews while overlooking Woodlawn Park.
Bottles: Don't worry about how you'll make it through such a massive and carefully created selection of beers; their bbq will have you coming back over and over again and their dog and family friendly patio will make it that much easier to revisit.
The Bye and Bye: Vegans need to party just like everybody else so, if you or your friends need a meatless party enjoy a cold drink in a large mason jar and a tasty vegan grilled cheese on this sleek and covered patio.
Hopworks Bike Bar: After helping generate green energy for the bar with their Plug-Out stationary bikes, cool off on their patio where you can enjoy 10 different organic beers and a full menu made with locally-sourced ingredients.
Migration Brewing: Garage doors connect the picnic tables and the locally brewed beers inside so you can have your patio and enjoy your Timbers and Blazers too with awesome game day happy hours.

Alameda Brewhouse: This brewhouse boasts two food happy hours everyday Monday through Friday. A delicious meal for only $5 means you can spend more money on their tasty brews such as the Yellow Wolf Imperial IPA, which is related to one of our favorite fruit beers from this summer.

Northwest

Metrovino: Nestled between two parks and some handsome Pearl condos, this patio has a great combination of intimacy and neighborhood charm.

Jamison: With a happy hour menu full of American tapas plates, beer, bubbles and wine, this patio allows you to enjoy all of the sounds and sights of Jamison Square's tidal fountain without having to wade through the action.

Pope House Bourbon Lounge: With such an large and interesting collection of bourbons, this bar is a great place to do some whiskey exploring while sitting on the porch of a charming converted Portland Victorian.

North 45: To fully enjoy how fun this patio can be, make sure to stop by their Endless Summer BBQ every Sunday from 4-9 PM for ribs, half shell oysters and weekly rotating specials.

Northwest Public House: Northwest's answer to the vegan bar across the river, because gluten-intolerant people also want to enjoy Portland's gastropub culture. Snack on an extensive gluten-free menu on any of their three decks depending on which one fits your mood best that day.
21st Bar and Grill: The only thing more beautiful than their lilly laden pond nestled in the middle of their elevated deck is a food and drink happy hour everyday from open until 6 PM.
PINTS Urban Tap Room: Their game and book library makes the Tap Room a great place for a friendly gathering or a relaxing beer.
Southwest
Central: This cocktail haven is one of the bars lucky enough to use the rows of picnic tables in the cozy Ankeny Alley. Not only is the patio warmly lit for romantic dates but its proximity to Voodoo Doughnuts makes this the number one people watching destination in Portland.
Departure: Portland's swankiest bar is a prime example of the city's diverse drinking scene. Dust off your fancy clothes and enjoy the most amazing view you can find with craft and gourmet refreshments.
Momo's: A staple downtown dive with $2 beers and a large covered patio for rainy-day smoke breaks.
Market: ChefStable, the group responsible for such reliably great places as Gruner, brings you a new market driven restaurant and bar. The open design's glass walls allow the seating to flow out onto the generous sidewalk across from Keller Auditorium. A great place to visit before concerts for a cocktail dinner and don't forget to check in afterwards to refuel after the show.
Three Degrees: The view on this waterfront deck makes it all too clear why Portland is called Bridgetown. Come during happy hour to take in the beauty of the Willamette with half off food and drink specials. On particularly stressful days you can take your drinks in a soothing rocking chair by the water.
Kells Irish Restaurant & Pub: A good patio is a necessity for bar with music and a cigar room and Kells does not disappoint. Order some heartwarming lamb stew before you peruse their cigar menu or party to some very lively music.
On Deck: If you are looking for a great place to catch the game with friends then head over to On Deck where, on a good day, you can both enjoy the weather without missing the game; it's like tailgating but with a waiter and full bar.
Photo via The EastBurn on Facebook
Tags:
Outdoor Seating
Recent Articles

Feedback
How are we doing? Tell us what you like or don't like and how we can improve. We would love to hear your thoughts!