Oregon Craft Beer Month: 5 Best Fruit Beers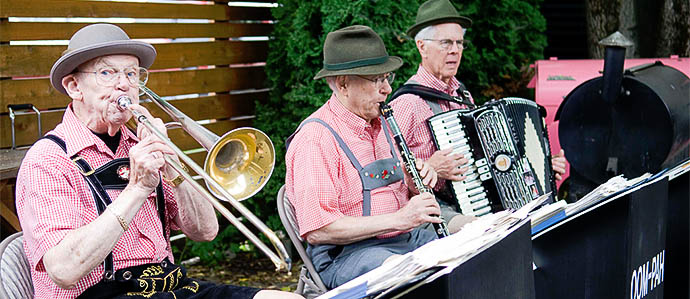 Oregon Craft Beer month is over, and we're taking a look back at what went on. Yesterday we compared the the North American Organic Brewers Festival and the Oregon Brewers Festival. While OBF served up 30 styles and NAOBF offered an interesting array of different beers from Saison to Kolsch, fruit and barrel-aged beers were undeniable favorites this year.

Hence, here we present our five favorite fruit beers from both OBF and NAOBF 2012.

Vertigo Brewing Tropical Blonde (5.1% ABV)
Although Vertigo did bring a beer to NAOBF this year, their Tropical Blonde was one of the five most-poured beers at OBF this year. 100% Key lime juice gives this unusual beer its unique sweet citrus taste.

Alameda Brewhouse Yellow Wolves of Thailand (8.2% ABV)
While not really a fruit beer, this IPA featured at NAOBF is flavored with dried mangoes, flaked coconut, Thai basil and ginger. The exotic ingredients make the organic malts and extra hoppy flavor pop.

Redhook Brewery Peach Trippel (8.2% ABV)
For a beer made of a half-ton of real fruit peach puree, this beer is not as sweet as you'd imagine. The gentle bittering of Northern Brewer hops combined with slightly spicy Saaz hops balances out the sweet peach flavors to make an enjoyable golden beer that was one of the five most-poured beers at OBF this year.

Old Market Pub and Brewery Cherried Alive (7.8% ABV)
Even though this beer was made with roughly 1,600 pounds of organic Oregon cherries, Cherried Alive did not make it out to NAOBF, but did make it to the list of the five most-poured beers at OBF. Instead of relying on particularly fragrant or flavorful hops to balance the sweetness of fruit, Old Market aged this beer in Pinot Noir barrels, whose smoky, oaky notes complement the cherries.

Logsdon Farmhouse Ales Barrel-Aged Seizoen Bretta
Another double-booked brewery made it to the list! Logsdon Farmhouse Ales brought their unique Kili Wit to both NAOBF and OBF, but it was their Barrel-Aged Bretta found in the Buzz Tent that really stole the show. The curse of the otherwise amazing Buzz Tent and Sour Tent is that neither the volunteers nor the guide book contain any information on this delicious beer. However, based on the flavor and brewery, it is likely that this is the same this is a the regular version of the special keg of barrel-aged Bretta that Logsdon brought to the Fruit Beer Festival, which was aged in French oak with pear and cherry, giving it a tartness that balances out the Brett's traditional funk.
Photo via Rogue Ales on Flickr
Recent Articles

Feedback
How are we doing? Tell us what you like or don't like and how we can improve. We would love to hear your thoughts!