River Boozing: Waterfront Drinking Essentials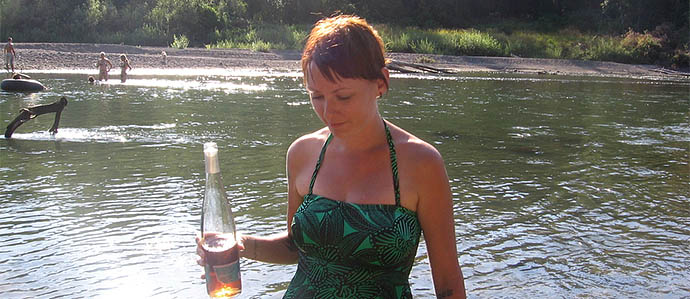 Sunny days have arrived in Portland, and though it only lasts for a month and a half, this season is one of the best things about living in PDX. During July and August the river beckons, luring even the least outdoorsy of Portlanders to its edge. Whether you're a seasoned waterfront picnicker or a river first-timer, you'll need the right essentials to properly soak up what's left of the summer in true Oregon style, refreshing beverage in hand.

Wine
White wine and the river are an irresistible pairing. The cork vs. screw-top debate can continue inland, but when it comes to sipping outdoors, twist-off wins, hands down. (If you've ever attempted to open a corked wine bottle with a ballpoint pen, you know what we mean.) Once you've made your bottle selection (check our list of this year's top whites) grab it warm and let the water chill it for later — it's not tactless, it's your nature-loving creative side!

Cider
With an ABV of 6.9%, Wanderlust Cider by Wandering Aengus leaves you with a crisp ginger taste that lingers pleasantly, without any boozy heaviness to bring you down. The semi-dry sip made in Salem has a clean finish that goes perfectly with the sun, a raft and the river. Additional reason to bring cider down to the banks: it tastes nearly as good — or at least very drinkable – when warm, certainly a lot better than a hot IPA.

Flask
When cold booze makes the bottle sweat, the outside can get covered in more sand than an art project from fourth grade. The Hydro Flask is a BPA-free, sweat-proof, vacuum-sealed bottle that will keep your beverages chilled for 24 hours. Not only will your hand and jaw remain sand-free, you can skip the reused Lipton bottle for your iced-tea-whiskey combo. Spread the local love by picking the Hydro Flask up at a Hopworks Brewery, Living Scape or Foot Traffic.

H2Duo is another option for toting picnic-friendly drinks. With two distinct sections, you can hold vodka up top and tonic water down below, mixing and matching as you need. Just be sure to save some of the tonic for some afternoon hydration — you're gonna need it.

Follow these tips and drinking by the water is easy — the hardest part will be deciding which river to take over.
Photo via Flickr user sgt fun
Recent Articles

Feedback
How are we doing? Tell us what you like or don't like and how we can improve. We would love to hear your thoughts!