Recap: Portland's First Beer & Cheese Fest Is A Taste Sensation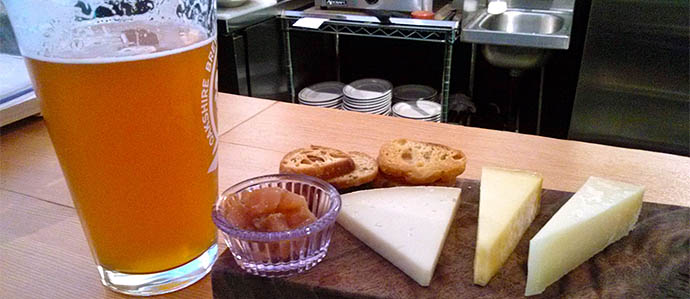 Beer Week ended on a high note with the Portland Beer & Cheese Fest on June 17. The sold-out festival at The Commons Brewery in Southeast Portland featured beers from 10 local breweries and multiple fromage styles from Cheese Bar. The theme of the evening was the matchup of food-friendly beer with cheese — and what a pairing they made.

Beers from Upright Brewing, Double Mountain, Firestone Walker, The Commons, Hopeworks, Oakshire, Solera, Gigantic, Block 15 and Widmer filled out the liquid roster. For the edibles, more than 100 pounds of cheese was divided into 2,500 pieces. To add taste nuance and more flavor fun, Chop Butchery provided a variety of charcuterie and pâté, including a bourbon chicken liver mousse that was the perfect complement to Rouge Creamery's Smokey Blue with Widmer Pitch Black IPA.

Cheese Bar owner Steve Jones is no stranger to mating beer with his product. In fact, he often comes up with pairings for people who have never tried the two together. "It's an aha moment," says Jones. "I love turning people on to beer and cheese."

At the fest, the tasting journey began with a Berlinerweiss/Grisette blend from Solera matched with a Sartori Bellavitano (a parmesan-cheddar hybrid), which was a promising start. One of the favorite duos of the day was Gigantic Rauchweizen and Bandit with the Willamette Valley Cheese Company's Brindisi. The textured cheese that melts in the mouth pleasantly accentuates the beer's meaty flavor — the pairing could have been a meal in itself.

While many people didn't follow the order of the card handed out on entry, one thing was certain: everyone wanted to finish the evenings with the last pairing. Rare Figgy Pudding beer from Block 15 was set up with Colston-Basset Stilton, and the rich combo delivered the satisfaction of a finale to a delicious meal.

If you missed the event this year, fear not, there's always 2013 — The Commons Brewery owner Mike Wright confirmed that organizers plan to make this an annual happening.
Recent Articles

Feedback
How are we doing? Tell us what you like or don't like and how we can improve. We would love to hear your thoughts!