Where to Find Portland's 5 Best Margaritas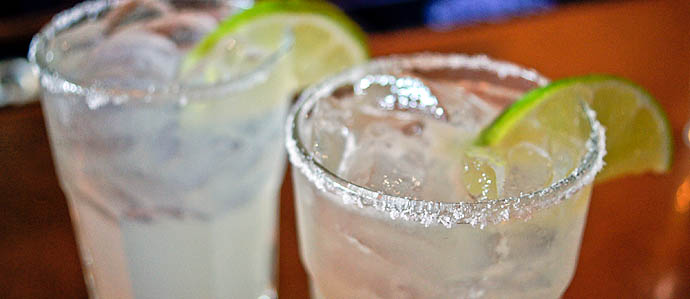 Portland is lovingly nicknamed "Beervana" for one simple reason: this is a craft beer drinker's Shangri La. And though our supply of high-quality brews is seemingly limitless, the Rose City's inventory of sunny afternoons is not. When the rain clouds part, we cast off our galoshes and hightail it to our favorite local patio. While it's perfectly acceptable to celebrate these meteorological miracles with a cerveza, there's just something terribly apropos about commemorating the fleeting rays with an icy margarita.

Many a local bartender can magically transform tequila, triple sec (orange-flavored liqueur such as Cointreau) and lime juice into something transcendent, but these five joints serve up some of our all-time favorites. Did your favorite local margarita make the list? Sound off and let us know how right (or unforgivably wrong) we are!

Por Qué No?: This hip yet unfussy taqueria is beloved by Stumptown locals, who appreciate Por Qué No?'s devotion to authentic Mexican culinary traditions and fresh, local ingredients. Their classic option (our favorite) employs Sauza Blanco tequila, fresh squeezed lime and lemon juice. Pomegranate and Agua Fresca options are also well worth a try, particularly during happy hour or Taco Tuesdays, when margs are $1.50 off (Agua Fresca Margarita $1 off).

The uninitiated may wonder if the breezy order-at-the-counter joint could yield a truly noteworthy margarita, but let us assure you, the answer is very much yes. Don't take our word for it--just watch the steady stream of traffic into either location anytime the thermometer stretches its legs (3524 N Mississippi Ave.; 4635 SE Hawthorne Blvd.).
Brix Tavern: Though the classic tequila/triple sec/lime formula is obviously a winning recipe, Portland occasionally puts its own stamp on it, with fantastic results. Take the Pearl District's upscale casual neighborhood joint Brix Tavern, for instance. Its menu features two fresh takes on this classic: The Backyard Margarita mixes tequila with muddled fresh seasonal Oregon berries, fresh lime and honey simple syrup inside a Mason jar, while the Honey Smoked Margarita pairs the tequila with a dash of bitters, clover honey and fresh lime. Upgrade from house to premium tequila for a buck more. Each is just $4 during daily happy hour, which goes all evening every Monday beginning at 3 PM (1338 NW Hoyt St.).
Cha Taqueria and Bar and Cha! Cha! Cha!: Cha's owner and chef Javier Hurtado was raised in Cuernavaca, Mexico, where he assisted his mother in her restaurant and his father in his butcher shop. There, he learned the secrets of fresh, locally sourced southern Mexican cuisine. Hurtado now brings those same principles to Portland through his casual Cha! Cha! Cha! lunch counters which now dot each of the city's quadrants, and his upscale loft-style Cha Taqueria and Bar in Nob Hill. Cha's large custom-designed bar houses one of Portland's best tequila selections — sit there anytime after 3 to enjoy happy hour prices. The margarita menu features around a dozen high-quality options that range from classic to creative. Cha! Cha! Cha! offers a classic marg, or several inversions which add various fresh juices like hibiscus and guava (Cha: NW 21st and Everett St.; Cha! Cha! Cha!: 7 local locations).
Nuestra Cocina: This neighborhood restaurant has been open for five years, but you should still expect to wait most nights. While that might turn us off at other places, here that means enjoying chips, salsa and guacamole on the heated patio with one of the oft-raved-about margaritas. The standard is plenty tasty, but we recommend the Cocina Especial ($7.75), where Chile Arbol infused tequila & fresh muddled fruit packs just the right balanced punch of spicy, sweet, sour and salty. After one or two of these, dinner feels almost like an afterthought (2135 SE Division St.).
La Carreta: This is unpretentious Tex-Mex comfort food at its best. Sure, it's not the most authentic joint in town or the most modern (case in point: they don't seem to have a website), but it's a local favorite nonetheless. We love a good fusion or upscale experience as much as the next person, but occasionally we just love going where the portions are large, the chips and salsa are free, and the delicious classic margaritas are just $2 during happy hour. You read that right. Enough said (4534 SE McLoughlin Blvd.).
Recent Articles

Feedback
How are we doing? Tell us what you like or don't like and how we can improve. We would love to hear your thoughts!