Preferred Portland Pinball: 5 Places to Play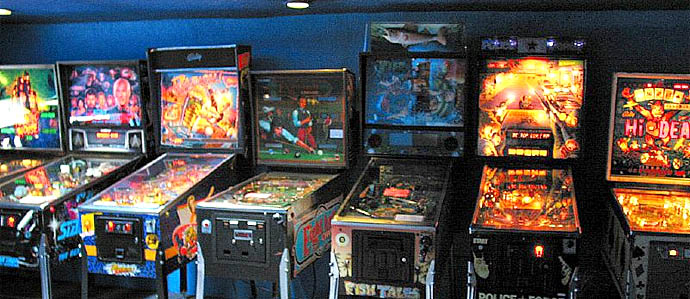 Pinball bridges the gap between all the most prominent Portland qualities: nostalgia for childhood, eccentricity and drinking. While most bars have a pinball machine tucked away in a lonely corner we are lucky to have a few standout establishments dedicated to the most Portland arcade game of all time. While the rest of the country is enjoying something called "the sun" you can protect your pale winter skin and socialize at the same time by exploring the best pinball bars in town.

Ground Kontrol: Boasting 27 machines, this Northwest barcade is the obvious choice for anyone looking for some pinball action. All ages are welcome until 10 PM, but this isn't a place where you'll be bothered by packs of sticky kids. The recently acquired liquor license can only make weekly events like "Rock Band Tuesdays" even more entertaining. We can all only hope the bar will have a nicely stocked liquor selection for spectators at the upcoming Pinbrawl tournament on April 22 (511 NW Couch St.; 503-796-9364).

C Bar: By far the most comfortable pinball bar in the city, the 15 machines here are located in a room of their own that can be opened up to the sunshine and breeze in the summer. Friendly staff and a rotating draft beer selection come together with the comfortable community atmosphere so well that hours can pass before you finally tear yourself away from their amazing Doctor Who machine. A bonus four machines are located just across the street at Ship Ahoy, in case the occasional tournament is dominating the pinball room (2880 SE Gladstone St.; 503-230-8808).

Slabtown: Located "within spitting distance of the Pearl," this is a fun escape from what can feel like a stuffy neighborhood in the Northwest. Though well-known for frequent and loud live music shows, this is still a great pinball spot — while others are rocking out, you can beat their high scores in a separate room! Most importantly, the crowd tends to be friendly; industry night includes cabbies and trimet employees on top of the usual OLCC card holders (1033 NW 16th St.; 971-229-1455).

Billy Ray's: The fact that this tavern barely has a sign sets the bar for what to expect. This gritty dive is a perfect pinball place for the whiskey and beer folks; not only for the wide selection of fine whiskey and brews, but because this is the place where lumberjacks would play pinball if lumberjacks were into pinball. No frills, cash only, cheap beer and plenty of tattoos — classic Portland (2216 NE MLK Blvd.; 503-287-7254).

Bonus Listing
Voodoo Doughnut Too: While not a bar proper, this bakery does have a special Rogue beer created in its honor. If you are really fiending for a game of pinball, you are covered here with 24-hour access (1501 NE Davis St.; 503-235-2666).
Photo via Flickr user ario_
Recent Articles

Feedback
How are we doing? Tell us what you like or don't like and how we can improve. We would love to hear your thoughts!