Portland's Best Wine Bars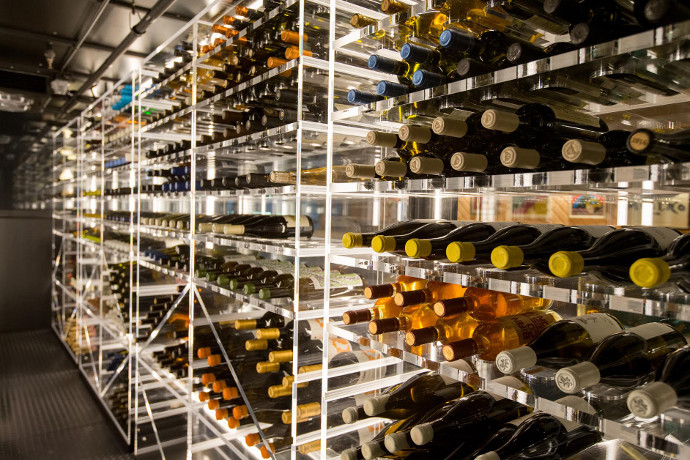 While Portland is lauded for its beer industry and its craft cocktail culture, its impressive wine scene is sometimes overlooked. From the nearby wines of the Willamette Valley to imported French and Spanish bottles and even wines made right here in the city, Portland loves its vino almost as much as its beer, and offers a number of great bars at which to drink. We've rounded up 12 of our favorite places to grab a glass of rosé or bubbles, while omitting any tasting rooms that only pour from their own label. Let us know where you like to grab a glass of wine at our
Facebook
or
Twitter
.
This industrial, warehouse sized wine bar/winery was the first in Portland to ditch bottles and go for kegs instead. Here, wines are on tap, with a wide array of reds, whites, and rosés from Coopers Hall Winery as well as guest wines. The spacious room is often reserved for private events, so be sure to check online that it's open before heading in. (404 SE 6th Ave.; 503-719-7000)
Offering a beautiful balcony view of the city, wines by the glass, bottle, and flight, and a full dinner menu with ingredients sourced from the rooftop garden, Noble Rot is a longstanding component of the Portland wine bar scene. The wine selection is an even spread of Old World and New, with the latter focused primarily in Oregon, while the food is casual, wine-friendly Northwestern cuisine. (1111 East Burnside St.; 503-233-1999)
Though primarily known as a cocktail bar, Shift Drink happens to boast one of the best wine selections of any bar in downtown Portland, both by the glass and bottle. Organized in a playful manner with categories like "technique", "terroir", or "Left Coast", the list is a product of co-owner Anthony Garcia, a master-sommelier, and is at once geeky and accessible. Its accessibility is aided by an all day "happy hour", essentially a supplementary menu, where $7 glasses of wines titled "cheap and fizzy" or "local off dry" can be found. And Shift Drinks lives up to its name, making sure that the after-work crowd can get a drink no matter what by selling bottles of wine to go at 10% off until 2:30 in the morning. (1200 SW Morrison St.; 503-922-3933)
Ambonnay is a shrine to Champagne. Eclectically adorned with empty frames and comfy vintage chairs, with a small marble bar along one corner, the bar offers a lovely ambience to highlight the bubbly wines from the northeast of France. It's by no means the cheapest bar in the city, but hard-to-find glasses and bottles fill the menu at reasonable prices, along with just a small array of bites, like olives and cheese meant to pair with the wines. (107 SE Washington St.; 503-575-4861)
Brand new to the city as of May, 2018, Enoteca Nostrana serves as a companion bar to the longstanding Italian spot Nostrana, though it's easily a destination in its own right. This stylish, two-storied bar with post-modern flair features mostly Italian varietals with some local wines, all available by the bottle, glass, or taste. For dining, the shared kitchen puts out an array of delicious Italian snacks and dishes to pair with the massive collection of wines. (1401 SE Morrison St. ste .105; 503-236-7006)
Pairings is an eccentric, petite wine bar, with a vivid green interior filled with chalkboards depicting wine pairings, and shelves of wines organized into unorthodox categories. Rather than finding a section for Burgundy or Chianti, you'll find TV shows, bands, even astrological signs—while Pairings does live up to its name with food pairings, it also pairs wines to pop-culture elements, abstract concepts, and more. The wine bar also hosts regular parties, events, and wine tastings, all of them in an unconventional, approachable manner. (455 NE 24th Ave.; 541-531-7653)
Les Caves is owned by two winemakers, so you can always find wines from their labels,
Ovum
and
Golden Clusters
, by the glass or bottle. However, this modern, subterranean basement bar offers far more than just their own product, with a menu full of winemaker selected offerings from other Oregon wineries, European producers, and more. A select menu of canned fish, ham and cheese sandwiches, and other treats rounds out the experience, and the cool, spacious room offers plenty of seats for intimate dining, including a private nook with a loveseat.
(1719 NE Alberta St.; 503-206-6852)
Southeast Wine Collective adjoining bar got a big upgrade in the menu department last year, when Chef Althea Grey Potter revamped it for larger fare and a more robust menu. Still, the wood-paneled, cozily-industrial space feels more like a casual wine bar than a full restaurant and offers a selection of wines from the collective's wineries, as well as imports and other Oregon labels. Choose from glass pours or flights and explore the varieties of wines that Oregon and France have to offer, alongside some paired bites or a full chef's-choice dinner. (2425 SE 35th Pl.; 503-208-2061)
A tiny, curtain lined space with a single bar, Candelier is more akin to your wine-nerd friend's basement than a traditional wine bar, and the experience is basically the same—here, owner Matthew Ellis personally pours each glass, and while there are a few glasses of French and Italian vino, the vast majority of the menu is devoted to Japanese sake. Divided up into helpful descriptors like "clean and refined" and "rich and bold", the menu offers a deep dive into a world of rice wines that most people aren't familiar with, with Ellis as a helpful guide. (1451 SE Ankeny St.; 503-841-8345)
Pix Patisserie is an institution, serving pastries and tapas to the Portland crowds for decades now. It just happens that its wine bar, Bar Vivant, offers what is likely the most robust collection of sparkling wines in the state, and has even attracted national attention for its list. Along with the bubbles, Bar Vivant offers a substantial collection of sherries and other European wines, all in a cute, spacious room that wouldn't look out of place on the streets of Paris. In the summer months, find seats on the outside patio, which is surrounded by a small, streetside vineyard. (2225 E Burnside St.; 971-271-7166)
Not to be confused with Southeast Wine Collective's own label Division Wine Co, Division Wines is a cozy wine bar and retail shop. A rotating list of white, red, sparkling, rosé, port, and sherry wines is available by the glass (and generous half-glass) at the bar, and guests are also encouraged to pull any wine from the shelf and have it opened for a $10 charge ( no charge if for bottles $50 or up). The unpretentious, friendly staff are always on hand to offer information about the wines, but will gladly let you enjoy yours your own as well, preferably with a cheese plate. (3564 SE Division St.; 503-234-7281)
Housed in a gorgeous, brick-lined vintage space, Bar Casa Vale is a little piece of Spain tucked in southeast Portland. The restaurant and bar offers a long wine list of almost entirely Spanish bottles, including some of the best sherry selections in the city. The food menu, most of which is cooked on an open grill, ranges from small pintxos to full meals, all of which pairs well with the wines and wine-cocktails offered. (215 SE 9th Ave.; 503-477-9081)
Photo via John Valls
Recent Articles

Feedback
How are we doing? Tell us what you like or don't like and how we can improve. We would love to hear your thoughts!