Portland's Loyal Legion Has Unveiled an Old Fashioned Menu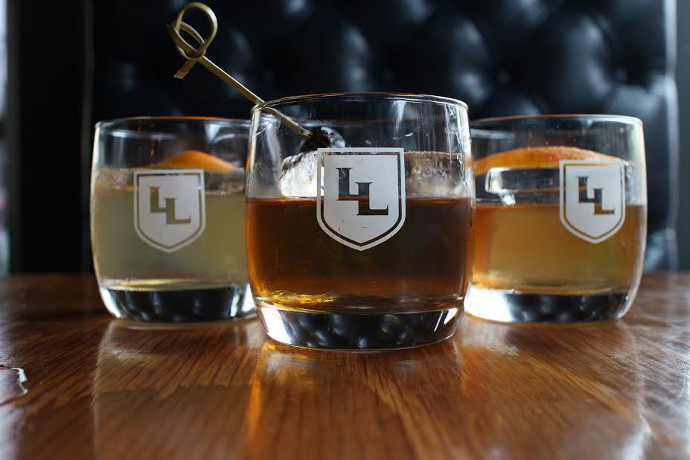 The Loyal Legion
is primarily a beer bar—the name comes, in part, from the fact that the pub has around a hundred (or a legion of) taps, and it remains loyal to the state of Oregon with exclusively local beers and ciders. But since its inception in 2015 it has grown as a spirits bar, adding an impressive whiskey selection in 2016 and continually expanding its cocktail service. Now, the bar recently added a menu of a dozen old fashioned variations, each exploring the way different spirits play with sugars and bitters, from a classic bourbon old fashioned with aromatic and orange bitters to more unexpected flavor pairings, like mezcal with hopped grapefruit and tiki bitters.
Though helmed by general manager Adam Keefe and bar managers Connor Slevin and Garrett Schumacher, the menu received input from the whole staff. "We really are a legion," said Schumacher, speaking to the collaborative nature of the process. The program was inspired by the original interpretation of the cocktail (spirits, bitters, and sugar), and brought to life with the help of
Bittermens
, a New York based company owned by Avery and Janet Glasser, Portland residents and frequent guests at the Loyal Legion.
Each drink on the old fashioned menu is unique, playing with different spirit and bitters combinations.
The House Old Fashioned ($10)
—made with Old Taylor bourbon and a mix of Angostura and orange bitters—will be familiar to most drinkers as an old fashioned. Those that want to stay in that family of drinks would likely enjoy the
Dundee ($14)
, made with local
Bull Run Pinot Noir Barrel Finished American Whiskey
and enhanced with xocolatl mole and burlesque bitters. The drink carries light notes of chocolate from the barrel and from the mole bitters, as well as fruity notes from the acai and hibiscus-infused burlesque bitters. At the most robust end of the spectrum (and price range) is the
Tweed Jacket Remover ($22)
, the grandpappy of the menu made with
Ardbeg 10
year old scotch, plus the same bitters blend as the Dundee. Though mellowed a bit by the addition of demerara sugar, the old fashioned is a must for those who love bold, smoky, hearty cocktails.
Another unconventional old fashioned is the
Jalisco Azul ($16)
, made with
Union Mezcal
, hopped grapefruit and 'emakule tiki bitters, and honey. The silky, smoky drink is a great way to introduce whiskey drinkers to a wider array of spirits. And for those looking to try the wide range of global whiskies,
The Emperor ($14)
is made with Japanese whisky
Suntory Toki
. This bright, zingy old fashioned gets honey and winter melon bitters and is sweetened with sugar. It manages to be bright and crisp without sacrificing the strength of the drink.
Other drinks include a rich and smooth rum old fashioned, the
Sugarcane Bill ($10)
, and the indulgent
Kilbeggan Irish Whiskey
based one, Stab Town ($12). Both of them use the same bitters blend as the Jalisco Azul, and it's intriguing to discover the different elements that bitters bring out in each drink.
The New No. 7 ($10)
uses a newly released Jack Daniels Rye, along with transatlantic and NE cranberry bitters, for a fun take on the old fashioned that is evocative of a Jack and Coke, only more concentrated (and better tasting). The fun
Wisconsin Old Fashioned Sour ($12)
is a testament to its namesake, while a slightly spicy Hellfire Club ($18) is a treat for those who like a bit of zing to their booze, and the
Louisville Slugger ($12)
is another more classic take on the drink.
Guests are encouraged to imbibe slowly, allowing the ice to melt a bit and different aspects of the bitters and spirits to arise as the drink transforms. And while it's certainly not required, the Loyal Legion is still an amazing beer bar, so finding a deliciously paired beer-back for each old fashioned is a fun challenge.
Photo via Alexander Frane
Recent Articles

Feedback
How are we doing? Tell us what you like or don't like and how we can improve. We would love to hear your thoughts!