Portland's Free Public Wines is Canning Their Wines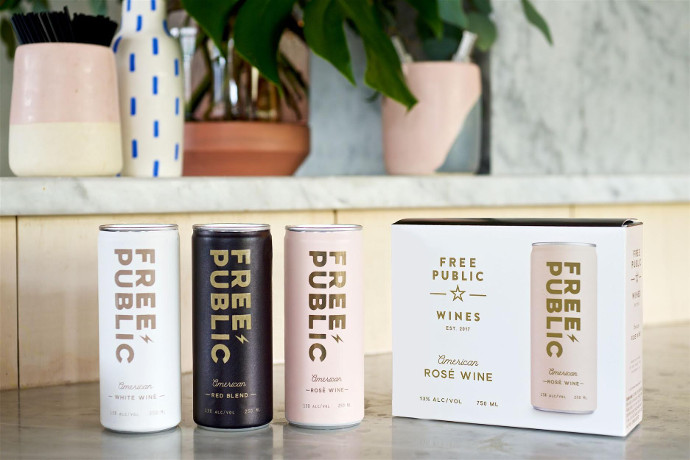 Portlanders have another reason to look forward to warmer months this year:
Free Public Wine Co.
is a new, local winery putting high-quality wines into stylish cans, perfect for patio parties, camping trips, or just for having around the house. The winery launched with two products late in 2017, a white blend and red blend, then recently added a rosé to the list, just in time for spring. They're all sold in boxes of three 250 milliliter cans, giving buyers the equivalent of a bottle of wine in three conveniently sized cans.
The wines are a collaboration between Matt Lounsbury, a longtime director of operations and vice president of Stumptown Coffee who oversees the operations; Michael Etter, a designer who led the direction of Union Wine Co.'s Underwood canned wine design and who brings his eye for sleek, minimalist design to Free Public's look and feel; and Ron Penner-Ash, who co-founded
Penner Ash Winery
, and who currently oversees the sourcing and blending for Free Public.
The wines are sourced all the way from Napa, California to Walla Walla, Washington, and blended by the team at Free Public Wine Co. The white is a 50/50 chardonnay and riesling blend, a rare combination with plenty of ripe fruit and bright acid; the rosé is mostly syrah with some pinot gris, and is fruit forward and juicy without being sweet, just made for summer sipping. Both the white and the rosé taste great out of a chilled can, with just a small amount of effervescence. The red, a light bodied pinot noir and syrah blend, has notes of leather, red fruits, and earth, and while it's fine out of the can, it's better enjoyed poured into a glass.
So far, the wines are available in the Portland area, but will be spreading out to Washington and California in April and then will see national distribution this summer; expect to see them at festivals, venues, and even bars. The boxes retail at $12.99, making for an affordable bottle of wine that can easily be split over a few days.
Recent Articles

Feedback
How are we doing? Tell us what you like or don't like and how we can improve. We would love to hear your thoughts!