Pennsylvania Bar Sells 'Tide Pod' Shot That Won't Kill You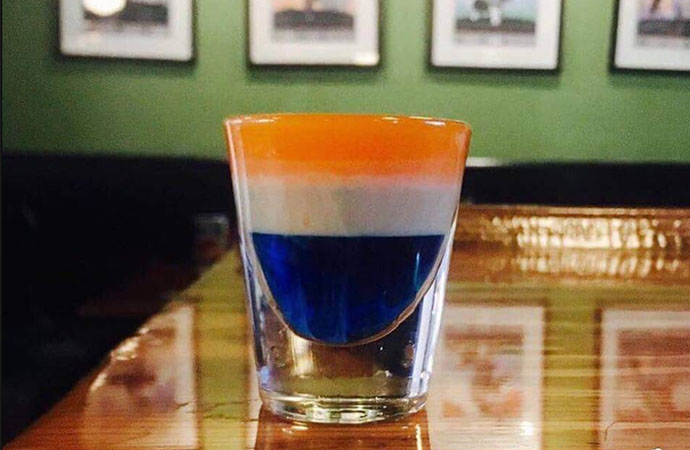 It's 2018, and eating Tide Pods has become a viral meme and cultural phenomenon, which is clearly a sign of insanity or stupidity—we're not quite sure which one yet. As a way to capitalize on the "trend" a bar in Bethlehem, Pennsylvania has created a "Tide Pod"-inspired shot that patrons can throw back in order to forget that the "Tide Pod Challenge" is a thing that actual people in this country are partaking in.
The $4 shot is available at Molly's Irish Grille & Sports Pub and is layered with blue Curaco, Bailey's and orange dyed vodka. Now if that doesn't sound like the most delicious combination…actually it does sound a lot better than ingesting bleach.
The dangers of the "Tide Pod Challenge" led Facebook's admins to take down the bar's posts promoting the shot. Nevertheless, Molly's owner told CBS Philly their post received over 6.2 million views and they've been receiving calls from all over the nation from people intrigued by their new offering.
We can't believe we have to say this, but DON'T EAT TIDE PODS!! If you must partake in the trend, make a pilgrimage to this bar for this shot. Or make your own shot at home. Just... don't eat Tide Pods.
Photo via Molly's Irish Grille & Sports Pub on Twitter
Recent Articles

Feedback
How are we doing? Tell us what you like or don't like and how we can improve. We would love to hear your thoughts!