Brave the Winter with Hot Drinks in Portland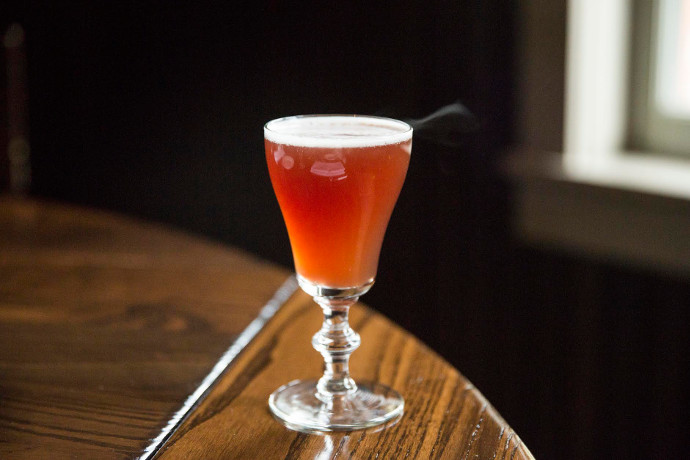 By all predictions, it's looking to be another frigid Portland winter this year. While we haven't received the same torrent of snowfall as we had in 2016, it's always a possibility in the New Year. In any case, it's cold, and the best solution for that is to try out some hot cocktails. We rounded up nine of our favorite hot cocktails for 2017. Let us know your favorite warming drinks at our
Facebook
or
Twitter
.
Bible Club
Legendary speakeasy The Bible Club is a major purveyor of Ardbeg, a single malt scotch from Islay. A large reason for this is their popular take on the Penicillin Cocktail ($14), a scotch, ginger, honey, and lemon drink. In the summer you can find it here as a slushy, but in the colder months it's served hot, like a smokey, gingery hot toddy. (6716 SE 16th St.; 971-279-2198)
The Vintage Cocktail Lounge
A great and oft overlooked cocktail bar, The Vintage, unsurprisingly, serves a variety of classic cocktails. This winter they have the option for a hot buttered anything, when guests can pick any spirit and add the house-made hot buttered mix to it. Rum and whiskey are both a good choice. Gin, probably less so. (7907 SE Stark St.; 971-242-8729)
Xico
Mexican Restaurant Xico focuses on the finer-dining side of Oaxacan cuisine, with elegant, locally sourced dishes and rare spirits and wines from Mexico. This extends to the drink menu, and includes the Xico Hot Chocolate Con Mezcal ($12), a sweet, spicy, smoky, rich drink with a three chocolate blend, caramel, habanero chile, and mezcal topped with whipped cream. It's the perfect way to finish off a meal, or just to warm up from the cold. (3715 SE Division St.; 503-548-6343)
Rambler Bar
Southern-inspired Rambler Bar has a few hot drinks, a standout of which is the aptly named Boozy Hot Chocolate ($10), with Rumple Minze (a peppermint schnapp), Sailor Jerry's, and hot-chocolate, topped with crushed candy peppermints and whipped cream. It's perfect for the season, like drinking a chocolate, boozy candy cane. (4205 N Mississippi Ave.; 503-459-4049)
Raven and Rose
Raven and Rose has a seasonal focused cocktail menu, including a range of excellent hot drinks for the season. A returning one is the Ballycotton Toddy ($11), a unique drink that exemplifies the restaurant's British and Irish roots, a toddy made with Irish whiskey, blackcurrant, honey, lemon, allspice dram, and Irish Moss, an algae that lends it a silky mouthful and vegetal notes. (1331 SW Broadway; 503-222-7673)
Urdaneta
A fantastic Basque restaurant, Urdaneta offers its own take on eggnog with the Sidra Begonia. A housemade quince cider is mixed with a blend of sherries, cultured butter, and burnt orange peel, then topped with a blend of dulce de leche and heavy cream. The result is a unique concoction, like a cross between a hot cider and eggnog with a Spanish twist. (3033 NE Alberta St.; 503-288-1990)
Radar
Another underrated spot, Radar has been providing Mississippi with homey, shareable fare and craft cocktails for five years now. Peace Club Toddy can be found on the winter menu, a toddy that uses chamomile infused Calvados (French apple brandy), along with Cognac, honey, and lemon with hot water. The chamomile pairs lovely with the apple brandy, making for a soothing, warming drink. (3951 N Mississippi Ave.; 503-841-6948)
St Pizza Lounge
Serving as the bar for Gladstone Pizza in Southeast, St. Pizza Lounge boats a surprisingly large cocktail list, including an extensive array of hot toddies and boozy coffee and tea drinks. It's hard to go wrong, but our favorite is the Tequila Toddy ($10), which gets a kick of spice from Ancho Reyes, and some added complexity with mole bitter. (3813 SE Gladstone St.; 503-775-1537)
Richmond Bar
The Richmond Toddy ($10) at its namesake bar is a straightforward drink, but that's no criticism. Rye whiskey gives it a strong base and heat, while Applejack and apple-honey lend a hybernal sweetness, with lemon and bitters balancing the drink and giving it complexity. (3203 SE Division St.; 503-208-3075)
Photo via Rachelle Hacmac
Recent Articles

Feedback
How are we doing? Tell us what you like or don't like and how we can improve. We would love to hear your thoughts!