Where to Drink on Thanksgiving 2017 in Portland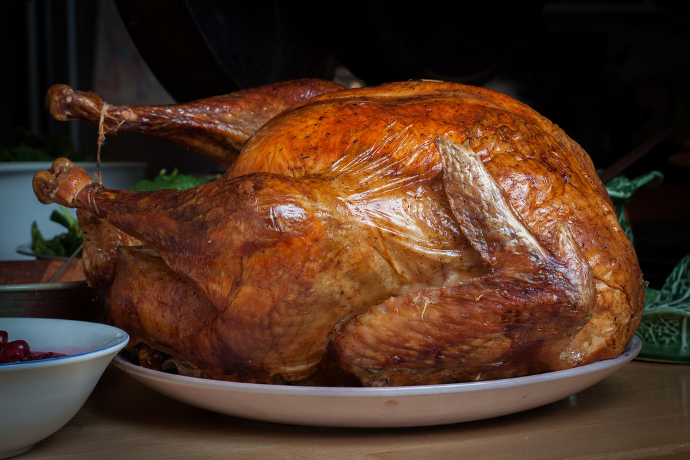 Not everyone wants to spend Thanksgiving cooped up at home at a busy family dinner. Others don't have the opportunity and would rather not be home alone. Or maybe dinner is over and you just need to find a place to grab a post-turkey cocktail or digestif. Whatever the case, we're not judging, just looking to help. Most dive bars and hotel bars will be opening their doors for Turkey Day, but we've narrowed the list down to just the best places to spend your evening. Let ue know where you'll be hiding out at our
Facebook
or
Twitter
.
Radio Room
Radio Room has become nearly synonymous with holiday bars, as it is well known for being open 365 days out of the year. But the bar is more than just a constant presence, as it's actually a fun, casual spot with good food. This year, the bar is providing an entire Thanksgiving menu, including a breakfast with themed offerings, and a classic turkey dinner for $21. (1101 NE Alberta St.)
Rum Club
Each year, Rum Club puts down the citrus juices and focuses just on dark spirits, bitters, and syrups for Stirred Thanksgiving, a special cocktail menu of lush offerings. Made with bartenders in mind, who rarely get a night off, the night is open to all, and in addition to dark cocktails, guests can also find discounted shots of Fernet Branca and Rainier tallboys with a dealer's shot, the essential bartender drinks. No reason to fret, though: The Rum Club Daiquiri is still on the menu. Just don't ask for a Mai Tai. (720 SE Sandy blvd.; 503-467-2469)
My Father's Place
A consummate holiday destination, My Father's Place offers a great balance of classy and divey with its cheap drinks, diner food, and special Thanksgiving turkey and ham menu items. Best, it's
open early
and late, so you can get in here for a pre or post turkey drink.
(523 SE Grand Ave.; 503-235-5494)
Doug Fir Lounge
It's easy to forget, but the Doug Fir Lounge is a hotel bar as well as a music venue and full service restaurant. Attached to the Jupiter Hotel, the Doug Fir is open every day, and Thanksgiving is no exception. Guests can stop in for a full meal or just a drink, and it's a great place to get warm by the fireplace. (830 East Burnside St.; 503-231-9663)
Pépé le Moko
For something more upscale, Jeffrey Morgenthaler's subterranean cocktail lounge is the place to be this Thanksgiving. Classics like the negroni, daiquiri, and martini are made to perfection, as well as fun offerings of updated drinks normally disregarded, like a high-proof amaretto sour or hand-blended grasshopper. It's not a place to visit for those seeking a full Thanksgiving dinner, but a great spot for an after-dinner digestif. (407 SW 10th Ave.; 503-546-8537)
Beer Mongers
The bottle shop and tap-house Beer Mongers has been open "every day for 3000 straight days", and isn't looking to break that streak anytime soon. Whether it's a last minute shopping trip for some seasonal beers for dinner, or just another night out at the pub, Beer Mongers is there on Thanksgiving and every other day of the year. (1125 SE Division St.; 503-234-6012)
Pearl Tavern
When one of the co-owners is famed quarterback Joey Harrington, and the bar has multiple screens for games, it has no excuse to be closed on Thanksgiving, a holiday famous for football viewing. So Pearl Tavern will be open on Turkey Day, playing the Chargers vs. Cowboys at 1:30 PM followed by the Giants vs. Redskins game at 5:30pm, and serving a special Thanksgiving à la carte menu. Guests are welcome to stop in for just a drink, as well. (231 NW 11th Ave.; 503-954-3796)
Devil's Point
As always, the hard-rock strip club Devil's Point will be open for anyone looking to escape their family or the solitude of an empty home. There won't be any Thanksgiving food specials (though possibly a discount on Fireball) but the amazingly talented performers and cheap drinks will distract visitors from any potential holiday blues. (5305 SE Foster Rd.; 503- 774-4513)
Bar Bar
Another spot open 365, Mississippi Studios' Bar Bar will be open for Thanksgiving, serving its signature burgers and drinks. Granted, most of Bar Bar is out on the expansive patio, and Thanksgiving in the Northwest isn't exactly temperate, but luckily there are some fire pits to keep guests warm. (3939 N. Mississippi St.; 503-288-3895)
Urban Farmer
The stylish steakhouse and hotel bar for the Nines Hotel is taking reservations this year for a $65 prix fixe Thanksgiving dinner. However, for anyone who wants to skip the fancy meal and just opt for a drink and a bite, the bar is open first come first serve. The cocktails here have a heavy emphasis on local spirits and ingredients. (525 SW Morrison St.; 503-222-4900)
Photo via Flickr user timsackton
Recent Articles

Feedback
How are we doing? Tell us what you like or don't like and how we can improve. We would love to hear your thoughts!