Play Around at These Portland Bars with Games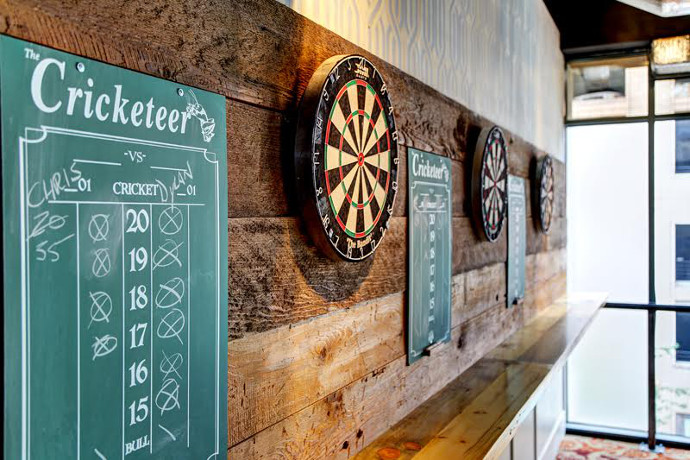 Pool, darts, skeeball—playing table games with a drink in hand is a time honored tradition. While many Portland bars sport an occasional pool table or dart board, more of an afterthought than a reason to visit, a few spots are a destination because of their games. This list focuses on great bars with pool tables, darts, ping-pong, and the like, rather than board games, arcade games, or pinball. What's your favorite bar to shoot pool or throw darts? Let us know on our
Facebook
or
Twitter
.
Punch Bowl Social
Punch Bowl Social is essentially one big game room, with more variety in table games than anywhere else in town; pool, foosball, marbles, ping pong, shuffleboard, darts, even bowling are all available to rent, and with multiple bars you never have to go far to order a second round. (340 SW Morrison St.; 503-334-0360)
Backstage Bar
Many McMenamins have pool tables, but the space behind the Bagdad Theater, the Backstage Bar, is especially nice. Multiple tables with leather pockets and vivid green tops fill the main room, which is dominated by a colossal wooden bar crafted in 1880. It also has private rooms, each with a pool table and dining booths so guests can play without worrying about jabbing anyone with their sticks. (3702 SE Hawthorne Blvd.; 503-236-9234)
Tavern & Pool
It's right there in the name at this other McMenamins location in Northwest Portland. Tavern & Pool has the quality pool tables to be expected at a McMenamins venture, as well as a pair of twenty-two foot long shuffleboard tables. As with other locations, games are not free, but available at a reasonable rate. (1716 NW 23rd Ave.; 503-227-0929)
Horse Brass Pub
Being Portland's most authentic English style pub means the Horse Brass is basically required to have darts, and it delivers. Real metal darts and multiple vintage cork dartboards make it one of the best dart bars in the city. Best of all, it's all free to play. Dart skills are only made better after downing an imperial pint or two of ale. (4534 SE Belmont St.; 503-232-2202)
Pips and Bounce
Portland's only dedicated table tennis bar, Pips and Bounce has ten pool tables, a hundred paddles, and a thousand balls. Rates can be a little pricey, at $15 for a half hour, though a monthly membership is $49 and allows for unlimited play time. Best: staff is on hand to pick up any balls that go off the table, so you won't have to chase a bouncing ball around the room for the fiftieth time in a night. (833 SE Belmont St.; 503-928-4664)
Sam's Hollywood Billiards
A Portland institution, Sam's Hollywood Billiards has been bringing in 8-Ball enthusiasts since 1962. Besides casual play, the bar hosts regular tournaments and contests. Stop in between 4 and 7 PM for pool happy hour, when table rates are only $3 an hour. For non-enthusiasts, there's also pinball. (1845 NE 41st Ave.; 503-282-8266)
Goodfoot Pub and Lounge
The Goodfoot is best known for its basement music venue, which hosts a weekly soul night every Friday. However, the upstairs bar space has a number of pool tables, all of which are free to play. It can get a little crowded in the evenings, which makes it difficult to play without prodding someone, but that's just part of the challenge. (2845 SE Stark St.; 503- 239-9292)
Mad Hanna
Not only a great dive bar, Mad Hanna has plenty of gaming opportunities. Guests can play pool, video poker, board games, arcade games, and it even has an outdoor ping pong table, though that's more fun in the warmer months. The best part about Mad Hanna though is its laid-back vibe and friendly staff. (6129 NE Fremont.; 503-288-2944)
Triple Nickel
Iconic dive-turned-hipster-bar, the Triple Nickel offers its patrons more than just cheap drinks and thirty-five beers on taps—here, guests can shoot pool, throw darts, and even challenge each other to a game of giant Jenga. The wooden blocks do happen to have some inappropriate scrawlings on them from guests. (3646 SE Belmont St. 503-234-7215)
Spirit of 77
Named for the year that put Portland on the map as a legitimate basketball city, Spirit of 77 is an upscale sports bar. Flat screen TVs overlook a massive floorplan, which is filled with bar seating, as well as foosball tables, skeeball, and because it's a basketball themed bar, hoops. It's a great spot to play some games during commercial breaks for Blazer games. (500 NE Martin Luther King Jr. Blvd.; 503-232-9977)
Photo via Amber Boutwell & Punch Bowl Social
Recent Articles

Feedback
How are we doing? Tell us what you like or don't like and how we can improve. We would love to hear your thoughts!