Sing Your Heart Out at These Portland Karaoke Bars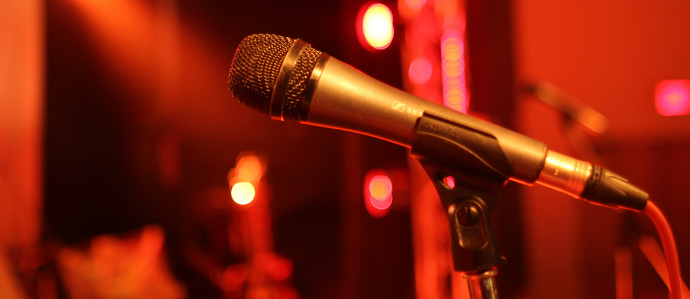 Sometimes you've just got to sing your heart out, and when you do so, sometimes it's easier with a drink in hand. Luckily, Portland has plenty of venues where the two combine, and you can grab a whiskey sour to help hit those high-notes in Don't Stop Believing. We've rounded up six of the best places to sing karaoke, omitting spots that only have a single open mic night a week (save one). Where are your favorite places to belt some tunes or cheer along your friends? Let us know at our
Facebook
or
Twitter
, and don't forget to tip your KJ.
Chopsticks & Chopsticks III
Chopsticks is the quintessential Portland karaoke bar, and while Chopsticks II on Burnside has gone the way of many Portland institutions, the new(ish) Hollywood location hosts nightly singing with a side of cheap drinks and Chinese fast food. The wide, open space of Chopsticks makes it, arguably, an even better karaoke venue than its previous, more cramped location. Meanwhile Chopsticks III is your best choice for Karaoke if you're living in deep Northeast. (3390 NE Sandy Blvd.; 503-234-6171 & 535 NE Columbia Blvd.; 503-283-3900)
The Alibi
Another Portland Karaoke institution, The Alibi has recently gotten a makeover, restoring the interior, re-decorating, and moving the bar menu away from overly cloying, kitschy tiki drinks to more well-craft kitschy tiki drinks. Don't worry though, it's still the same "island" themed, madcap, busy karaoke bar it ever was. Get there early on weekends if you want a chance to sing at all. (4024 N interstate Ave.; 503-287-5335)
Devil's Point
The rock & roll themed strip club only has karaoke one night of the week, but it's a unique and charming experience. Sunday night Stripperaoke is exactly what it sounds like: you sing, while a dancer swings around a pole and tries to distract you. While it is a school night, it's also extremely popular, so treat it like you would a weekend night anywhere if you hope for a chance to get onstage with one of the ladies. (5305 SE Foster Rd.; 503-774-4513)
Voicebox Karaoke
Sometimes you don't want to have to wait your turn for an hour for one song. Other times you just don't feel like singing in front of strangers. Maybe it's both. In any case, Voicebox is the place to go, where you and your friends can rent out a private room and sing to your hearts' desire. You even have your own personal server for drinks and food, or you can run out ot the bar whenever you need a refresher. Voice Box has two location in the city, both west and east side. (2112 NW Hoyt St. & 734 SE 6th Ave.; 503-303-8220)
Sweet Home Bar and Grill
Unless you live up in St John's, it's unlikely you've been to Sweet Home Bar and Grill, but it's worth the trip. This unpretentious dive bar has cheap drinks, cheap food, a smoking patio, and karaoke every night of the week with friendly KJs working the mic. (2824 N Lombard St.; 503-283-0274)
Punch Bowl Social
A full service restaurant and bar with plenty of entertainment, including bowling, arcade games, and marbles, Punch Bowl Social also has two private karaoke rooms, each with a maximum capacity of fifteen. It's a great way to celebrate a birthday, job, bachelor party, or just the fact that you have fourteen friends to sing with. (Pioneer Place, 340 SW Morrison St.; 503-334-0360)
Photo via Flickr user 3V Photo
Recent Articles

Feedback
How are we doing? Tell us what you like or don't like and how we can improve. We would love to hear your thoughts!