Portland's Nerdiest Bars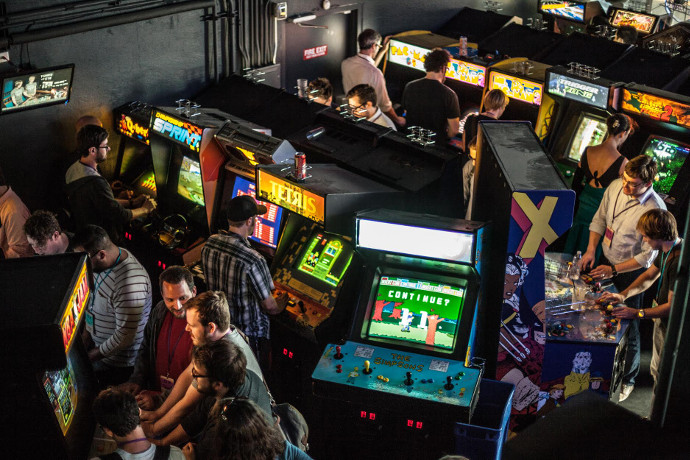 Portland is a nerdy city: home to three of the largest comic book companies, we host two different comic-cons every year, have trivia every night of the week with Geeks who Drink at different bars, and we even have the Portland Geek Council, a group that oversees and promotes nerdy culture in the city. So it's no surprise that a number of our bars have embraced the lifestyle. While we don't have any Game of Thrones or Stranger Things themed venues (yet), we do have a number of spots where you can get your geek on over a drink. Let us know your favorite spot at our Facebook or Twitter.

Ground Kontrol
The original "barcade", Ground Kontrol has a full bar menu complete with Nintendo themed drinks and the sort of food you'd see at your average gaming table--think pizza and nachos. It also has a host of vintage arcade games, from X-Men brawling games to old-school fighting games like Mortal Kombat 2. You'll also find a large collection of vintage pinball games, one of the most impressive in the city. Just be sure to bring a lot of quarters. (115 NW 5th Ave.; 503-796-9364)
Guardian Games
A gaming space first and a bar second, Guardian Games nevertheless counts with its backroom bar Critical Sip!. There you can play one of many boardgames, tabletop strategy games, and roleplaying games, all while enjoying beer, wine, cider, mead, and sake options. You'll even occasionally find a
Game of Thrones
beer
on tap, appropriately.
(345 SE Taylor St.; 503-238-4000)
Quarter World & Baoser
A more recent addition to the city's gaming scene is Quarter World, a barcade that dwarfs Ground Kontrol. It's a bit of an odd fit on upper Hawthorne, sandwiched between the dive bars that have managed to hang on despite the city's ever-changing scene, but it's a fun spot. A full bar, a food menu focusing on bánh mì, and dozens of arcade games from classic to modern make it a great place for birthday parties and nights out for nerds of all ages. Next door to Quarter World is its Nintendo themed restaurant Baoser, which serves up, unsurprisingly, chinese style bao of a dozen varieties. (4811 SE Hawthorne Blvd.; 503-548-2923)
The Lovecraft Bar
It might be hard for a nightclub to be nerdy, but The Lovecraft Bar manages to. Modeled after the aesthetics of famed horror author and culture pioneer H. P. Lovecraft, the bar is decked out in eldritch symbols and tentacled art, and serves up absinthe cocktails for a trippy experience. Most nights of the week the bar is blasting throbbing, dark toned dance music, but others include burlesque nights, 80's pop, and even anime cosplay parties. It may not be traditional video game nerdy, but it's definitely nerdy. (421 SE Grand Ave.; 971-270-7760)
The T.A.R.D.I.S. Room
While the popularity of British TV show Doctor Who may have waned slightly in the last few years, at one point its massive popularity spread through Portland, into a North Portland fish and chips shop that re-branded itself as The T.A.R.D.I.S. (Time And Relative Dimension In Space) Room. This English style pub serves fish and chips, beer, and screens episodes of the show when they air. (1218 N Killingsworth St.; 503-232-3344)
Game Knight Lounge
Other bars in town have board games — My Father's Place, for instance, has a dedicated board game night every Wednesday, and Guardian Games has no small amount of them, but Game Knight Lounge is Portland's first dedicated board game room with a full bar. $4 gives you unlimited play time with any of the 500+ board games and card games, from classics like Monopoly and Risk, to the fantastic Battlestar Galactica board game, hilarious Wizard Battle card game, and even the official Donald Trump board game, if you're so inclined for whatever reason. Each game has a colored sticker denoting its complexity, so you won't get stuck in a game with an hour setup. (3037 N Williams Ave.; 503-236-3377)
Pairings Portland Wine Shop
On first impression, Pairings looks like a quirky wine room with nothing inherently geeky about it. But the bar lives up to its name, offering wine pairings with far more than just food — here, you can find wines that capture the spirits of musical artists, astrological signs, and, most notably, a variety of fictional characters, from Marvel's female heroes, to Buffy the Vampire Slayer and Game of Thrones characters. If you ever wanted wanted to drink a Tyrion Lannister or Willow Rosenberg, Pairings is the (likely only) place to do so. (455 NE 24th Ave.; 541-531-7653)
Photo via Flickr user Duncan Rawlinson
Recent Articles

Feedback
How are we doing? Tell us what you like or don't like and how we can improve. We would love to hear your thoughts!