Here's Where You'll Be Drinking in Portland This Summer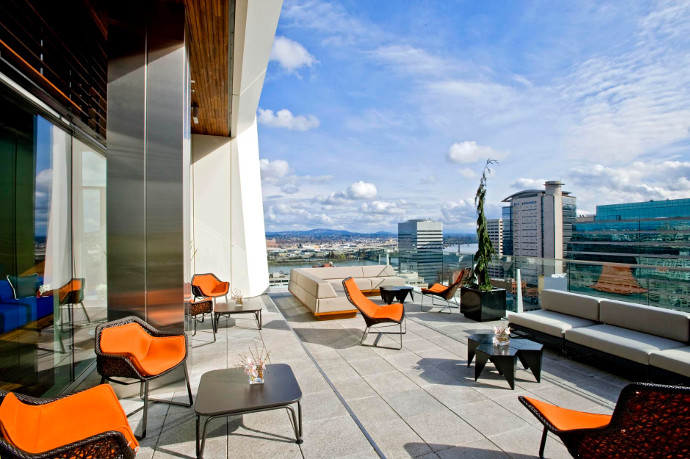 Summer might be playing coy this year, delivering us some extra rainy weeks throughout June, but the sunny days are on their way. We recently updated a list of best bar patios, but a patio alone does not make a summer bar (though it certainly helps). Large open windows to let the sun in, refreshing cocktails with rum, tequila, or mezcal, blended drinks, games, and so on… those qualities are what make a great summer bar. These are eight of the best spots to visit in the warmer, summer months. Because they're coming. We're pretty sure. We hope. What's your favorite bar for summer time hangs? Let us know on our Facebook or Twitter.
Prost!
Prost! gets cozy in the winter months, as the indoor space isn't the largest, but in summer, get ready to party. It's hard to beat a massive mug of frosty lager and some light German drinking food out on a sunlit patio. Not into German cuisine? Grab some food from one of the nearby carts and bring that in
. (4237 N Mississippi Ave.; 503-954-2674)
Rum Club
Rum Club has a patio, but that's not why you're going there. You're there because in the summer, nothing is better than
a perfectly made daiquiri
or other rum based cocktail, and that's exactly what you'll find at this appropriately named bar. Sit inside or out — it won't matter with a refreshing, tropical cocktail in hand.
(720 SE Sandy Blvd.; 503-467-2469)
Century Bar
Sometimes patios really do matter, and Century Bar has three of them, including two balconies. Plus, margaritas are an essential summer drink, and Century Bar specializes in those. Bring your vegan friend here for summertime chilling.
(930 SE Sandy Blvd.)
Departure
When it's bright and sunny, there's no better way to enjoy the city than with a view of the whole thing, especially with a drink in hand. Try some of chef Gregory Gourdet's famous Asian-fusion cuisine, sip on a saké drink, and gaze out at the Willamette River while remembering that Portland really can be beautiful.
(525 SW Morrison St.; 503-802-5370)
Solo Club
It has a nice patio, sure, but inside it's equally bright and vivid, with tall windows and a gem toned, Mediterranean-inspired decor. The drinking snacks here have an emphasis on fresh, Middle Eastern inspired fare, while the drink menu is full of refreshing highballs and spritzers made for summer sipping.
(2110 NW Raleigh St.; 971-254-9806)
Rambler Bar
Lawn games are an essential summer pastime, so head to Rambler for some bocce ball as well as Southern inspired pub grub and craft cocktails. If you're not into bocce, or if you're waiting your turn to play, hang out on the back area, partially shaded to protect your vulnerable skin from the harsh light of the sun.
(4205 N Mississippi Ave.; 503-459-4049)
Mad Hanna
Rambler isn't the only bar with patio games. Head to Mad Hanna, grab a cheap well-drink and go out back for outdoor ping pong and horseshoes. If the sun isn't your thing stay, inside and beat back your summertime sadness with some video games. There's a reason this cozy dive bar has such a loyal following.
(6129 NE Fremont St.; 503-288-2944)
Landmark Saloon
What says summer more than cheap drinks, honky tonk music, and cornhole? Chill out in the grassy backyard and throw some bean bags into a hole, or hang out inside and catch a show. Either way, you'll be soaking up the summer vibes on a budget.
(4847 SE Division St.; 503-894-8132)
Photo via Departure
Recent Articles

Feedback
How are we doing? Tell us what you like or don't like and how we can improve. We would love to hear your thoughts!