Where to Celebrate Both Cinco de Mayo & the Kentucky Derby in Portland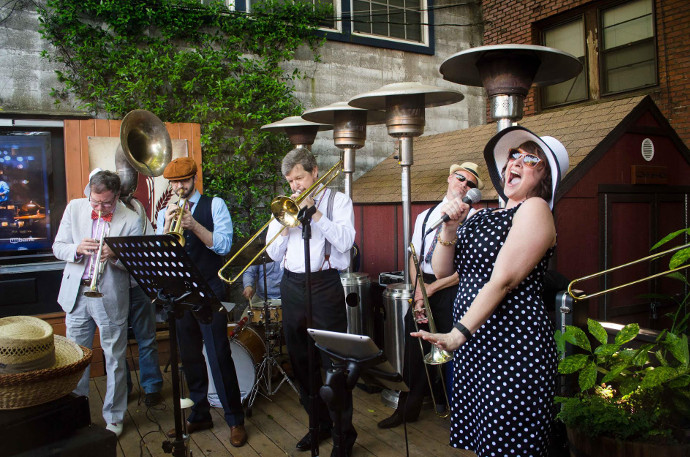 The Kentucky Derby this year falls on May 6th, just one day after Cinco de Mayo. That means Friday night is Cinco and Saturday is the Derby, which means a whole weekend of fun. While Portland doesn't generally go all out for either holiday, there are a few options for those looking to celebrate Mexican culture and/or watch "the greatest two minutes in sports." Let us know where you'll be going on our Facebook or Twitter.

Cinco de Mayo
Portland Cinco De Mayo 2017
The largest party for Cinco actually runs all weekend from Friday to Sunday, 11 AM to 11 PM each day. At the Tom McCall Waterfront Park you'll find carnival rides, tons of live music, amateur boxing, face-painting, dancing, and more. A full array of vendors with food, drinks, and souvenirs will also be in attendance. Tickets are $10 a day for adults, and $6 for children ages 6 to 12 and seniors over 62. Children under 6 years of age get in for free.
Find more information here
.
Cinco de Mayo
Taqueria Nueve
Taqueria Nueve, one of our favorite spots for margaritas in town, is throwing a Cinco party this year starting at 1 PM and going until 10 PM. Under the tents outside will be served traditional carnitas tacos, spicy chicken tacos, and chips and guacamole. For drinks they'll be shaking up margaritas and serving Mexican beers and festive Jell-O shots. A DJ will be spinning and admittance is free. Inside, hour happy starts at 4 PM, and the regular Taqueria Nueve menu will be served starting at 5 PM. (727 SE Washington St.; 503-954-1987)
Cinco de Mayo ¡Tepache and Tamales! Bottleshare
Reverend Nat's
Cider-maker Reverend Nat has a fun idea for Cinco de Mayo; his Tepache, a pineapple based cider, is meant to be mixed with beer, so he's inviting everyone to bring a beer and try mixing it up. One bottle of beer and $15 gets you in the door, where you'll be encouraged to trade and sample bottles of beer with as much tepache as you want to mix in. Guests also received a commemorative glass, one tamale (with additional ones available for purchase), and bottomless chips and salsa. The event begins at 4 PM and goes until 11 PM. Event information is available here. (1812 NE 2nd Ave.; 503-567-2221)
¡Cinco de Mayo en el Pony!
Dig A Pony
Friday nights at Dig A Pony are always happenin', but this weekend will likely be even wilder. Both live music and Latin inspired DJ tunes will be rocking the bar for your dancing needs. Food and drink specials include $4 empanadas, $5 margaritas, $4 tequila shots, and $2 Tecate tall boys. There's not going to be a cover, but there will likely be a line, so get there early to make sure you get in: the party starts at 4 PM and goes until 10. (736 SE Grand Ave.; 971-279-4409)
Kentucky Derby
The 2017 Kentucky Derby Party
Portland Meadows
The big party for this year's Kentucky Derby is going down at the Portland Meadows, and they've invited guests to come dressed up to watch the televised races. There won't be any horse racing at the Meadows, but there will be horses to meet, as well as food trucks, games, mint juleps, poker, gaming, and costume contests. The event runs from noon to 6 PM. Adult tickets are $55, children six to ten are $25, and kids five and under get in for free. (1001 N. Schmeer Rd.; 503- 285-9144)
11th Annual Kentucky Derby
North 45
North 45's 11th Kentucky Derby patio party starts at 12 PM and goes until 6 PM, and fancy dress is required—the larger the hat, the better. Drink specials include Knob Creek Whiskey Sour Slushies and the requisite mint juleps, and guests can dig in on Kentucky Hot Browns, made with 7-hour smoked turkey and Applewood smoked bacon. Live music will be provided by Dixieland-style band The Brass Roots Movement, starting at 2:00pm.The race takes place at 3:30 PM and will be shown on three screens, including one massive drop-down projector screen on the patio. North 45 has partnered again with Ronald McDonald House Charities, and the $10 cover ($15 at the door) benefits the charity. Guests can also bet on their favorite horse in the name of the charity, and prizes will also be given, including a 40" Samsung Smart TV, a private whiskey tasting experience for 10, Timbers tickets, and more. Get your tickets ahead of time here.
EastBurn's Kentucky Derby
EastBurn
Join EastBurn for brunch before happy hour starts at 3 PM, complete with drink and food specials befitting the Derby. If you can't get there before the races, don't worry! The specials will continue all evening. The event itself is free, but with limited, first come, first served seating, so it's best to get there early (like, say, for brunch). More details can be found here. (1800 E Burnside St.; 503-236-2876)
Run 4 Roses Kentucky Derby Party
Bit House Saloon
The private Derby party at Bit House Saloon means that the bar will be opening earlier than normal, at 1:30 PM. Tickets for the event are $20 ($25 at the door), and get you two tickets for Four Roses mint juleps (or another special of your choice), as well as complimentary appetizers. In addition, find other drink specials, music by DJ Expensive Taste, drawings, games, a costume contest, and, of course, live broadcast of the race. Get your tickets here, and find additional details here. (727 SE Grand Ave.; 503-954-3913)
The Pope House's 8th Annual Kentucky Derby Party
Pope House
The 8th Annual Kentucky Derby Party at Pope House is Sponsored by Maker's Mark, and benefits USO Northwest, helping military members stay connected to their home and families. The event is $25, and includes a complimentary mint julep, as well as the usual specials on drinks, food, entertainment, and games. The Pope House is one of the city's best whiskey bars, so everything is sure to be excellent. Tickets and additional details can be found here. (2075 NW Glisan St,; 503-222-1056)
Both
Derby de Mayo
Hazelfern Cellars
Want to celebrate more Cinco de Mayo on Saturday, but still want to also watch the Derby? Then head to Hazelfern Cellars for a two-in-one party, from 12 PM to 5 PM. Tight Tacos will be on site serving tacos and Biscuit & Pickles will bring the southern-inspired fare. Mariachi Calavera will be performing while guests play lawn games and "bet" on horse races. A photobooth will be available, and there will be, of course, plenty of wine, including the first tastes of the 2016 pinot noir rosé, Hazelfern sangria, and other new releases. Costumes are strongly encouraged, whether it be seer-sucker suits or sombreros… or both! Tickets are $65 ($50 for wine club members) and can be found here. (4008 NE Zimri Drive, Newberg, OR; 503-928-1893)
Photo via North 45
Recent Articles

Feedback
How are we doing? Tell us what you like or don't like and how we can improve. We would love to hear your thoughts!