Check Out These Bars with Great Live Music in Portland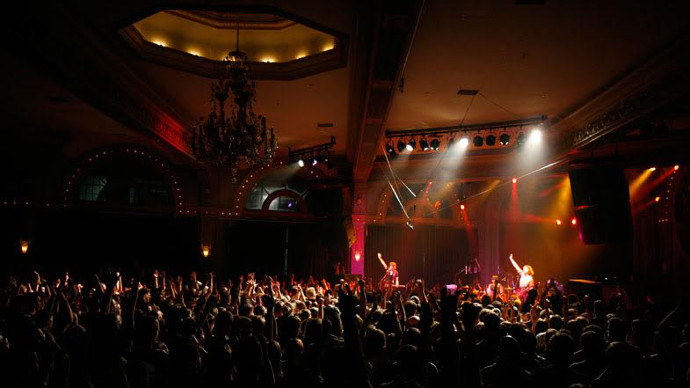 Portland isn't just known for our great beer and bar scene; it's also a hotspot for music, from local to touring band. Part of that is because so many of our bars double as venues (while most of our venues have decent-to-great bars). We've rounded up our favorite spots to grab a drink and catch of show, from small venues to larger ones, so long as you can find a drink there. Where do you listen to, or play, live music? Let us know at our Facebook or Twitter.
The Firkin Tavern
Unpretentious, friendly, and just a bit grungy, The Firkin Tavern is a classic neighborhood watering hole. Local and touring acts play here Fridays, Saturdays, and Mondays, with open mic on Sundays. While bands usually start a bit later, you might want to get here early to take advantage of happy hour: $3 pints and well drinks, 4 PM to 7 PM each day.
(1937 SE 11th Ave.; 503-206-7552)
The Liquor Store
Upstairs, The Liquor Store is a casual cocktail bar, lined with records and filled with young hipsters. Downstairs is a venue with its own bar, featuring acts almost every night of the week, from local bands to DJs, and is also generally filled with young hipsters.
(3341 SE Belmont St.; 503-754-7782)
White Owl Social Club
For the size of the bar, especially in summer when the expansive patio is open, it's shocking how long the lines at White Owl Social Club can get, especially on the weekends. Its popularity is in large part due to that it's a great place to listen to some live music, even if you have you dog with you. (305 SE 8th Ave.; 503-236-9672)
Laurelthirst Public House
For almost thirty years, the excellently named Laurelthirst (it's in Laurelhurst, and it's a bar) has been a go-to venue for local folk and bluegrass acts. It flirted with closing in late 2016, but was saved by a local musician and some employees. We're grateful, as the Portland music, and bar, scene just wouldn't be the same without it. (2958 NE Glisan St.; 503-232-1504)
Mississippi Studios
An absolutely essential part of Portland music scene, Mississippi Studios features some of the best up and coming, as well as established musical groups, both local and touring. Grab a burger and brew next door at Bar Bar before heading over to see a show; there's one just about every night of the week. (3939 N. Mississippi St.; 503-288-3895)
The Doug Fir
It's not Portland's biggest venue, but the basement of the Doug Fir sees some serious talent come through on a regular basis. Everything from local gigs to big named indie artists perform at the Doug Fir, and while there's a bar in the venue space, there's also one of Portland's hippest bars upstairs. (830 East Burnside St.; 503-231-9663)
Edgefield Hotel
The Edgefield Hotel, a McMenamins property, is the destination for outdoor concerts in the Portland area, especially for the big name acts. You haven't been to a true Portland summer concert unless you've sipped beers out on the lawn while Fleet Foxes or the Decemberists play. (2126 SW Halsey St., Troutdale, OR 97060; 503-669-8610)
The Crystal Ballroom
Another McMenamins venue, The Crystal Ballroom has long stood as one of Portland's most important venues. Everyone but the massive stars (and even, sometimes them) play at the Crystal Ballroom, and its famous bouncy floor has supported audiences for all kinds of shows, from punk rock to folk, rock bands to hip hop groups. Being a McMenamins, there are bars, including one in the balcony seating. (1332 W Burnside St.; 503-225-0047)
Goodfoot Pub & Lounge
The Goodfoot, like others on this list, has two separate floors: the one upstairs is a bar and pool-hall, the one in the crowded basement room is a venue, also with a full bar. Live music happens here many nights of the week, including Fridays' Soul Stew night, when a live band plays the danciest soul music in town. (2845 SE Stark St.; 503-239-9292)
Holocene
While Portland isn't famous for its clubs, we do have some: Holocene, for instance, operates as a dance club, bar, and venue while maintaining the Southeast Portland hipster vibe. Most nights of the week you'll find dance parties helmed by local DJs, but live music acts are not out of the norm. (1001 SE Morrison St.; 503-239-7639)
Lovecraft Bar
A gloomy, industrial goth bar, the Lovecraft regularly has dance nights with DJs, but it also often hosts goth, metal, post-punk, and other moody bands. Be sure to grab one of the absinthe drinks here while you catch a show. (421 SE Grand Ave.; 971-270-7760)
The Rookery
While it's more known for its single barrel cocktails and luxurious decor, The Rookery, upstairs from Raven & Rose, also hosts live shows, including regularly appearing groups such as the Irish band Na Rósaí, and jazz group The Penthouse Pricklers. (1331 SW Broadway; 503-222-7673)
The Know
Portland's classic punk venue The Know tragically shuttered its Alberta Arts district location in the summer of 2016. However, it triumphantly reopened in the Hollywood District in early 2017, taking the place of the indie venue Blackbird. Freshly reborn, is still hosts all the regular punk, metal, and noise rock bands around.
(3728 NE Sandy Blvd.; 503- 473-8729)
Landmark Saloon
The Landmark Saloon is a destination all summer for its amazing patio, complete with cornhole, but the cozy inside area also doubles as a venue. It's not a large space, but you can find great honky tonk performers and groups most days of the week here. (4847 SE Division St.; 503-894-8132)
The Fixin' To
The Fixin' To, a southern inspired dive bar, has long been a destination for St John's residents, and in late 2016, it upgraded to a venue, by adding a stage and PA system. Now, it provides a much needed space for live music in the far north Portland neighborhood. It's still a great, cheap bar with frito pies and housemade pizza, it just has live music, too. (8218 N Lombard St.; 503-477-4995)
The Kenton Club
"Music, Booze, and Regrets" is the slogan at The World Famous Kenton Club, and the Portland institution lives up to it. Catch live shows at this wood-paneled pool hall and dive every weekend, and most of the days of the week. (2025 N Kilpatrick St.; 285-3718)
Rontoms
One of the most stylish bars in town, Rontoms is a club, lounge, and venue. In winter, bands play inside the spacious bar, but in summer, the covered patio is one of the most happenin' spots in town. Especially popular are the "Sunday Sessions", a series of mostly local shows that never have a cover. (600 E Burnside St.; 503-236-4536)
Photo via Kat Nyberg/McMenamins
Recent Articles

Feedback
How are we doing? Tell us what you like or don't like and how we can improve. We would love to hear your thoughts!