Where to Celebrate St. Patrick's Day 2017 in Portland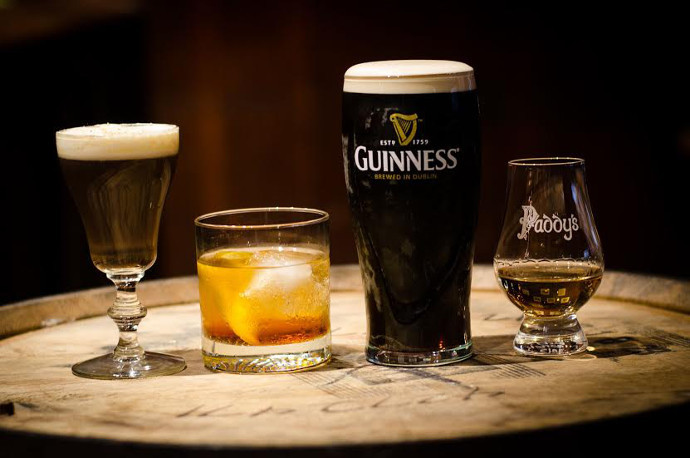 St. Patrick's Day is a time for celebration in Portland, not just because we always love an excuse to drink stout, but also because it marks the end of winter. Spring officially starts just a few days after the holiday, after all, so what better way to toast the end of winter than to go for a run through some freezing rain, eat some corned beef, and drink some Irish ales? Here is Drink Portland's favorite ways to celebrate St. Patrick's Day, 2017. Let us know where you'll be celebrating your Irish heritage at our Twitter or Facebook. Just remember, drink responsibly, and no pinching strangers, regardless of a lack of green or not.
Bar Parties
Paddy's Bar & Grill
One of Portland's oldest and most celebrated Irish bars, Paddy's will be throwing a party through the entire weekend, both inside and outdoors. Expect plenty of live music, dancing, bagpipes, food specials, and plenty of Irish beer and whiskey, of course. The event tent is all ages every day until 9:30 PM, and kids under 12 years of age get in for free. Friday and Saturday are $10, while Sunday, which goes until 2 PM, is free. Weekend long VIP tickets are also available, at a limited number. Call for tickets. Don't forget to enter the raffle; only 500 tickets are sold, and the winner gets a trip to Ireland.
(65 SW Yamhill St.; 503-224-5626;
Additional details
)
T.C. O'Leary's
Portland's newest Irish bar is T.C. O'Leary's, and what better way to check it out than on St. Patrick's Day? O'Leary's is celebrating its first Paddy's Day with a weekend packed full of events. Friday is an all day party, from opening at 7 AM to close at 2 AM, with a photobooth, giveaways, baseball on the TV, and more. Saturday is kid friendly from 11 AM to 2 PM, with face-painting, ballons, and a coloring contest, and in the evening enjoy paired whiskeys and flights of Irish whiskey. On Sunday the 19th, join the bar for a Guinness engraving event.
Find more details here
.
(2926 NE Alberta st.; 503-477-5969; March 17 - March 18)
Kell's Irish Pub
Like the other Irish pubs in town, Kell's will be throwing a weekend spanning festival of St. Patrick's fun. Both the Downtown location and the brewpub will be hosting events both indoors and outside under a tent. There's a plethora of attractions planned, including a black-tie boxing match, Irish dancers, live music, Timbers game shown on the wide-screen TVs, Irish wolfhound petting, face-painting, and plenty of Irish food and drink.
Get the complete schedule here.
(112 SW 2nd Ave.; 503-227-4057 & 210 NW 21st Ave.; 503-719-7175)
McMenamins
Besides the Irish bars, no one gets into the St. Paddy's Day experience like McMenamins does. Stop by any McMenamins in the state on the 17th for season Irish stouts, food specials, bagpipers, and more. In addition,
Edgefield
,
The Grand Lodge
,
Hotel Oregon
,
The Kennedy School
, and The Gearheart Hotel
on the coast are all partying for two days, with golf-tournaments, live music, food and drink specials, and more.
In addition, McMenamins is releasing two versions of its annual Irish style whiskey, Devil's Bit. One is distilled at Edgefield, the other at the Cornelius Pass Roadhouse Distillery. This rare whiskey is only available around St. Patrick's Day, and can be found at these locations. (Various locations).
Events
Stumptown LepreCon
If St. Patrick's Day wasn't enough for you, don't worry: the festivities carry over into the weekend with the 6th annual
Stumptown LepreCon
. Start at the Convention Center for the Shamrock Run Wellness Fair at 11 AM before dancing (for real) across the Burnside Bridge for a costumed bar crawl through Old Town/Chinatown. Participants will get a discount at the Shamrock Run registration, if they manage to make it the next day after the bar crawl, and Shamrock Runners will receive a discount on their LepreCon wristband.
Additional details can be found here
. March 18, 11 PM to 10 PM. $10+ drink costs.
The Shamrock Run
There's no more iconic St. Patrick's Day celebration in Portland than the Shamrock Run. It's actually a few days after the holiday, but that just means you have the whole weekend to celebrate, especially if you hit the LeprCon the day before. A variety of routes and lengths are offered, from a chill four mile walk to a half-marathon. All of them culminate at the Widmer Beer Tent, where runners receive a complimentary, and welcome, beer, and can purchase more.
Find additional details and register here.
Don't forget to find your discount code if you are participating in the LepreCon. March 19.
Specials
Punch Bowl Social
PBS will be serving up a special punch for the holiday—theIrish Puddin' is prepared with Jameson Irish Whiskey, mint currant syrup, Teakoe Spiced Plum Tea and a splash of lemon juice, and will be served all day starting at 11 AM.
(340 SW Morrison St., 3rd Floor; 503-334-0360)
Burnside Brewing Company
The SE Portland brewery will be adding a special Irish lamb stew dish to its lunch and dinner menus for the day. Offerings of Knappogue Castle or Teeling Whiskey with a small beer back will also be available.
(701 E. Burnside.; 503-946-8151)
Smokehouse Tavern & Smokehouse Provisions
You won't find any Paddy's food special at Smokehouse,
just the best BBQ in town as usual
. However, the cocktail menu will up the ante with the
Green Shamrock
(Gin, créme de menthe, lemon, kummel, and dashes of orange bitters) and the
Pot of Gold 2
(Irish whiskey, London dry gin, sweet vermouth, green chartreuse, and Campari). These drinks will be available at both Smokehouse Tavern and Smokehouse Provisions.
(1401 SE Morrison St #117; 971-279-4850 & 8052 E Mill Plain Blvd., Vancouver, WA; 360-768-5140)
Brix Tavern
Brix Tavern, the high-end sports bar and restaurant, is offering just a few simple, but affordable specials: $3 Irish coffees and $5 Irish Car Bombs. Both drinks are made with Teeling's Irish whiskey.
(1338 NW Hoyt St.; 503-943-5995)
Interurban
Gastropub Interurban is getting into the holiday spirit with a Shepherd's pie for dinner, as well as a few fun drink specials. Classic cocktails The Tipperary (with Power's Irish Whiskey, sweet vermouth, and green chartreuse) and the Wild-Eyed Rose (Powers, lemon, lime, and grenadine) will be offered, as well as a Luck o' the Irish jello shot, made with Irish whiskey, Murphy's Irish Stout, and Bailey's Irish Cream.
(4057 N Mississippi St.; 503-284-6669)
Recent Articles

Feedback
How are we doing? Tell us what you like or don't like and how we can improve. We would love to hear your thoughts!