Where to Find the Best Absinthe in Portland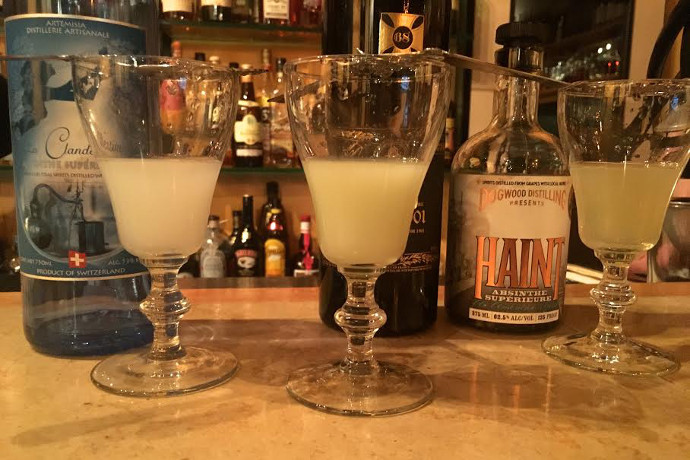 It's been ten years since absinthe was legalized in the United States after being banned for nearly a century. The spirit has a close connection to New Orleans, mostly due to the large French presence in the 19th and early 20th centuries, as well as its role in the the essential New Orleans drink: The Sazerac, a potent mix of rye whiskey (or cognac), sugar, Peychaud Bitters, and absinthe. Now, with Mardi Gras season upon us, there's no better way to toast NOLA and Mardi Gras than with a glass of absinthe or a silky Sazerac. Here are the best bars to find these alluring spirits. Let us know where you like to chase the Green Fairy on our Facebook or Twitter.

Acadia
Acadia may well be Portland's best New Orleans restaurant. With a bite of chef/owner Seamus Foran's BBQ shrimp or jambalaya, you'll think you've been transported to the French Quarter. The absinthe program is similarly transportive, with a selection of French, Swiss, and American bottles, available by the glass or in flights of three. Start with the basics with a Traditional ($20); Sample ones from Washington, Oregon, and California with the West Coast ($25); or splurge on the Belle Époque ($30), which features high-end absinthes, including the Jade 1901 Supérieure. Jade Absinthe was created by T.A. Breaux, a chemist, after two decades of scientific inquiry into preserved bottles of 19th century absinthe, making it the most authentic version available. Absinthe at Acadia is all properly louched with a custom fountain created by local glass artist Andy Paiko. Acadia also boasts the "strongest Sazerac in town" with three full ounces of rye whiskey (as is proper). The strength wouldn't matter if it weren't good, but luckily it lives up to the reputation of the restaurant. (1303 NE Fremont St.; 503-249-5001)
La Moule
Besides Belgian beer or white wine, nothing goes better with a bowl of moules frites than an absinthe or absinthe cocktail; La Moule offers a limited but excellent menu of absinthes at appreciable prices, including the Jade Nouvelle D'Orleans ($15)—another from Breaux and one of the finest available in the city. Like Acadia, La Moule has a lovely absinthe fountain; sit at
the sexiest bar in the city
and watch your worries fade away as your absinthe clouds and sweetens with each drop. La Moule also offers happy hour everyday from 5 PM to 6 PM, and again from 10 PM until it closes at midnight. On it you can find an exceptionally crafted sazerac for $7.
(2500 SE Clinton St.; 971-339-2822)
The Lovecraft Bar
The horror-themed nightclub The Lovecraft doesn't receive a lot of attention for its drink program, as the focus is usually on its goth and metal themed weekly dance nights. However, its absinthe program earns some regard. It's appropriate—though H.P Lovecraft penned most of his cerebral horror fiction after absinthe had been banned from the US and most of Europe, the themes of madness and hallucinations are inherent in both his work and the mythology of the spirit. Lovecraft's absinthe cocktails aren't particularly memorable, but, along with some fog, lasers, and booming gloom-rock, they'll definitely help you get into the horror spirit.
(421 SE Grand Ave.; 971-270-7760)
Secret Society
On the opposite end of the spectrum from the Lovecraft is Secret Society, a 1920s speakeasy themed bar and music venue. Along with a list of classic and original cocktails, the bar offers a nice selection of absinthes served, as expected, under a slowly dripping fountain. Be sure to try some of the Champagne cocktails here, in particular the Death in the Afternoon ($13), a drink famously invented by Ernest Hemingway, with Champagne, absinthe, and a sugar cube. Reportedly, Hemingway would often have four of them while writing, though we cannot condone that level of imbibing here.
(116 NE Russell St.; 503-493-3600)
Photo via Alexander Frane
Recent Articles

Feedback
How are we doing? Tell us what you like or don't like and how we can improve. We would love to hear your thoughts!