Where to Drink on National Margarita Day in Portland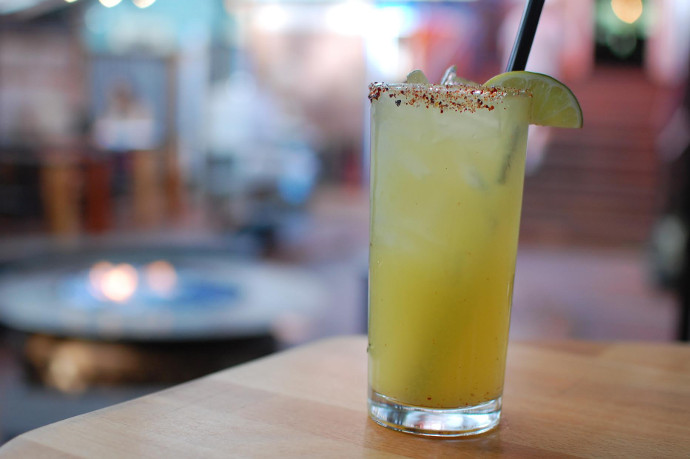 Wednesday, February 22 is National Margarita Day 2017. While it's odd to have it in the middle of winter when you should be drinking them in the hot summer sun, it's actually a relief in the Northwest. This way, you can close your eyes, sip an invigorating margarita, and imagine a world that isn't eternally gray. Here are the eleven best places to celebrate National Margarita Day and dream of warmer weather. Let us know your favorite place for this classic drink on our Facebook or Twitter.

Teote
With its covered patio and delicious, gluten free South American dining (arepas and plantains!), Teote is one of Portland's most popular Latin-American restaurants. The margaritas here are made traditionally, with fresh lime juice and a chile-salted rim for an extra kick, but the real star is the mezcal margarita ($12), made with Wahaka Espadin mezcal and with an added splash of orange. (1615 SE 12th Ave.; 971-888-5281)
Nuestra Cocina
Nuestra Cocina has long been popular for its high-end, homemade Mexican cuisine and its various takes on the traditional margarita. The most iconic is the Cocina Especial Margarita ($8.50), made with tequila, muddled citrus fruit, and a chile arbol infused simple syrup, making for a sweet, spicy, and refreshing drink.
(2135 SE Division St.; 503-232-2135)
One of Portland's better taquerias, Taqueria Nueve is a full service, seated affair, rather than the typical counter service you find with other shops. A full list of margaritas is offered, including a deliciously spicy Pepino Margarita ($9), with chile infused tequila, lime, and a cucumber syrup, as well as the fun strawberry infused Amorcita Margarita ($10). (727 SE Washington St.; 503-954-1987)
Cocina Verde
Cocina Verde recently opened its newest location on Mississippi Avenue, which means east-siders won't have to cross the river in order to try one of its special monthly margarita infusions, unique to each location. For February, including Margarita Day, find the topically named Im-Peach-Mint ($9) at the new location, a peach and mint infused margarita, unsurprisingly. (Multiple locations)
Xico
An underrated spot, Xico serves elevated Mexican comfort food, rare Mexican wines, and, of course, cocktails, including margaritas. The Xico Margarita ($10) is stellar, just a classic margarita made with aplomb, but for those looking to splurge, upgrade to the Cadillac Margarita ($15), which comes with reposado tequila and a float of Grand Marnier. Sneak in after 9 PM for $5 shots of mezcal. It's not a margarita, but it's still awesome. (3715 SE Division St.; 503-548-6343)
Mi Mero Mole
Sadly, the Division location of Mi Mero Mole is closing this month, but the Chinatown location remains, along with its full bar. You can find an exciting variety of tequila and mezcal here, and the margaritas come in three sizes: small, pint, and, of course, pitcher. It's the only place in town with a Plantain Margarita ($6/$8.50/$30), though if you're feeling cheap you can always grab a more basic Gringa Margarita ($5/$7/$25). (32 NW 5th Ave.; 971-548-6343)
Cha! Cha! Cha!
A local chain of counter-service restaurants serving burritos, quesadillas, and more, Cha! Cha! Cha! offers its own brand of tequila, the Cha! Cha! Cha! Double Barrel Herradura Reposado. Have it in the house margarita, La Classica ($11), or try one of the many other varieties of margaritas, with flavors such as guava, tamarind, and mango. (Multiple Locations)
Podnah's Pit
Portland's favorite BBQ restaurant may not be the most obvious choice for a margarita, but it just happens to a truly excellent version. The Margarita de la Casa ($10) is straightforward, with El Jimador silver tequila, triple sec, and lime, with a spicy salt rim, but it pairs perfectly with the BBQ served here. (1625 NE Killingsworth St.; 503-281-3700)
The Matador
Portlanders tend to balk at national chains like The Matador (which has two locations in Portland), and maybe it's for a good reason. We like to keep our city unique and weird, after all. But the dark truth is that the margaritas here, of which there are multiple options, are consistently solid, pack a punch, and aren't too expensive. Thanks, corporate bars. (2424 E Burnside St.; 503-719-5757 & 1438 NW 23rd Ave. 503-228-2855)
Bunk Sandwiches
Slushy margaritas have been unfairly impugned, mainly due to years of corn-syrup filled mockeries of the drink, but they deserve a place in your glass. Bunk, the local chain sandwich shop, has some of the best slushy margaritas in town, with a machine at most of their locations, besides the Morrison location ( just walk a few blocks to Bunk Bar) and the one at the Moda Center (you're watching a game, get a beer). Get it as a glass ($7), a pint ($10), a pitcher ($39) or floating on top of a beer as an Iceberg ($6). (Multiple Locations)
Aalto Lounge
Aalto isn't anything close to a Mexican restaurant, but it's a fantastic cocktail bar with a great margarita on the menu: The Goddamn Margarita ($9), part of the Goddamn Series, spicing up all your favorite cocktails on a rotating menu. Serrano infused tequila is mellowed slightly by a French blackberry liqueur and lime juice, and it's finished off with pink sea salt on the rim. You're "Goddamn" right. (3356 SE Belmont St.; 503-235-6041)
Photo via Alexander Frane
Recent Articles

Feedback
How are we doing? Tell us what you like or don't like and how we can improve. We would love to hear your thoughts!