Nasty Woman Wines Launches in Oregon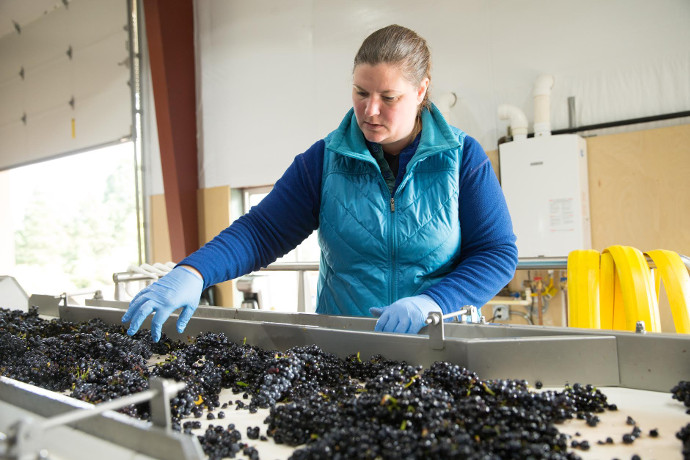 Pantsuit Pinot Noir is the name of a new wine coming out of Oregon. The label doesn't resemble the average Willamette Valley Pinot; instead of a tree or a flock birds in sepia, the bottle features a photo of a young, strong woman. The words "Nasty Woman" are printed across in vibrant, bold letters—a reference to the slur that was thrown at Secretary Clinton during the third presidential debate in 2016 and subsequently reappropriated by members of the political left. This is Nasty Woman Wines, founded by Meg Murray on Election Day, and she's using it to get more women to the table in policy and leadership positions around the world.

Murray has been in the wine industry for more than a decade, primarily in marketing and direct to consumer sales. Prior to that she worked in politics, having studied international studies and political science at university. Nasty Woman Wines was originally conceived of as a fun side project and celebration of the United States' first female president; Murray had worked to assure that the copyright on the name would be filed on the day of the election, November 8th, 2016. What was intended as a celebration turned to movement to empower women.



On November 9th, when she was overcome with grief, her five year old daughter worked to comfort her, and asked, "How old do I have to be when I run for President?" That struck her; the question of "when." rather than "if." She was inspired to focus on Nasty Woman Wines as a priority, rather than a side project, becoming "extremely emotionally and financially invested" in it.

It's more than just a gesture, as Murray is giving consumers an opportunity to put their money "...literally where their mouths are." Besides the encouraging names (Pantsuit Pinot Noir, Progress Pink, and Pave The Way Chardonnay to name a few) and labels, the company works for progress by donating 20% of its net profits to charitable organizations. Primarily, Nasty Woman Wines contributes to The Women in Public Service Project, a bipartisan organization committed to "reaching a minimum of 50 percent of all decision-making positions in public service held by women by 2050." Currently, women roughly fill only 22% of these positions.

Pantsuit Pinot Noir is the first bottle to be available to the public, and is set to ship in February. Pave The Way Chardonnay, Progress Pink (a rosé), and Boss Lady Bubbles will be released shortly thereafter. Additional wines, like a red blend and a sparkling wine, are in the works, and limited release wines will be available to #GetNasty Wine Club members first. Nasty Woman Wines is launching an IndieGoGo campaign to get the funds necessary for a much wider distribution, including internationally. "It doesn't end at our borders," says Murray. With her help, and more like her, it won't.
Photos via John Valls Photography
Recent Articles

Feedback
How are we doing? Tell us what you like or don't like and how we can improve. We would love to hear your thoughts!